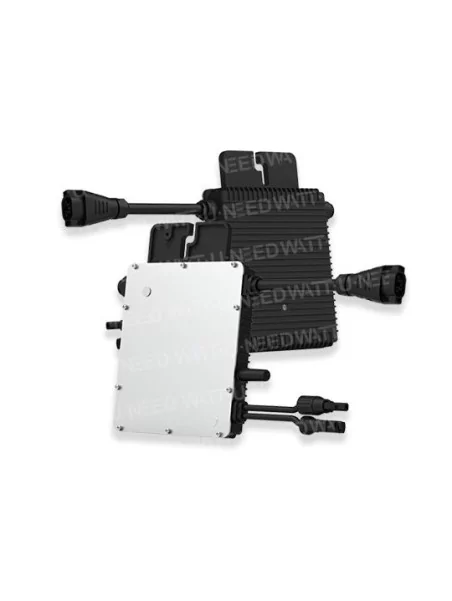 Hoymiles 400W inverter microphone
Hoymiles
More info
Micro inverter 400W Hoymiles HM-400
Micro-inverters transform the energy of your solar panels into usable electricity. Single-phase micro-inverters are generally used in residential environments and small businesses. With Hoymiles, get a durable and frustrating performance with simple installation, superior quality and low failure rate.
---
Easy to install
Hoymiles micro-inverters are built to be ready to use, so that your solar ecosystem is up and running faster.
---
Adjustable power
Configure your micro-inverters according to your installation and the layout of the solar panels.
---
High reliability
Hoymiles micro-inverters have a low failure rate and built-in overvoltage protection.
---
Designed for tracking
Micro-inverters include an external antenna for stronger communication and more stable monitoring.
---
High efficiency
With an MPPT efficiency of 99.8%, more of your panel's production is transformed into usable energy.
---
Compliant energy
Micro-inverters comply with standards such as EN50549-1:2019 and California Rule 21.
---
How micro-inverters work
install
Micro-inverters are installed next to your solar panels – we offer options ranging from 1 in 1 to six panels connected to a single micro-inverter.
transform
Micro-inverters transform direct current (DC) into alternating current (AC) that can be used on a per-panel basis.
watch
Use a data transfer unit (DTU) to collect data from micro-inverters and monitor power generation in our S-Miles Cloud platform.
---
Characteristics
Input Data (DC)
Commonly used module power
320~500W
Module compatibility
60-cell or 72-cell PV modules
Peak power MPPT voltage range
34~48 V
Starting voltage
22 V
Operating voltage range
16~60 V
Maximum input voltage
60 V
Maximum input current
12.5 A
Output data (AC)
Maximum output power
400W
Nominal output current
1.82 / 1.74 / 1.67 A
Nominal output voltage
220 / 230 / 240 V
Output nominal voltage range
180 – 275 V*
Nominal range/frequency
50/44-55 or 60/55-65* Hz
Power factor
> 0.99 default
0.8 peak... 0.8 lagging
Total harmonic distortion
<3%
Maximum units per branch²
12/12/12
efficiency
Maximum CEC efficiency
96,70%
CEC-weighted efficiency
96,50%
Nominal MPPT efficiency
99,80%
Ambient temperature range
<50 °C
Mechanical data
Ambient temperature range
-40 -+ 65 °C
Dimensions (L x H x D)
182 x 164 x 29.5 mm
weight
1.98 kg
Protection index
IP67
cooling
Natural Convection – Fanless
Characteristics
communication
2.4 Ghz Rf Owner (Nordic)
control
Hoymiles control system
guarantee
Up to 25 years
compliance
VDE-R-N 4105: 2018, EN505549-1: 2019, VFR 2019,
IEC/EN 62109-1/-2, IEC/EN 61000-6-1/-2/-3/-4, IEC/EN 61000-3-2/-3
* The nominal voltage/frequency range may be modified according to the requirements of the local power supply service.
Specifications
| | |
| --- | --- |
| Monophasé / Triphasé | Monophasé |
| Nombre de MPPT | 1 MPPT |