Display all pictures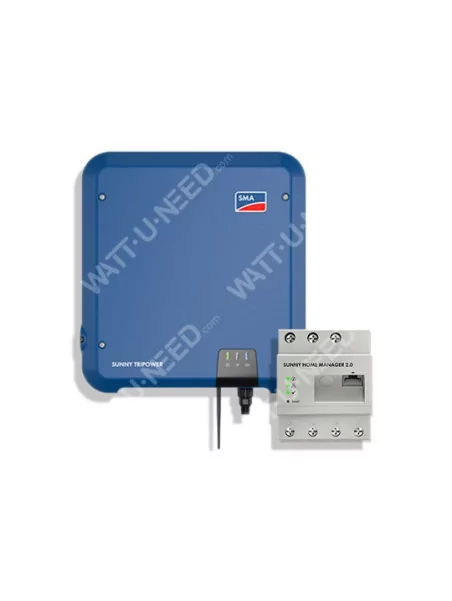 SMA Sunny Tripower STP 8.0 TL INT BLUE - Zero Injection
SMA
More info
SMA Sunny tripower 8.0
The new Sunny Tripower 8.0-10.0 guarantees maximum energy production for homes. It combines the integrated SMA Smart Connected service with smart technology that meets all needs. Its very compact design makes it easy and quick to install. Thanks to the built-in web interface, the Sunny Tripower is quick to put into service via smartphone or tablet. And to meet the requirements of roofing installations, it is possible to easily add tS4-R optimizers at your convenience, in case of shading for example. Compatible with the latest communication standards, the inser can be reliably equipped with intelligent energy management and SMA storage solutions at any time and reliably.
---
The Sunny Home Manager 2.0 monitors all energy flows in the home, automatically identifies potential savings and facilitates efficient use of solar energy. It makes intelligent energy management even easier and more cost-effective by combining the functions of the Sunny Home Manager Bluetooth and the SMA Energy Meter in a single device.
---
Quick and easy installation
With its low weight, this three-phase inlent is quick to install and compact. With built-in web interface, The Sunny Tripower is quick to get into service via smartphone or tablet
---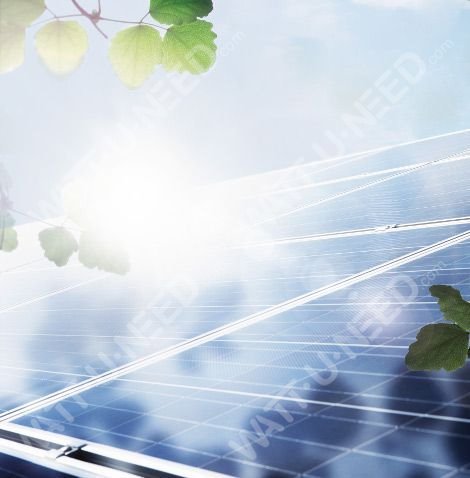 Smart solar power generation
The Sunny Tripower is one of a kind: proven features such as OptiTrac Global Peak and SMA Smart Connected now come with integrated TS4-R communication for panel optimization. Thus, the shadows on the photovoltaic panel are no longer a problem. In the event of light shading, OptiTrac Global Peak's integrated shadmanagement ensures maximum production. In case of larger shading or complex roofs, TS4-R optimizers, which are simple and selective to install, provide optimal production.
---
Extension possible at any time
With Sunny Tripower, owners of photovoltaic installations and installers always have a state-of-the-art solution. Should the use of solar electricity in the home increase, facilities equipped with Sunny Tripower can be equipped with intelligent energy management and SMA storage solutions at any time.
---
Guaranteed investment security
With SMA Smart Connected, SMA is the first manufacturer to offer free and automatic insper supervision that allows the photovoltaic installer to provide fast and targeted services to its customer. SMA proactively informs the owner of the photovoltaic installation or the installer of any inunr malfunction. Diagnostic and downtime is thus kept to a minimum, all to the benefit of owners of photovoltaic installations and installers. If a replacement is necessary, SMA will ship the exchange inser free of charge and as soon as possible.
---
SMA Smart Connected - How it works

Activation de SMA Smart Connected
As an installer, you activate SMA Smart Connected when recording the installation on Sunny Portal and you start automatic monitoring of inverters by SMA.

Automatic inverter monitoring
SMA performs an automatic and permanent check of the inunntor to detect malfunctions. This allows you and your client to benefit from SMA's long-standing experience.
Proactive communication

After diagnosing and analyzing an error, SMA immediately notifies the installer and the final customer via email. All parties are thus prepared for correcting errors, minimizing downtime and saving time and money. In addition, regular performance reports provide valuable information about the entire system.



Replacement service
If a device needs to be replaced, SMA automatically delivers a new inletor within 1 to 3 days after the error diagnosis. As an installer, you can anticipate the owner's request and replace the inputer.

Service performance
If the replacement inunr cannot be delivered within 3 working days, the owner of the facility is entitled to seek financial compensation from SMA.
SMA Smart Connected is available in AU, AT, BE, CH, DE, ES, EN, IT, LU, NL, UK
---
Characteristics
model
Sunny Tripower 8.0
Sunny Tripower 10.0
Entry (DC)
Maximum power of the photovoltaic generator
15000 Wp
Maximum input tension.
1000 V
MPP voltage range
260 V to 800 V
320 V to 800 V
Assigned input tension
580 V
Min. Input Tension /Start Entry Tension Maximum Entry Current. Entry A/Entry B
125 V / 150 V
Min. entry voltage/ start input voltage
20 A /12 A
Short-circuit current max. entry A / entry B
30 A / 18 A
Number of independent MPP entries / strings per MPP entry
2/ A:2; B:1
Exit (AC)
Assigned power (for 230V, 50 Hz)
8000 W
10000 W
Apparent power AC max.
8000 VA
10,000 VA
AC rated voltage
3/N/PE; 220 V / 380 V 3/N/PE; 230 V / 400 V 3/N/PE; 240 V / 415 V
AC tension range
180 V to 280 V
AC/beach network frequency
50 Hz / 45 Hz to 55 Hz 60 Hz / 55 Hz to 65 Hz
Assigned network frequency / assigned network voltage
50 Hz / 230 V
Maximum exit current
3x 12.1A
3x 14.5 A
Power factor to assigned power / Adjustable phase shift factor
1/0.8 inductive at 0.8 capacitive
Injection phases / connection phases
3/3
return
Maximum return / European yield
98,3 % / 97,7 %
98,3 % / 98,0 %
Protective devices
Entry-side disconnection device
●
Ground defect monitoring/network monitoring
It's not going to be a good place to
DC polarity reversal protection /resistance to AC short-circuits / galvanic separation Fault current monitoring unit, sensitive to all currents
'//'
Protective class (according to CEI 62103) / surge category (according to CEI 60664-1) General features
I/ III
General features
Dimensions (L/H/P)
460 mm / 497 mm / 176 mm (18.1 inches / 19.6 inches / 6.9 inches)
weight
20.5 kg (45.2 lbs)
Operating temperature range
'25 'C' to '60 'C' (13 to 140 'F'
Typical sound emissions
30 dB (A)
Self-consumption (night)
5.0 W
Topology/cooling system
No Transformer / Convection
Protection Index (according to CEI 60529)
IP65
Climate class (according to CEI 60721-3-4)
4K4H
Maximum allowable value for relative air humidity (without condensation)
100,00%
equipment
DC Connection / AC Connection
SUNCLIX / fiche AC
View via smartphone, tablet, laptop
●
Interfaces: WLAN / Ethernet / RS485
'/'
Communication protocols
Modbus (SMA, Sunspec), Webconnect, SMA Data, TS4-R
Shading Management: OptiTrac Global Peak / TS4-R
It's not going to be a good place to
Guarantee: 5 / 10 / 15 years
'/ '
Certifications and approvals (other on request)
AS 4777.2, C10/11, CE, CEI 0-21, EN 50438, G59/3-4, G83/2-1,
DIN IN 62109 / IEC 62109, NEN-EN50438, 'VE/'NORM E 8001-4-712 ' TOR D4, PPC, PPDS, RD1699, SI4777, TR3.2.1, UTE C15-712, VDE-AR-N 4105, VDE0126-1-1, VFR 2014
SMA Smart Connected Availability Country
AU, AT, BE, CH, DE, ES, FR, IT, LU, NL, UK
Designation of type
STP8.0-3AV-40
STP10.0-3AV-40
Specifications
| | |
| --- | --- |
| Maximum PV input voltage | 1000 V |
| Monophasé / Triphasé | Triphasé |
| Width | 460 mm |
| Inverter power | 8000VA |