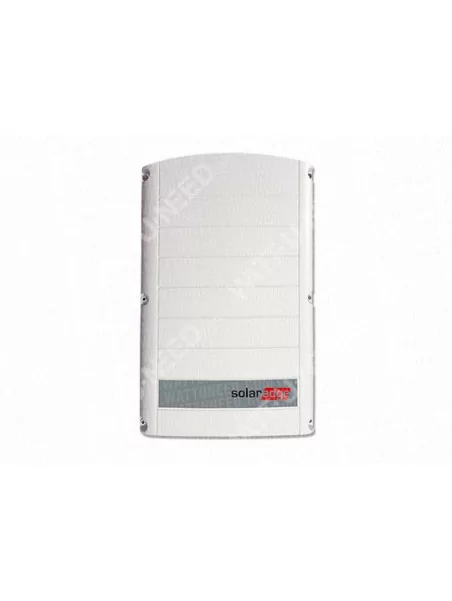 SolarEdge SE4K to SE10K SETAPP UPS
SolarEdge
More info

The SolarEdge three-phase inverter combines sophisticated digital control technology with an efficient energy conversion architecture for superior solar energy recovery and unmatched reliability.
Fixed voltage technology ensures that the solar inverter always operates at its optimal input voltage, regardless of the number of modules in a chain or environmental conditions.
A proprietary monitoring system has been integrated into the inverter and aggregates performance data from the power optimizer of each PV module. This data can be transmitted over the web and accessed via the SolarEdge monitoring platform for performance analysis, fault detection, and troubleshooting of PV systems.
---
Easy commissioning with the SetApp ups

The new SolarEdge range of three-phase inverters features a new intelligent commissioning method. The inverter is commissioned directly via a smartphone using the intuitive SetApp mobile application. Take it to the next level. Learn more about SetApp.
---
Key Features

• Inverters specifically designed to work with power optimizers
• 4 kW-10 kW for residential systems, 12.5 kW-33.3 kW for tertiary systems
• Superior performance
• Excellent reliability with a standard 12-year warranty (extendable to 20 or 25 years)
• Small size, light weight and ease of installation
• Quick and easy ups ups running directly from your smartphone with SolarEdge SetApp
• Compatible in three-phase on 3x230V networks without neutral in Belgium, Norway, Taiwan and the Philippines
• Supervision receiver integrated into the modules
• Internet connection via Ethernet or wireless (Wifi, ZigBee gateway, cellular network)
• IP65 – Outdoor and indoor installation
---
Size
---
Characteristics
SE4K
SE5K
SE7K
SE8K
SE9K
SE10K
EXIT
Rated AC output power
4000
5000
7000
8000
9000
10000
GOES
Maximum AC output power
4000
5000
7000
8000
9000
10000
GOES
AC output voltage - phase to phase / phase to neutral (nominal)
380 / 220 ; 400 / 230
Vac
AC output voltage - phase to neutral range
184 - 264,5
Vac
AC frequency
50/60 ± 5
Hz
Maximum continuous output intensity (per phase)
6,5
8
11,5
13
14,5
16
Has
Supported networks - three-phase
3 / N / PE (with neutral)
V
Utility monitoring, ilotage protection, configurable power factor, configurable thresholds by country
Yes
ENTRANCE
Maximum DC Power (STC Module)
5400
6750
9450
10800
12150
13500
W
Without transformer, without grounding
Yes
Maximum input voltage
900
Vdc
Nominal DC input voltage
750
Vdc
Maximum input intensity
7
8,5
12
13,5
15
16,5
Adc
Reverse polarity protection
Yes
Grounding fault detection
Sensitivity of 700kΩ
Maximum inverter efficiency
98
%
European weighted yield
97,3
97,3
97,4
97,6
97,5
97,5
%
Night consumption
< 2.5
W
ADDITIONAL FEATURES
Supported Communication Interfaces
RS485, Ethernet, Zigbee (optional), Wi-Fi (requires antenna)(4), cellular network (in
Intelligent energy management
Export Throttling, Intelligent Energy Management (Device Management)
Commissioning of the inverter
With the SetApp mobile app thanks to int local Wi-Fi
COMPLIANCE
Security
IEC-62103 (EN50178), IEC-6210
Network connection standards
VDE 0126-1-1, VDE-AR-N-4105, AS-4777, G83
Emissions
IEC61000-6-2, IEC61000-6-3 ,
IEC61000-3-11, IEC61000-3-12, FCC part 15 class
RoHS
Yes
SPECIFICATIONS
AC output
Cable gland diameter 15-2
mm
DC input
2 pairs of MCs
Dimensions (WxDxH)
540 x 315 x 191
mm
Weight
16,4
Kg
Operating temperature range
-40 +60
°C
Cooling
Internal ventilator
Noise
<40
Dba
Nominal protection characteristics
IP65 - Outdoor and Indoor
Assembly
Oven fxation support
Data sheets and documentation
Specifications
| | |
| --- | --- |
| Maximum PV input voltage | 900 Vdc |
| Power | 10000 VA |
| Monophasé / Triphasé | Triphasé |
| Inverter power | 9000 VA |
| Maximum DC power | 4050W; 5400W; 6750W; 8100W; 9450W; 10800W; 12150W; 13500W |