Display all pictures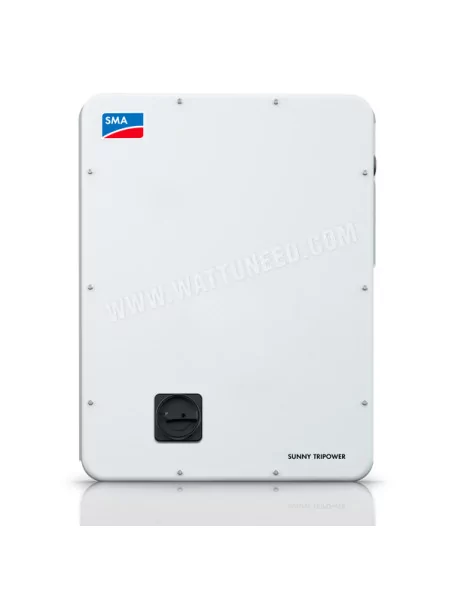 SMA Sunny Tripower Core1 STP50-40
SMA
More info
Sunny Tripower CORE1 is the first freestanding thong inleducing. This new design makes installation simpler and faster without a support system

INSTALLATION ON BIG TOITURES THAT To 60% MORE RAPIDE
The Sunny Tripower is the first free-standing thong inslay for photovoltaic installations on large roofs, on the ground or in parking shades, and is distinguished by its innovative design. As a result, the installation is up to 60% faster and costs are reduced.
---
TRANSFORM YOUR PROJECTS IN RECED
The third-generation Sunny Tripower inverter line of global success, the Sunny Tripower CORE1 is revolutionizing the large-roof photovoltaic inverter segment. The Sunny Tripower combines a unique design and an innovative installation concept that significantly reduces installation time. You get an optimal return on investment.
---
FLEXIBILITY FOR MAXIMUM ENERGY PRODUCTION
Maximum scalability for your projects up to several megawatts
Unique design for oversizing the photovoltaic generator of up to 150%.
6 MPP trackers for optimal energy production


INTELLIGENTLY INTEGRATED
Fully integrated design ensures reduced costs related to BoS components, logistics and materials
In addition to the 12 direct string entries, the CORE1 features a DC sectioner and, as an option, an AC and DC surge protection device.
PROFITABLE
No additional mounting device
Simple substructure for some commercial applications
Additional savings due to reduced field work, time and equipment
OPTICOOL ACTIVE REFROIDIRCOOL SYSTEM™
Ensures reliable operation and maximum energy production
Secure photovoltaic investment
Reduced Service Spending With Proven Technology and More Than 50 GW Installed Fleet Worldwide
QUICK AND EASY COMMUNICATION
Built-in Wi-Fi accessible from any mobile device
Simplified configuration and commissioning with the SMA web assistant: save considerable time during installation
PERFECT INTEGRATION IN RESEAU
Enables high-performance monitoring and installation control with full network management function, SunSpec MODBUS compatibility and optional 24/7 remote monitoring
Ensures a quick connection to the network and reduces the risk of connection failure
---
A COMPACT AND POWER ONDUSLEFOR FOR THE INSTALLATIONS ON BIG TOITURES, SOL AND PARKING OMBRIÈRES
The versatile solution with an optimal return on investment - From distribution to construction to operation. The Sunny Tripower CORE1 allows for reductions in logistics, material, professional and service costs. With built-in Wi-Fi for fast commissioning and advanced network management features, large roof installations are up and running faster and easier than ever before.
Making additional savings ...
THE PROSORITIES FOR THE DISTRIBUTORS
Various possible applications with a single product
An international platform for universal use
A small number of BoS parts and components
Optimal support and service
Reducing procurement and installation costs ...
THE PROSORIties FOR EPCS AND DEVELOPPEURS
Plug-and-play installation concept
Lower material costs
Faster installation and less work
Free tool for sizing the installation
Because uninterrupted performance is paramount ...
THE AVANTAGES FOR THE EXPLOITANT
LCOE optimized
Permanent customer interface for monitoring
24/7 remote monitoring by our #1 Service around the world
Smart network management
---
QUICK INSTALLATION AND NETWORK INTEGRATION
Superior configuration and communication is achieved with SMA's web commissioning assistant and Wi-Fi access to the browser from any mobile device. Two Ethernet ports with Modbus TCP (including SunSpec) allow unparalleled communication for large photovoltaic plants.
---
description
Technical features

Sunny Tripower CORE1

Entry (DC)

Maximum power of the photovoltaic generator

75000 Wp STC

Max input tension

1000 V

MPP voltage range / input voltage
Assigned

500 V to 800 V / 670 V

Min. input tension /entry tension
Start

150 V / 188 V

Maximum entry current / per MPPT

120 A / 20 A

Maximum short-circuit current by MPP tracker/
per thong entry

30 A / 30 A

Number of independent MPPT entries /
strings per MPPT entry

06/02/19

Exit (AC)

Assigned power (for 230V, 50 Hz)

50000 W

Apparent power AC max

50,000 VA

AC rated voltage

220 V / 380 V
230 V / 400 V
240 V / 415 V

AC tension range

202 to 305 V

AC/beach network frequency

50 Hz / 44 Hz to 55 Hz
60 Hz / 54 Hz to 65 Hz
Assigned network frequency/tension
assigned network

50 Hz / 230 V

Maximum output current./Assigned Output Current

72.5 A / 72.5 A

Injection Phases/AC Connection

3/3-(N)-PE

Power factor to assigned power/
adjustable shift factor

1/0 inductive to 0 capacitive

Thd

3 per cent

Protective devices

DC-side disconnection device

●
Ground defect monitoring/surveillance
Network
{122}
DC/resistance polarity reversal protection
AC/Galvanic Separation Short Circuits
—
Fault current monitoring unit,
sensitive to all currents
●
Protective class (according to CEI 62109-1)/
surge category (according to 62109-1)

I/ AC: III; DC: II

Type II AC/DC Parafoudre

{133}

return

Maximum/European return

98,1 % / 97,8 %

General features

Dimensions (L/H/P)

621 mm / 733 mm / 569 mm (24.4 in / 28.8 in / 22.4 in)

weight

84 kg (185 lbs)

Operating temperature range

'201225 ' C at '60 'C ( 'F to 140 'F)


Sound emissions (typical)

65 dB (A)

Self-consumption (night)

4.8 W

Topology/cooling system

Transformer-free / OptiCool

Protection Index (according to IEC 60529)

IP65

Climate class (according to IEC 60721-3-4)

4K4H

Maximum allowable air humidity (without condensation)

100,00%

Equipment/Function/Accessories

DC/AC Connection

SUNCLIX/Borne

Support feet

●

LED display (state/error/communication)

●

Interface: Ethernet/WLAN/RS485

(2 entries) /

Data interface: SMA Modbus/SunSpec Modbus/Speedwire, Webconnect

{166}
Multifunction relays/Ports for modules
extension

(2 entries)

OptiTrack Global Peak/Integrated Plant
Control/Q on Demand 24/7
{172}
SMA Fuel off-grid/compatible
Save Controller
{175}

Guarantee: 5/10/15/20 years

' / ' / '
Certifications and approvals (other on
request)
It is not valid for all national annexes
EN 50438
ANRE 30, AS 4777, BDEW 2008,
C10/11:2012, CE, CEI 0-16, CEI 0-21,
IN 50438:2013, G59/3, IEC 60068-2-x,
IEC 61727, IEC 62109-1/2, IEC 62116,
MEA 2016, NBR 16149, NEN EN 50438,
NRS 097-2-1, PEA 2016, PPC, RD 1699/413,
RD 661/2007, Res. 7:2013, SI4777,
TOR D4, TR 3.2.2, UTE C15-712-1,
VDE 0126-1-1, VDE-RNA 4105, VFR 2014,
P.O.12.3, NTCO-NTCyS, GC 8.9H, PR20,
Dewa
Standard Equipment - Optional Equipment — Not Available
Data in nominal conditions - version: 07/2017

Designation of type

STP 50-40
Specifications
| | |
| --- | --- |
| Maximum PV input voltage | 1000 V |
| Weight | 84 Kg |
| Power | 50000 VA |
| Monophasé / Triphasé | Triphasé |
| Width | 621 mm |
| Height | 733 mm |
| Thickness | 569 mm |
| Inverter power | 5000VA |