Samsung Wind-Free™ ELITE heat pump of 2.0 and 3.5 kW
Samsung
More info
Wind-Free™ ELITE

---
Opt for comfort without draughts

Wind-Free technology™
Discover optimal comfort with Wind-Free™ technology. This system performs a gentle and discreet diffusion of air through 23,000 micro-perforations to save you the sensation of drafts. Thanks to its revolutionary airflow, this system is also able to continuously refresh a wider and deeper space. It also requires 77% less energy than Fast Refresh mode.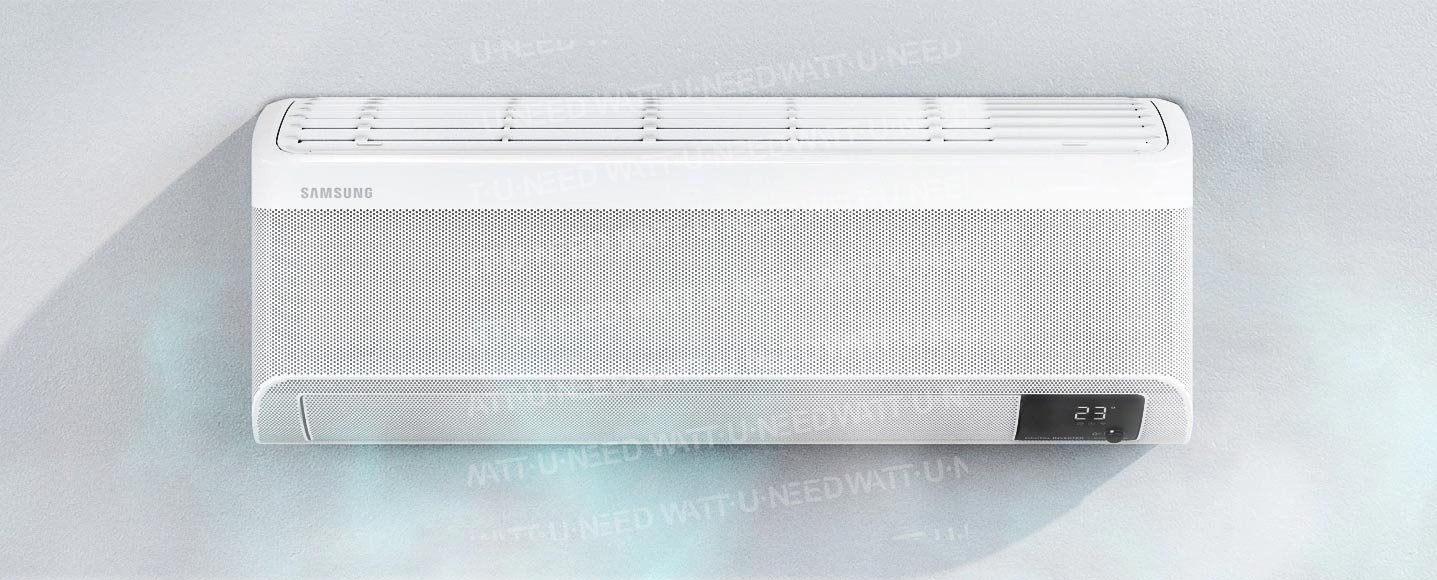 ---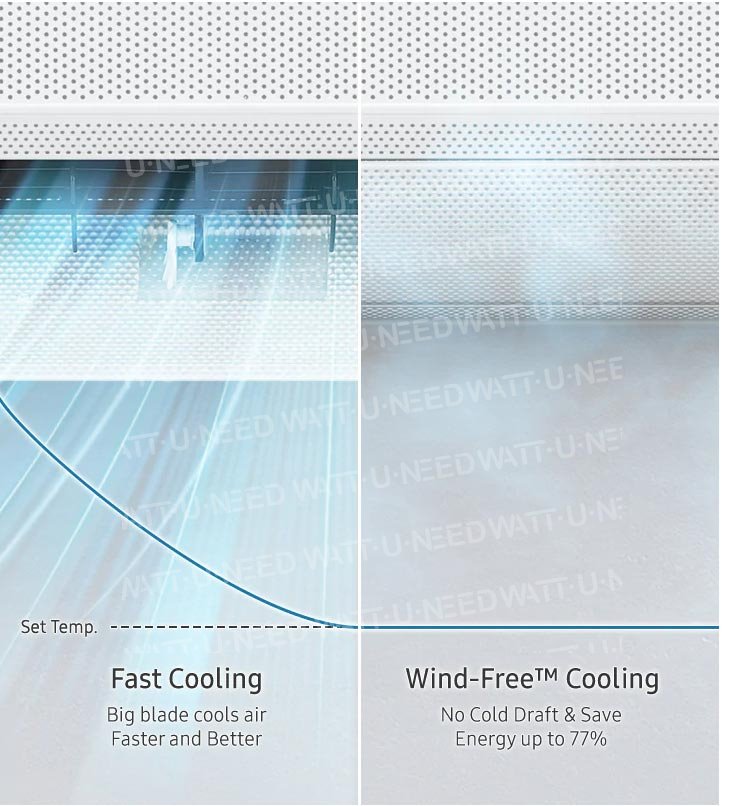 Reducing energy consumption by up to 77%

Wind-Free technology™, performance and cost savings
Reduce your energy costs with Wind-Free™, efficient and efficient technology. In Wind-Free™ mode, the outside group operates at a minimum energy consumption threshold, requiring up to 77% less energy than the Fast Refresh mode.
---
Smart comfort

Automatic comfort management by AI
Enter the future with the artificial intelligence-based auto-adjustment feature AI Auto Comfort. Onboard Artificial Intelligence analyzes the user's preferred environmental conditions, temperatures, heating and cooling modes, and the outside climate to automatically switch to the most appropriate setting. This ensures optimal and personalized comfort at all times.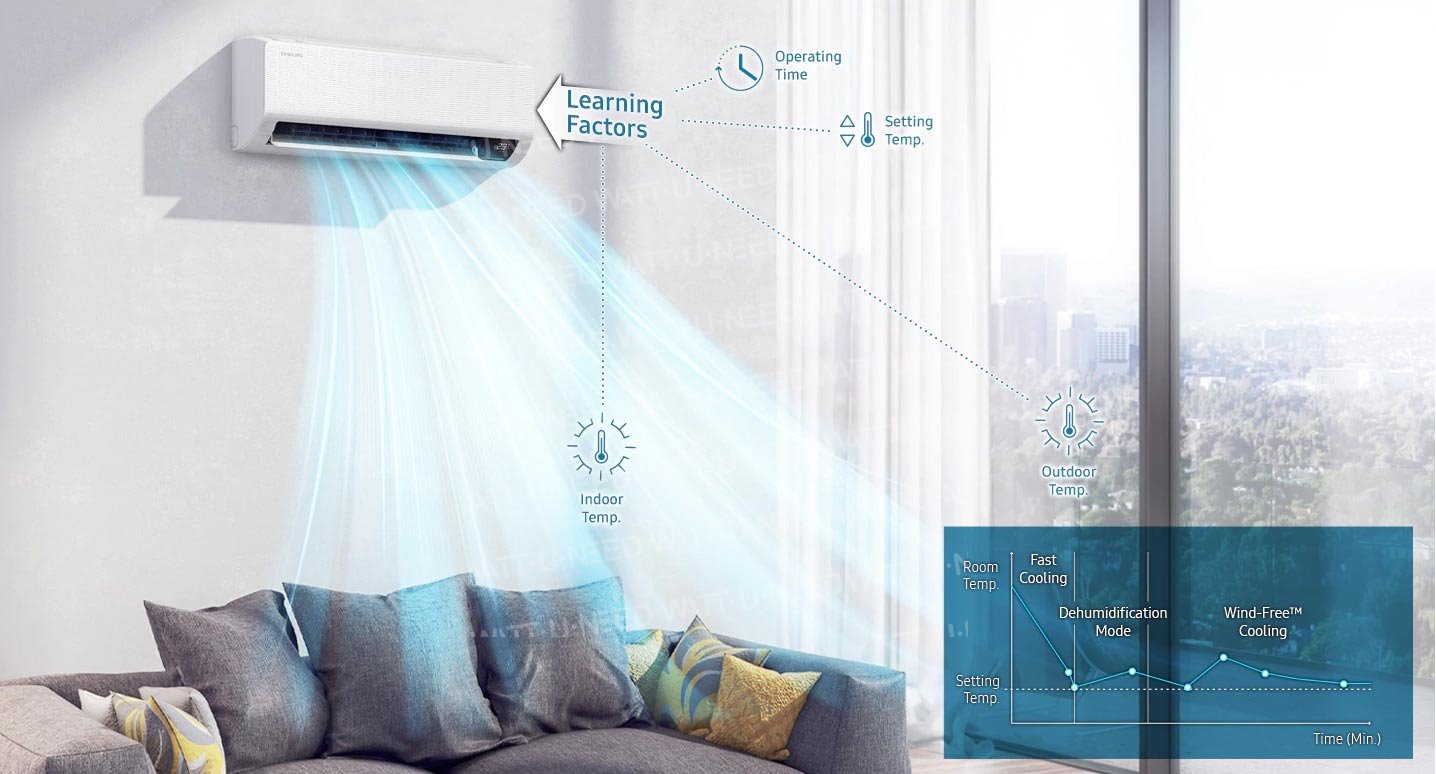 ---

More pleasant nights

Wind-Free technology™ guaranteeing a good night's sleep
Night mode and Wind-Free™ technology provide ideal conditions for peaceful nights in the absence of unpleasant cold drafts. Its temperature control system makes it easy to sleep quickly, pleasantly and deep for truly restful nights of sleep.
---
An automatic and more efficient refreshment

Motion detector
Refresh your place of life efficiently, even remotely. The motion sensor analyzes any lack of movement after 20 minutes and automatically switches to Wind-Free mode™ to reduce energy consumption. It is also possible to set up the sensor so that the system follows or avoids users.

---
A system designed to deliver optimal comfort

Quick refresh
Refresh every nook and crany of every room in the blink of an eye for maximum comfort at all times. Digital Inverter Boost technology refreshes the atmosphere 43% faster. Its revolutionary design also features a 15% larger fan, 18% wider air intake and a 31% wider flap. The flow of fresh air is diffused further and more widely up to 15 meters.
---

Control your device remotely

SmartThings
Check the temperature of your home at all times and remotely. Using the SmartThings app, users can remotely control their heating and cooling system. With the Bixby voice assistant, you can also simply ask the device to start in your favorite mode. It even suggests the most suitable settings.
---
Breathe easier with optimal air treatment

Tri-Care filter
Maintain air quality and ensure the performance of your system's interchange with the Tri-Care filter. Its three layers include an ultra-dense filter for extracting large dust particles, fibres and animal hairs. In addition, a filter with zeolite coating to trap fine dust and reduce the spread of viruses, bacteria and allergens.
---

A clean system at all times

Automatic Cleaning (3 steps)
Keep your air conditioning clean without the slightest effort! At the end of each use, the Automatic Cleaning function automatically dries the interchange in a 3-step process. Any traces of moisture are removed to prevent the build-up of bacteria and odours.
---

A calm and peaceful environment

Less noise
Refresh your place of life with an air conditioning system that is so quiet that it will no longer be an object of distraction. The compressor creates a powerful airflow discreetly thanks to its Twin Tube silencer. It reduces the noise level emitted by the refrigerant flow when your system is running at full throttle and minimizes ambient noise at low speeds.
---

An easy-to-clean anti-bacterial filter

Easy Plus filter
Keep your air conditioning system at an optimal level of operation. The Easy Plus filter is located on the top of the unit. So you can easily remove it and clean it. The filter's dense mesh ensures the cleanliness of the interchange while its anti-bacterial coating effectively protects you from dangerous pollutants in the air.
---

Anti-corrosion protection for a longer lifespan

DuraFin™ More
Sustained comfort and performance. The Ocean Fin is designed in a corrosion-proof material that prevents the capacitor from oxidizing to ensure the optimal performance of the interchange. Its incredible corrosion resistance has been proven thanks to a 480-hour Salt Spray Test (SST) accelerated corrosion test.
---

An environmentally friendly refrigerant

Refrigerant R32
Protect the planet by reducing the impact of climate change. This air conditioning system uses the next-generation R32 refrigerant, with no impact on the ozone layer and not accelerating global warming compared to traditional R22 or R410A refrigerants. It is a much more environmentally friendly refrigerant.
---

Efficiency and savings

Mode ECO
Reduce energy costs while having a comfortable environment. The ECO mode requires less compressor than Normal mode. This reduces energy consumption.
---
Characteristics
Inner unit
AR07TXCAAWKNEU
AR09TXCAAWKNEU
AR12TXCAAWKNEU
Ability
Ability
Cooling
Kw
2.0
2.5
3.5
Heating up -7 degrees Celsius
Kw
2.2
3.2
4.0
Benefit
Dehumidification
L/h
-
1.0
1.5
Airflow
m3/min
642
666
726
Acoustic power
Cooling
dB(A)
56
56
58
Acoustic pressure
H/L
dB(A)
37/19
39/16
40/16
Installation data
Voltage
Φ, V, Hz
1st, 220-240V, 50 Hz
1st, 220-240V, 50 Hz
1st, 220-240V, 50 Hz
Energy consumption
Cooling
W
40
40
40
Heating
W
40
40
40
Nominal current
Cooling
Has
0.4
0.4
0.4
Heating
Has
0.4
0.4
0.4
Size
Dimensions (LxHxP)
Mr
889x299x215
889x299x215
889x299x215
Weight
Kg
10.3
10.3
10.3
Refrigerant
Pipe connection
Liquid
inch, inch, inch, inch, inch, inch, inch,
1/4
1/4
1/4
Gas
inch, inch, inch, inch, inch, inch, inch,
3/8
3/8
3/8
Evacuation hose
Mm
ID16
ID16
ID16
Functions
Airflow
Wind-Free CoolingTM
•
•
•
Air direction control (up/down)
Auto
Auto
Auto
Air direction control (left/right)
Auto
Auto
Auto
Air Purification
Automatic fan speed
•
•
•
Tri-Care filter
•
•
•
Easy Filter Plus
•
•
•
Auto Clean (self-cleaning)
•
•
•
How it works
AI Auto Comfort with wifi - MDS (direct/indirect)
•
•
•
AI AUTO Comfort with wifi
•
•
•
Quick cooling
•
•
•
peaceful sleep
•
•
•
Eco
•
•
•
Dehumidifier
•
•
•
Ventialtor
•
•
•
Silent mode
•
•
•
Other functions
Samsung SmartThings
•
•
•
MDS (movement sensor)
•
•
•
Showing the indoor temperature
88 Display
•
•
•
On/Off display
•
•
•
Bip On/Off
•
•
•
Automatic start-up
•
•
•
Automatic restart
•
•
•