Display all pictures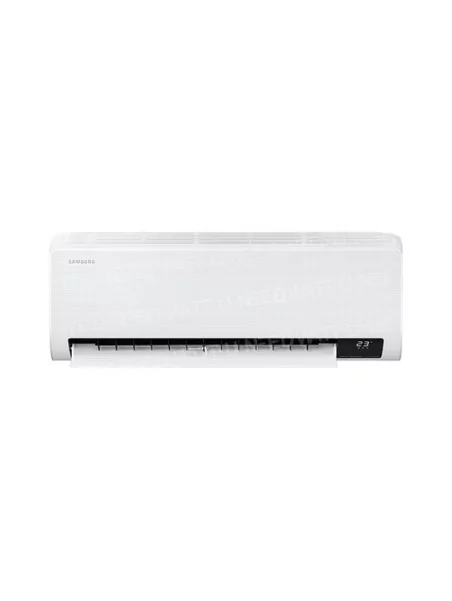 Samsung WindFree Comfort Multi Split Heat Pump
Samsung
More info
Samsung WindFree™ Comfort
Comfortably cool, without cold drafts
With thousands of micro-perforations that gently and evenly distribute fresh air into every room, WindFree™ series air conditioners create a comfortable indoor environment. You can enjoy your environment to live, work and relax without suffering from unpleasant cold drafts. Samsung WindFree™ air conditioners are available in wall and ceiling models, for use in all possible rooms of the home or office.
How does WindFree™ cooling work?
The front side opens and the quick cooling mode allows the whole room to be cooled quickly.
The set temperature is reached in fast cooling mode and the front side closes.
In WindFree™ mode, fresh air is evenly distributed thanks to the thousands of micro-perforations.
Discover the ultimate comfort
Samsung's new range of WindFree™ air conditioners uses innovative technologies to bring a new level of comfort into every room, so you can experience ultimate well-being.

Samsung WindFree
WindFree™ technology improves indoor comfort by blowing fresh air through thousands of micro-perforations into the air conditioner panel, in order to distribute fresh air evenly without cold drafts. In WindFree™ mode, the air is diffused smoothly, creating a "Still Air" environment that offers you total well-being day and night.

Intelligent control
The Samsung WindFree™ wall models of air conditioning with AI (Artificial Intelligence) Auto Comfort makes you discover a smart lifestyle. It analyzes room conditions and usage patterns, and then automatically adjusts the temperature of the air conditioner accordingly. If you are in the room at the same time each day, the air conditioner automatically sets the desired temperature. Air conditioner settings can also be managed with the Samsung SmartThings app.

Energy efficient
Samsung's compressor with Digital Inverter Boost technology saves you energy. The Motion Detection Sensor (MDS) effectively cools the room by controlling air conditioning activity when no one is present.

Clean air
Samsung WindFree™ air conditioning models are equipped with an advanced filter. This filter can remove even the smallest dust particles, allergens and other air pollutants. The filter has a very high density, which filters the smallest dust particles from the incoming air. In addition, the filter of the air conditioner is equipped with an antibacterial layer, which means that the bacteria no longer have any chance. All the air that the device moves passes through this filter. Your air is up to 90% cleaner!
Data sheets and documentation
Specifications
| | |
| --- | --- |
| Width | 828 mm |
| Height | 267 mm |
| Thickness | 265 mm |