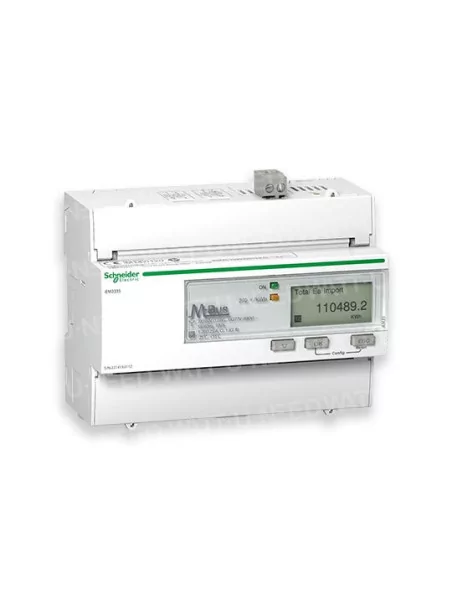 KWH Acti9 series energy counter iEM3000 125A
Schneider Electric
More info
Acti9 series counter iEM3000 125A
Acti9 iEM3000 series three-phase energy meters offer a competitive range of DIN rail-mounted meters, ideal for billing and cost allocation applications. Combined with a communication system, such as Com'X or SmartLink, the iEM3000 series facilitates the integration of electrical distribution measures into customer facility management systems.
Innovative design makes counting smart and simple
Easy to install for boarders.

Easy to put into service for contractors and installers.

Easy to use for the end user.
Applications
Cost management
Checking billing.
Recharging, including WAGES (Water, Air, Gas, Electricity - Steam).
Cost allocation, including WAGES.
Network management
Basic electrical parameters, such as current, voltage and power.
On-board overload alarm to avoid circuit overload and triggering.
Easy integration with automated systems by input/exit interface.
Market segments
Construction and industry.
Data centers and networks.
Infrastructure (airports, road tunnels, telecommunications).
Characteristics
Self-contained power meters.
Precision Class 1 for Full Measuring Circuit (Measurement Device - TI)
Compliant with IEC 61557-12, IEC 62053-21/22, IEC 62053-23, EN50470-3.
Communication Modbus, LON, M-Bus or BACnet integrated (some models)
Graphic screen for easy viewing.
Easy-to-wire iEM31xx and iEM33xx (no TC) series.
Anti-sabotage security features ensure the integrity of your data.
LVCT support (iEM3455 and iEM3465).
Support Rogowski (iEM3555 and iEM3565).
MID Certified (some models)
Specifications
| | |
| --- | --- |
| Width | 126 mm |
| Height | 103,2 mm |
| Thickness | 69,3 mm |