Display all pictures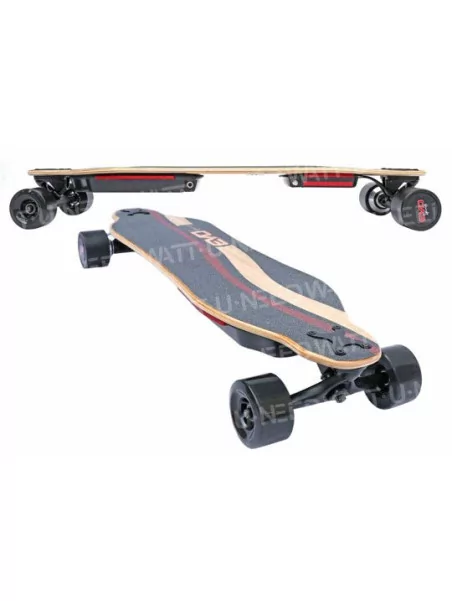 Electric Skateboard EVO Switcher HP
Evo
More info
Switcher HP
Electric skate 2 in 1: longboard or all-terrain skate

The HP Switcher is a 2-in-1 electric skate, allowing you to switch in 2 minutes from an all-terrain skate to a longboard:
Longboard: 83mm urethane gum wheels - 80A hardness
All-terrain skate: 6-inch / 15cm wheels.
No need to choose between a longboard electric skate or an all-terrain electric skate, the HP Switcher does both without compromise!
---
An electric skate with flex tray and interchangeable "made in France" drums!

The Evo-spirit 2020 electric skates are the only ones to offer both a high-end flex tray AND a high-capacity interchangeable battery.
We have developed a 100% bamboo tray consisting of 7 folds and measuring 107cm-28cm to get the flex allowing you to rediscover the sensations of a non-motorized skateboard.
In order not to limit the flex of the tray, we chose to create a compact and separate controller block and battery pack.
This battery pack is interchangeable, allowing you to replace the battery easily and without tools. You can invest in a second battery and carry it in your backpack during your electric skate outings, for maximum battery life.
An exclusive Evo-Spirit innovation!
---
Brushless 3200-watt engines (2-1600w)

The HP Switcher, is the evolution of the Switcher. Hp means High Performance. For this reason, we have equipped this electric skate with 2 6354 external Brushless motors of 1600W each.
These 2 high-performance engines are designed to give the HP Switcher more power and more torque. It's a more powerful model than the Switcher V2, which will suit the most demanding users.
In longboard configuration, its power will come to grips with ease and its top speed is 39km/h.
In all-terrain configuration, its power and torque allow you to pass through steep places and reach a maximum speed of 35km/h.
---
Lithium battery "made in France"

The ELECTRIC Switcher HP skate can be equipped with high-capacity batteries for maximum range:
7A.h battery
Battery 11.6A.h
14A.h. battery (equipped with a 4A fast charger).
The interchangeable battery pack is easily replaced and without tools, so you can multiply your battery life with optional battery packs that can be carried in a backpack.
For safety and reliability, all our batteries are assembled in a specialized workshop in France, with high quality Samsung brand cells.
This high-quality assembly with a BMS (control circuit) designed specifically for our batteries offers several advantages:
Have batteries with a longer lifespan, about 800 charge and discharge cycles, allowing to offer a guarantee of 2 years. We are probably the only brand to offer such a long warranty on batteries.
Having safe and reliable batteries eliminates the risk of fire compared to batteries assembled abroad.
The made in France has a cost, but for Evo-Spirit the reliability and safety of our customers are priceless.
Electric skate autonomy Switcher HP:
In longboard configuration:
46km Max with 14 A.h (504W.h) battery
38km Max with battery 11.6 A.h (418W.h)
23km Max with 7 A.h battery (252W.h)
In off-road configuration:
28km Max with 14 A.h (504W.h) battery
23km Max with battery 11.6 A.h (418W.h)
14km Max with 7 A.h (252W.h) battery
The 7 A.h battery comes in a fine 28mm battery pack that we recommend if you use the HP Switcher primarily in longboard mode.
The 11.6 A.h and 14 A.h batteries are delivered in 56mm-thick battery packs.
---
An electric skate with flex tray

The flex of the 107cm-28cm bamboo tray of the Switcher HP electric skateboard brings a real advantage over electric skates with a rigid tray, especially those with a carbon tray.
In longboard configuration, you find the real sensations of longboard, ideal for carving and cruising.
In all-terrain configuration, the flex provides real comfort, allowing you to travel the steepest paths without having the vibrations that go up in the legs.
---
Unbreakable tires

Thanks to the EAFT (Evo Air Free Technology) concept, the all-terrain wheels are non-inflatable and can be uncompromising and absorb shocks perfectly for optimal comfort. The EAFT concept consists of having a rubber tire, with 2 rows of holes crossing for excellent cushioning on bumps and pebbles...
---
Two versions to suit your needs

To adapt to the new regulations regarding Motorized Personal Travel Devices (EPDM), Evo-Spirit gives you the option to choose between two versions:
The sporty version, which is not locked, allows you to ride up to 39km/h, only on private ground.
The EPDM version, approved to drive on public roads, is locked at 25km/h.
The EPDM version comes with a sound alarm (finger bell), as well as a removable lighting kit attached to the truck.
Evo-Spirit offers you to choose between a means of locomotion allowing you to ride legally on the road, or a motorized skate powerful for maximum sensations.
---
Controller with load indicator

The next-generation brushless controller is specific, optimized and set for the HP Switcher.
It has an LCD screen showing the battery charge level.
---
Bluetooth remote control with LCD screen

The Bluetooth remote has an LCD screen with multiple options: cruise control, independent acceleration and braking setting, skate battery levels, remote control battery level, instant speed, max speed, total mileage and current session mileage.
---

A high-end carry bag

The transport bag designed specifically for the HP Switcher makes it easy and discreet to carry it to your workplace or on public transport.
You can wear it in three different ways:
In a backpack, with two adjustable straps.
On the shoulder, extending one of the shoulder straps.
In a sports bag, the two straps turn into handles.
This bag is designed to be rolled and slid into a mini backpack provided, to carry it when you use your electric skate.
---
Battery charger:

The lithium (li-ion) battery recharges with a 2 Ampere charger provided with version 7 A.h and 11.6 A.h.
The 14 A.h. battery comes with a 4 Ampere charger, for a charging twice as fast!
Estimated load time:
3 hours for the battery 7 A.h.
5 hours for the battery 11.6 A.h
3 hours for the 14 A.h battery thanks to the 4A fast charger.
---
The hook, convenient for stalling his front foot.

The hook allows the front foot to be wedged to prevent the foot from moving and altering your support, or the foot slipping out of the electric skateboard deck and causing a fall.
With the HP Switcher in off-road mode, it is highly recommended for a committed ride. You can also use it in longboard mode if you feel the need. Watch the optional Accessory video.
---
Easy warranty and maintenance

The Electric Skate Switcher HP is guaranteed 2 years, for skateboarding as well as for battery. More info
Evo-Spirit designed this Electric Switcher HP skateboard to make it easier to replace parts when needed.
Replace the controller or engine in a matter of minutes, without the need to return the skateboard to the workshop.
Evo-Spirit has all the spare parts in stock and keeps them for several years even for models that are no longer in the catalog, allowing you to maintain your electric skate in the long term.
---
Technical features of the electric skate Switcher HP

Two HP engines of 1600w each
Maximum 39km/h
Maximum 46 km in longboard wheels and 28 kms in 6-inch tires (with lithium battery 14 A.h)
Plateau: Bamboo 7 folds 107cm-28cm with FLEX
Wheels: 2 sets included:
90mm - 80A - replaceable gum independently of engines
6 inches (15 cm) - EAFT concept unbreakable tires
Interchangeable "made in France" battery
Bluetooth remote control with LCD screen
Latest-generation controller with load indicator.
Charge time:
- battery 7 A.h: 3h
- battery 11.6 A.h: 5am
- 14 A.h. battery: 3 hours thanks to the 4A fast charger.
Weight in longboard configuration with:
- battery 7 A.h: 8.5 kg
- battery 11.6 A.h: 9.3 kg
- battery 14 A.h: 9.5 kg
1.9kg in off-road configuration.
Provided with a carry-on bag
- sound alarm and light kit provided with the EPDM version.
2-year skate and battery warranty
Data sheets and documentation