Display all pictures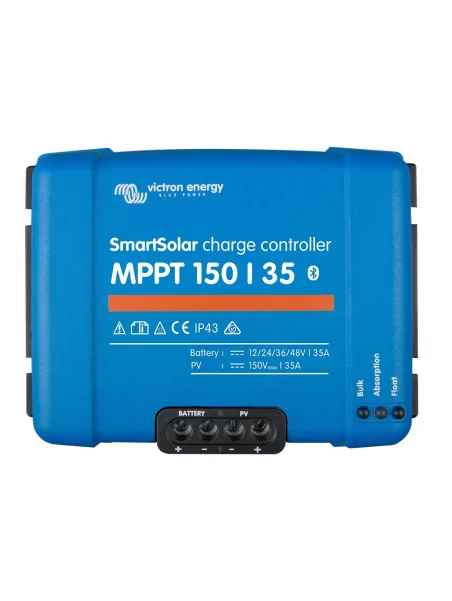 Regulator Victron SmartSolar 150/35 - 150/45
Victron energy
More info

Charging current up to 35 A and PV voltage up to 150 V
The SmartSolar MPPT 150/35 charge controller can charge a battery of lower rated voltage from a field of PV panels of higher rated voltage. The controller will automatically adjust to a rated battery voltage of 12, 24 or 48 V.
Ultra-fast location of the maximum power point (MPPT - Maximum Power Point Tracking).
Especially in cloudy skies, when the light intensity is constantly changing, an ultra-fast MPPT controller will improve energy collection by up to 30% compared to PWM (Pulse Duration Modulation) charge controllers, and up to 10% compared to slower MPPT controllers.
Advanced detection of the maximum power point in case of shady conditions
In the case of shady conditions, two or more points of maximum power may be present on the voltage-power curve. Conventional MPTPs tend to crash on a local MPP, which won't necessarily be the optimal MPP. The SmartSolar's innovative algorithm will always maximize energy recovery by locking on the optimal MPP.
Exceptional conversion efficiency
No fan. Maximum efficiency exceeding 98%. Total output current up to 40°C (104°F).
Extended electronic protection
Protection against overheating and reduction of power supply in case of high temperature. PV Short Circuit and PV Reverse Polarity Protection. Protection against PV current reversal.
Internal temperature probe.
It compensates for absorption and float load voltages depending on the temperature.
Automatic battery voltage recognition
The controller will automatically adapt to a 12V or 24V system only once. If a different system voltage is required at a later stage, the change will have to be made manually, for example with the Bluetooth app. See section 1.11.
Flexible charging algorithm
Fully programmable charging algorithm, and eight pre-programmed algorithms that can be selected with a rotating switch.
Three-step adaptive charging
The SmartSolar MPPT charge controller is configured for a three-step charging process: Bulk – Absorption – Float.
Bulk
During this step, the controller delivers as much current as possible to quickly recharge the batteries.
Absorption
When the battery voltage reaches the absorption voltage parameters, the controller switches to constant voltage mode. During shallow battery discharges, the absorption charge time is limited to avoid overloading. After a deep discharge, the absorption time is automatically increased to ensure a full recharge of the battery. In addition, the absorption period also ends when the charging current is reduced to less than 2 A.
Float
During this step, the Float voltage is applied to the battery to keep it in a state of full charge. When the battery voltage drops below the Float voltage for at least 1 minute, a new charge cycle will be triggered.
Remote on/off
The MPPT 150/35 can be controlled remotely by a non-inverter EV remote on/off cable. Direct (ASS030550300). An ELEVATED input (Vi > 8 V) will switch the controller to On – Ignition; and a LOW input (Vi < 2 V, or floating) will switch the controller to Off – Off. Example application: control of the ignition/stop by an EV BMS. Bus when charging lithiumion batteries.
Configuration and supervision
- Built-in Bluetooth Smart: the wireless solution to configure, monitor and update the controller using Apple and Android smartphones, tablets or other devices.
- Use the VE cable. Direct-USB (ASS030530000) to connect to a PC, an Android-powered smartphone and an On-The-Go USB flash drive (USB OTG cable required).
- Use an EV cable. Direct-VE.Direct to connect to the MPPT Control or a Color Control panel or Venus GX.
Characteristics
SmartSolar Charge Controller
MPPT 150/35
MPPT 150/45
Battery voltage
12 / 24 / 48 V Automatic selection
(software tool needed to select 36V)
Nominal charging current
35A
45A
Rated PV power 1a, b)
35 A 12 V: 500 W / 24 V: 1000 W / 36 V: 1500 W / 48 V: 2000 W
45 A 12 V: 650 W / 24 V: 1300 W / 36 V: 1950 W / 48 V: 2600 W
Maximum current. PV short circuit 2)
40A
50A
Maximum open circuit PV voltage
150 V absolute maximum in the coldest conditions
145 V maximum for start-up and operation
Maximum efficiency
98 %
Self-consumption
12 V: 20 mA 24 V: 15 mA 48 V: 10 mA
"Absorption" charging voltage
Default configuration: 14.4 / 28.8 / 43.2 / 57.6 V (adjustable)
Charging voltage "Float"
Default configuration: 13.8 / 27.6 / 41.4 / 55.2 V (adjustable)
Charging algorithm
multi-step adaptive (eight pre-programmed algorithms)
Temperature compensation
-16 mV / -32 mV / -64 mV / °C
Protection

Pv reverse polarity
Output short circuit Overheating

Operating temperature
-30 to +60°C (full output rated power up to 40°C)
Humidity
95%, non-condensing
Data communication port

VE. Direct
Read our white paper on data communications on our website

CASE
Colour
Blue (RAL 5012)
Power terminals
16 mm² / AWG6
Degree of protection
IP43 (electronic components), IP22 (connection area)
Weight
1.25 kg
Dimensions (h x w x d)
130 x 186 x 70 mm
STANDARDS
Security
EN/IEC 62109-1, UL 1741, CSA C22.2
Data sheets and documentation