Display all pictures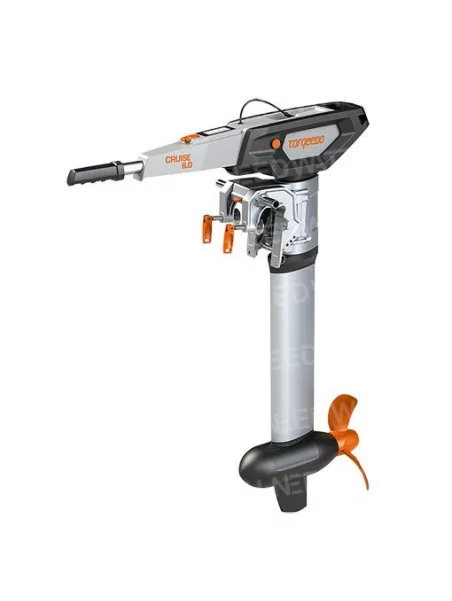 Torqeedo Cruise 6.0 T engine
torqeedo
More info
Torqeedo Cruise 6.0 T
The new generation of Cruise 6.0 has been designed to meet the daily challenges of professional sailing and face winds and tides, for example with dinghies or sailboats up to 6 tons.
The Cruise 6.0 is even more stable in the event of a stranding and even better protected against corrosion for regular sailing at sea.
The Cruise 6.0, comparable to a 9.9 HP gasoline outboard, is easily mounted with just a few tools, whether it's the remotely controlled or free-bar model.
Its power supply requires at least one lithium battery (Power 48-5000) or several lead-acid batteries (gel or AGM).
Cruise 6.0 T - The advantages:
High-efficiency outboard with 6,000 watts of engine power, equivalent to a 9.9 HP gasoline outboard.
For dinghies and sailboats up to 6 tons, we recommend Cruise 6.0 models.
This model is equipped with a free bar.
Robust aluminum pylon with reinforced fin, extremely stable, even in case of stranding.
Protected shaft joints inside the pylon
Highly resistant anodized aluminum with seawater resistance guaranteeing a long service life, even in the harshest conditions.
Self-lubricating, maintenance-free and wear-resistant plain bearing. Protects from damage caused by fishing lines and debris and strengthens the propeller shaft guidance.
Absolute protection against galvanic corrosion thanks to the judicious choice of all materials and the meticulous insulation of materials with different electrochemical properties.
Aluminum drift coated with polyurethane foam providing additional protection in case of impact.
Fully waterproof min. IP67.
---
Characteristics
Model
Cruise 6.0 T
Input power in watts
6000
Propulsion power in watts
3504
Equivalent to a thermal outboard of (propulsion power)
9.9 HP
Equivalent to a thermal outboard of (thrust)
15 HP
Maximum overall return in %
58
Static thrust in lbs*
230
Built-in battery
-
Rated voltage in volts
48
Final charging voltage in volts
-
Total weight in kg
21.3 (S) / 21.8 (L)
Motor weight without battery in kg
-
Built-in battery weight in kg
-
Tree length in cm
62.5 (S) / 75.5 (L)
Standard propeller
(v = speed in km/h for power p in watts)
Propeller B 12 x 17 HSP
Other propellers to choose from
Propeller B 12.5 x 13 THR
Maximum propeller speed at full rpm
1130
Order
Free bar
TorqLink
No
Direction

360° blockable

Lifting
Manual + automatic when the engine hits the bottom
Tilt angle
61,3°
Trim
Manual, 4 positions
Continuous AV/AR acceleration
Yes
Built-in on-board computer
Yes
Data sheets and documentation