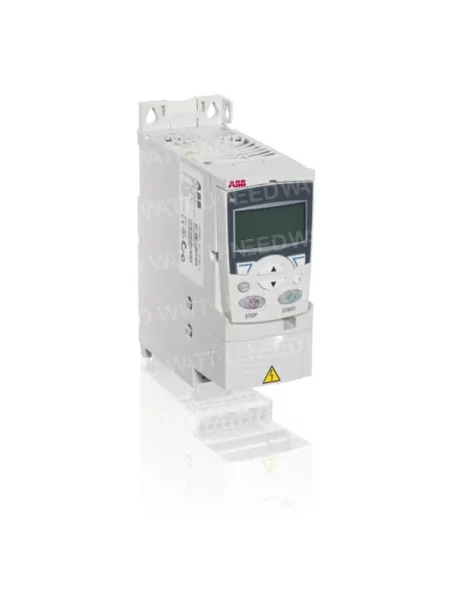 ABB ACS355 for solar pumping - 230V three-phase
ABB
More info
ASC355 speed variator for solar pumping
---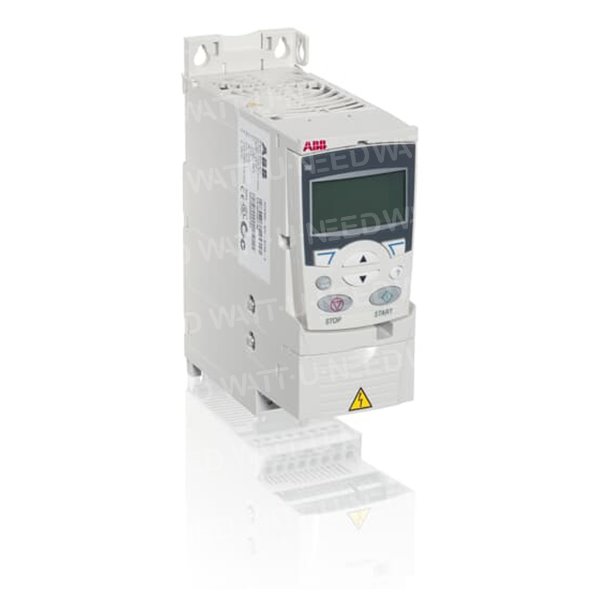 Functional, compact and economical
The ACS355 ABB frequency dimmers are quick to install, set up and put into service.
Very compact and economical, their functional intelligence and high level of security will meet the highest demands for productivity and performance.

These dimmers can be adjusted according to the characteristics of the engine of the pump to be powered.
This model is intended to power 230Volts three-phase pumps.


---
Applications
The ACS355 is designed to control pumps in 230V three-phase. They are equipped with a progressive start function and a detection of dry operation. They protect the engines perfectly from the pumps.
---
Key points
Exceptional compactness and streamlined dimensions.
Quick commissioning with application macro programs and micro-console assistants.
Secure stop STO (Safe torque-off, SIL3) as standard.
Vector control without a sensor.
Built-in braking chopper.
Micro-console debugging and compatible with the upper range ACS550.
ENHANCEd PROTECTION variants IP66 for difficult environments (optional).
---
Characteristics
Characteristics
Benefits
Remarks
availability and technical support
Divariators are available at all times.
Dedicated network of services and technical support among the most extensive on the market
Fast and reliable delivery
Provides services and technical support in every country in the world
The widest power range in its class (0.37 to 22 kW)
The range covers a very wide range of power
Reducing the costs of machine manufacturers
Compactness and rationalization of dimensions
Highest power density in the category (2.8 kW/dm3)
Same depth and height for the whole range
Simplification of cabinet editing and multivariator applications
Saving space in tight spaces
Secure shutdown STO (SIL3) as standard
Integrated and STO-certified function (Safe torque-off)
Preventing untimely start-ups and different types of stops
Fewer external security components
Compliance with the requirements of the Machinery Directive
2006/42/EC by machine manufacturers
Programming
Programming in minutes. the software is pre-pogrammé for solar pumping
Avoids using an external automaton (API)
Macroprograms and commissioning assistants
Preconfiguration of macroprogram E/S (e.g., 3-wire command, motopotentiometer)
Assisted adjustment of many functions: start-up, engine data setting0

Rapid commissioning of the dimmer

FlashDrop box

Loading a set of parameters (among about 20) in a dimmer not connected to the network in a matter of seconds
Simple tool of use that requires no special knowledge

Rapid, easy and reliable predictor of dimmers by large-series machine manufacturers

IP66/67/UL Type 4X protection variant for challenging environments

No special envelopes to use for environments that require enhanced protection. NSF-certified variator

Saving time and money