Display all pictures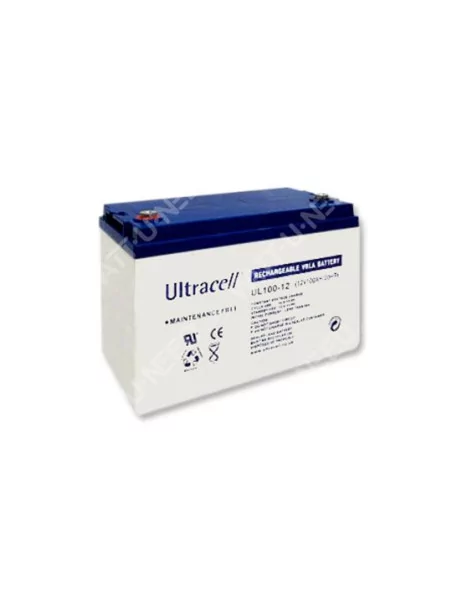 AGM battery Ultracell 12V 100Ah
Ultracell
More info

Solar battery AGM 12V 100Ah
This new type of sealed battery uses the technology "absorbed glass mat batteries". This technology uses between the lead plates of the battery a thin sheet of boron-silicate fiber. This thin sheet is soaked with electrolyte (70% water and 30% acid).
---
Benefits
AGM batteries have many advantages compared to conventional lead acid batteries and gel batteries:
They are maintenance-free, waterproof.
No gaseous clearances, shock resistant.
Low self-discharge 1 to 3% per month (unlike a normal lead acid battery that discharges very quickly if not used for some time).
there lifetime east Increased Therefore the purchase price is profitable over the term without counting the performance gain.
As the electrolyte is soaked in the fiber it can not sink even in case of breakage of the battery case, thus even the transport is much easier and safe. With no liquid, the AGM's are very insensitive to the damaging effects of frost.
For solar applications, the AGM is ideal: no maintenance (which allows to place it in inaccessible places), No gaseous clearances (no danger of explosion and nuisance to the health of users) use of conventional charge rates which then allows to use any standard charging system, minimum maintenance during wintering.
---
Data sheets and documentation
Product Reviews
Number of Reviews : 6
Average Grade : 4.8 /5
A. Anonymous
the 25/10/2016
5/5
Produit conforme à la description....Voir à l'usage.....surtout (et celà n'est PAS STIPULE.) sans garantie....(voir réglementation en BELGIQUE !?? °
A. Anonymous
the 28/08/2016
5/5
pas de problème, conforme à ce qui est écrit sur le site !
A. Anonymous
the 25/08/2016
5/5
Très satisfait pour le moment, à voir sur la durée.
A. Anonymous
the 03/10/2015
5/5
Parfait
A. Anonymous
the 12/09/2015
5/5
Très bien
A. Anonymous
the 17/10/2014
4/5
Je crois qu'elles peuvent assurer 2 lessives à 30° et 1 lave vaisselle sans soleil. Bon?
Specifications
| | |
| --- | --- |
| Voltage | 12V |
| Technology | Agm |
| Battery capacity | 100Ah |
| Weight | 32 kg |