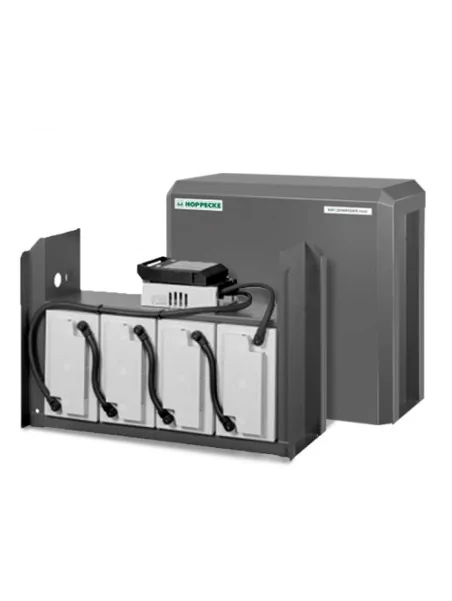 Hoppecke sun.powerpack 24V / 48V 5.5 to 22kWh
Hoppecke
More info
" Optimise your direct consumption of photovoltaic energy "
Your benefits from HOPPECKE sun.powerpack
Increase economic of your PV-systems by optimization of grid purchase costs
Uninterrupted service with autonomous power supply – even in case of power failure
Simple handling & operation – components ready for connection
Highest reliability – the used components are approved in industrial applications
Highest flexibility – can be combined with various battery inverters
Reduction of annual grid purchase
Be independent!
Optimise your direct consumption of photovoltaic energy
Everyone is talking about self-produced energy. The price for self-produced photovoltaic energy which is fed into the power network is dropping rapidly.
At the same time, the energy price of the electricity suppliers is constantly increasing. For many private households and businesses, these are two important reasons to use their own solar energy directly.
However, the generation and consumption of photovoltaic energy are not synchronised. Battery systems allows you to store the photovoltaic energy so youcan use the generated energy independent of the sunlight.
HOPPECKE offers you an energy storage solution, enabling you to manage the demand of your household and therefore to reduce electricity costs. With our solar.power pack, you are able to store your solar energy temporarily in order to use it at specified times.
Even in the event of a power failure, you are on the safe side. The battery system immediately provides you with the required energy.
The sun | powerpack classic is based on the proven lead technology combined with an appealing and up-to-date design. The awarded AGM-technology of HOPPECKE has been optimised particularly for this application, for instance by adapting the material of the electrode.
The result: Improved price-performance ratio at a comparable cycle performance compared to batteries of the design OPzV (battery with liner plate).
The sun | powerpack classic offers many benefits for the installer and user. Installing and servicing of the system is even simpler. Additionally, it is the first choice for price-oriented and environmentally conscious customers.
| | | |
| --- | --- | --- |
| Model | Energy content (C10) kWh | Nominal voltage V |
| sun | powerpack classic 5.5/24 | 5.5 | 24 |
| sun | powerpack classic 6.4/48 | 6.4 | 48 |
| sun | powerpack classic 8.0/24 | 8.0 | 24 |
| sun | powerpack classic 8.0/48 | 8.0 | 48 |
| sun | powerpack classic 11.0/24 | 11.0 | 24 |
| sun | powerpack classic 11.0/48 | 11.0 | 48 |
| sun | powerpack classic 16.0/48 | 16.0 | 48 |
| sun | powerpack classic 22.0/48 | 22.0 | 48 |
Data sheets and documentation