Double adjustment fixing hook
View full size
Display all pictures
Stainless steel hook for tiles roof with 2 adjustment possibilites

More info
No reward points for this product.
More info
" Stainless steel hook for tiles roof with 2 adjustment possibilites "
This stainless steel hook is used to fix the aluminum rail for supporting the solar panel.
The double adjustment of the hook can solve the possible problem of room from the waves of the roof.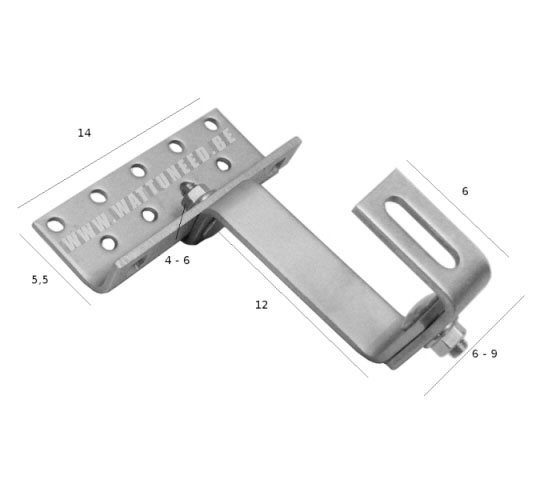 Specifications
| | |
| --- | --- |
| Type fixation | Toit en tuile |
Data sheets and documentation
Product Reviews
Number of Reviews : 21
Average Grade : 4.8 /5
B. Gilbert
the 31/05/2018
5/5
Très bonne qualité bien dimensionné. Facile à monter je viens de les poser..
M. Jean Luc
the 28/04/2018
4/5
tout inox plaque et vis (matériel de qualité) vis Japy avec collet carré à mon avis pas assez long
P. Marcel
the 18/04/2018
4/5
bien
C. Jean Paul
the 11/04/2018
4/5
Très pratique
D. Benoit
the 04/04/2018
5/5
Parfait pour fixer sur un toit en tuile, avec la possibilité de régler de quelques centimètres pour une légère inclinaison
S. Bruno
the 03/04/2018
5/5
très bien
S. Laurent
the 21/01/2018
5/5
Un peu juste le réglage suivant où tombe la fermette sinon génial
P. Joel
the 08/01/2018
5/5
parfait
L. Sylvie
the 22/10/2017
5/5
bien pratique pour mettre un panneau sur des tuiles
C. Jerome
the 24/09/2017
5/5
bon rapport qualité prix. Crochet robuste à 8,75 € qui permet de s'adapter aux différentes configurations de la couverture
M. Yves
the 06/09/2017
4/5
RAS Non encore utilisé.
L. Dos Santos Lopes
the 23/10/2016
5/5
Transaction parfaite et rapide à recommander
L. Dos Santos Lopes
the 18/10/2016
5/5
à recommander à tous. Merci
C. Jocelyn
the 04/10/2016
4/5
Produit conforme de qualité
R. Philippe
the 20/09/2016
5/5
pratique à mètre en place
F. Michel
the 14/08/2016
5/5
Tres bon produit ,qui correspond a mes attentes Livraison rapide et conforme Je recommande
C. Roger
the 05/08/2016
5/5
R.A S
E. Stephane
the 14/06/2016
5/5
bien
S. Franck
the 08/11/2014
5/5
un peu cher, mais bon produit
L. Lanfant
the 17/10/2014
5/5
superbe
J. Descusse
the 17/10/2014
5/5
Aucun avis négatif
More reviews...