Display all pictures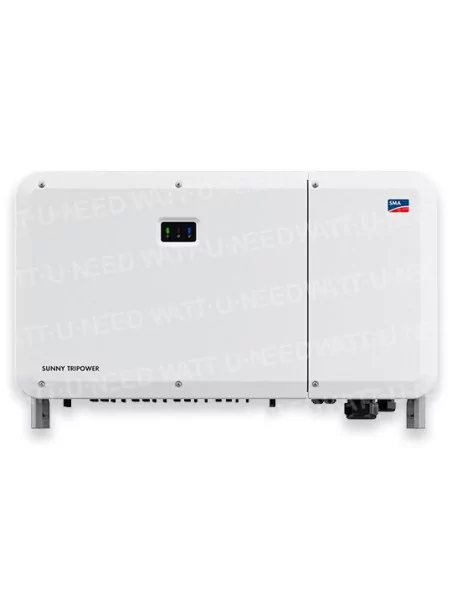 SMA Sunny Tripower CORE2 STP110-60
SMA
More info
Flexible installation design and production maximized with built-in features
Flexible design of large industrial photovoltaic installations: the Sunny Tripower CORE2 is the ideal inverter for decentralized power plants in the order of megawatt. With a power of 110 kilowatts, 24 strings and 12 MPP trackers, it allows a particularly high degree of solar coverage throughout the day, both for floor installations and roofing with different inclinations. The SMA ShadeFix integrated software solution optimizes installation performance automatically, continuously, even for partially shaded panels. The SMA Smart Connected automatic monitoring service also ensures maximum efficiency for photovoltaic systems by detecting failures as quickly as possible.

With the inverter Sunny Tripower CORE2 As a central component of the SMA Energy System Business solution, installers and installation owners take advantage of high-quality components from the same manufacturer and opportunities for future options to add SMA storage solutions.
More options
Maximum flexibility in the design of medium- and large-scale installations, on the ground or on the roof.
Maximum flexibility in installation design up to several MW.
Best in class: 12 MPP trackers
24 strings with Sunclix connectors
The photovoltaic installation can be oversized by up to 150%
Up to 1,100 VDCs
Compatible with bifacial solar panels

More integration
Central to the SMA Energy System Business and ennexOS, perfected for all future needs.
Dressed for all expansion needs, present as future.
SUNNY DESIGN: Intuitive planning and configuration,
Business Energy Storage System: Easy scalability, e.g. by adding storage solutions,
DATA MANAGER M: Full integration of the ennexOS platform and simple commissioning of the installation,
SUNNY PORTAL: global surveillance,
SMA Services: Marketing to Smart Connected, and more.
More performance
A "ready-to-use" solution with integrated optimization of energy production ensures efficient installation and service.
The "ready-to-use" installation concept guarantees maximum production.
No DC torque required
Best inverter in its class: 110 kW with 400 VAC standard
Several handling handles
High resistance to environmental conditions
SMA ShadeFix and SMA Smart Connected integrated for consistent production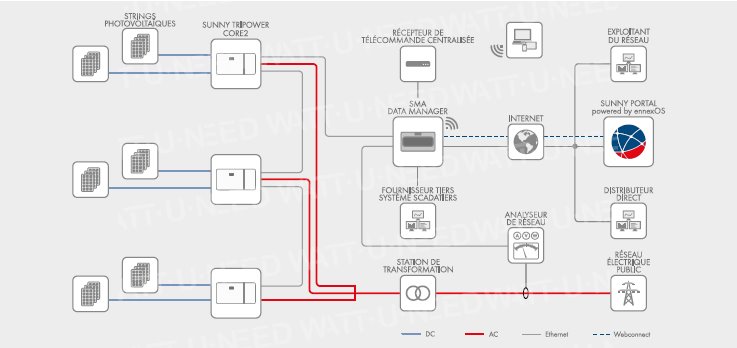 ---
Built-in smart features

SMA ShadeFix is a patented integrated software solution to optimize the energy production of a facility that performs better than most conventional hardware solutions for shading management in PV installations.

SMA Smart Connected is a free automatic and inverter monitoring system by SMA to optimize service interventions and ensure the performance of installations.
---
Characteristics
Entry (DC)

Maximum power of the photovoltaic generator

165000 Wc STC

Maximum input voltage.

1100 V

MPP voltage range

500V to 800V

Assigned input voltage

585 V

Min. input voltage / start-up input voltage

200 V / 250 V

Max entry current/max short-circuit current by MPP tracker

26 A / 40 A

Number of independent MPP trackers/strings per MPP tracker

12/02/20

Exit (AC)

Assigned power at nominal voltage

110,000 W

Apparent power AC max.

1100,000 VA

AC nominal voltage

400 V

AC voltage range

320 V to 460V

AC network frequency

50 Hz / 45 Hz' at 55 Hz / 60 Hz / 55 Hz at 65 Hz

Assigned network frequency

50 Hz

Maximum output current

159 A

Power factor to assigned power/Adjustable phase-shift factor

1 /0.8 overexcited at 0.8 under-excited

Harmonic distortion rate (THD)

3%

Injection phases / AC terminal

3/3-PE

Performance

Max/European return

98,6 % / 98,4 %

General data

Dimensions (L/H/P)

1117 mm / 682 mm / 363 mm

Weight

93.5 kg

Operating temperature range

From 30C to 60C

Typical sound emissions

65 db (A)

Self-consumption (night)

5 W

Topology / cooling system

No transformer/active cooling

Protection Index (according to CIS 60529)

IP66

Maximum allowable value for relative air humidity (without condensation)

100

Equipment / Function / Accessories

DC Connection / AC Connection

Sunclix / end pod (up to 240 mm2)

LED display (state/error/communication)

Yes

Interface Ethernet

2 Ports

Data interface

Interface Web / Modbus SunSpec

Type de montage Montage

wall / rack
Data sheets and documentation
Specifications
| | |
| --- | --- |
| MPPT/PWM | MPPT |
| Maximum PV input voltage | 1100 V |
| Weight | 93,5 kg |
| Power | 110000 VA |
| Monophasé / Triphasé | Triphasé |
| Nombre de MPPT | 12 MPPT |
| Nombre de String | 2 |
| Width | 1117 mm |
| Height | 682 mm |
| Thickness | 363 mm |
| Protection IP | IP 66 |