Display all pictures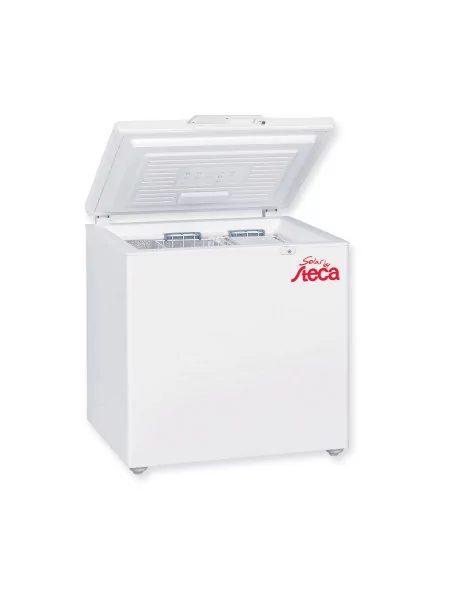 Steca 166L or 240L solar-powered refrigerator / freezer
Steca
More info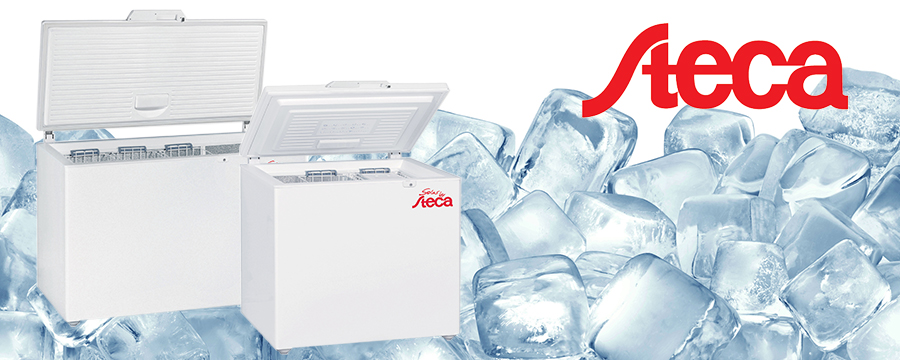 " Reliable, efficient and environmentally friendly "

Its advantages
Possibility of using this product as a refrigerator or freezer


High energy efficiency


Automatic adaptation to 12 and 24 V batteries


Recording of temperature data in the event of a power failure


Eco-Friendly Refrigerant


LED Indoor Lighting
The Steca PF refrigerator chests are among the most efficient refrigerators ever designed in terms of DC power consumption. Can be used either as a refrigerator or as a freezer, now with an even more environmentally friendly refrigerant gas
The Steca PF 166-H and Steca PF 240-H are fully programmable: you can customize the indoor temperature settings and perform other configurations. This device is therefore ideal for all DC applications, including refrigeration of medicines in the hospital sector. Thanks to optimized electronic regulation and compressor speed control, the energy is used extremely efficiently, thus considerably reducing costs.
This product is distinguished by its intuitive handling (large display with digital display with adjustment possibilities), high standards of quality and reliability, high energy efficiency LED interior lighting and maximum longevity. In addition, the refrigerator / freezer compartment is easy to clean: the bottom is equipped with a closure cap allowing the drainage of the water.
Characteristics
Fast and efficient cooling thanks to the variable speed control of the compressor
Possibility to operate with a 70 W photovoltaic panel in almost all climatic zones
Automatic voltage selection
Programmable temperature
Adjustable refrigeration or freezing function
Suitable for all DC applications
Easy to clean and low maintenance
Equipped with a lock with two keys
Also suitable for mobile use
Automatic variation to reduce clean consumption
Eco-friendly refrigerant
High efficiency LED interior lighting
Electronic protection functions
Reverse polarity protection
Protection against deep discharges
Display after power failure
Temperature alarm
Display
Multi-function LED display
Digital display of temperature
Commands
Certificates
Complies with European standards (CE)
RoHS Compliant
Without substances hazardous to ozone, according to EG 1005/2009 (without CFC)
Made in EU
Developed in Germany
Manufactured according to ISO 9001 and ISO 14001 standards
PF 166-H
PF 240-H
Characterization of operating performance
System voltage
12 V (24 V)
Nominal power
50 W … 72 W
Volume of refrigeration (net)
166 liters
240 liters
Refrigeration temperature
+2 °C … +12 °C
Freezing temperature
-20 °C … -10 °C
DC input side
Input voltage
10 V … 17 V (17 V … 31,5 V) batterie 12 V / 24 V
DC output side
Reclose reference point (LVR)
11,7 V (24,2 V)
Deep Discharge Protection (LVD)
10,4 V (22,8 V)
Working conditions
Ambient temperature
10,4 V (22,8 V)
Installation and construction
Dimensions (X x Y x Z)
872 x 917 x 709 mm
1288 x 919 x 760 mm
Installation and construction
11 cm
12 cm
Weight
47 kg
62 kg
Ventilation
compressor
Refrigerant
60 g R290
70 g R290
Temperature display Celsius / Fahrenheit
adjustable
Brightness of the screen
adjustable
Hanging baskets
2
Freezer shelf
3
Cold store
1
Automatic power saving mode
Yes
Data sheets and documentation