Display all pictures
Atlantic Explorer V4 thermodynamic water heater
Atlantic
More info
Explorer 4 Atlantic Thermodynamic Water Heater
Explorer is a thermodynamic water heater equipped with the most efficient technologies to ensure optimal energy savings. Compatible with boiler and solar installations (thermal and photovoltaic) and remotely controllable from your smartphone or tablet, Explorer brings optimal comfort and hot water for the whole family!
Easy to install with adjustable and sheathable air intake and adjustable feet, Explorer fits seamlessly into your home.
Benefits
Four possible energy sources for hot water production (heat pump, extra electric heating element, boiler and solar (thermal and photovoltaic))
The heat pump's wide temperature range (-5 to 43 degrees Fahrenheit)
Sound level respectful of your home (53dB(a))
Compatibility with the Cozytouch app that allows you to control it remotely via a smartphone or tablet
Simplicity of use thanks to a digital control box with integrated daily programming, choice of mode of operation and display of energy consumption
Easy to install with adjustable and sheathable air intake/exit and adjustable feet
Large coil optimized for fast heating suitable for low-temperature systems
Photovoltaic function to focus on solar energy and maximize self-consumption
New R513A gas more environmentally friendly than R134A
Explorer ensures impeccable quality and durability with several exclusive features:
Hybrid ACI anti-corrosion technology
Steatite technology (ceramic heating element)
Next-generation "diamond quality" enamel
Pressure limiter (in case of malfunction or pressure increase)
Dielectric connection to reduce corrosion
Specific lip seal that prevents rust around the bridle
---
Smart Control
Using Smart Control technology, Atlantic is a state-of-the-art technology that memorizes your hot water needs during the week and adjusts the water heater's production accordingly. You can save up to 10% of your energy without taking a cold shower!
Thanks to Auto mode, your water heater integrates perfectly into your life, records your habits from week to week and memorizes them, in order to bring you your daily comfort, anticipate your needs, while optimizing your energy savings.
Auto mode automatically adjusts the temperature of the water heater, keeping a minimum deposit point.
Atlantic water heaters equipped with this technology also include a booster mode that helps prevent unexpected consumption.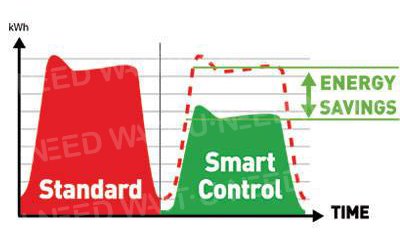 ---
ACI HYBRID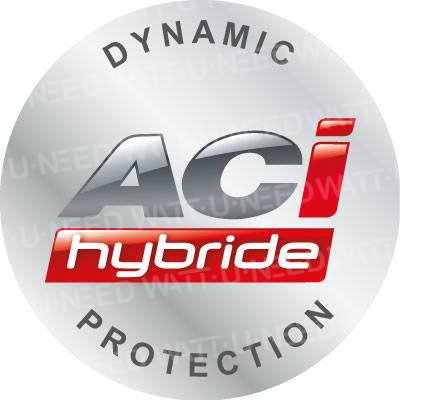 Atlantic's patented state-of-the-art anti-corrosion system
The patented hybrid ACI technology is the latest generation of electronic corrosion protection for your water heater.
It is equipped with a state-of-the-art system of titanium/magnesium anodes. Located in the center of the device, the titanium anode is controlled by an electronic map that produces a milivoltage electric current. It extends the protection of the life of the tank and replaces the magnesium anode.
Thanks to its electronic regulation, the hybrid ACI system interacts with its environment and anticipates changes in water quality.
The hybrid ACI system guarantees an extended lifespan for your ECS production device. This way, your water heater can last up to twice as long!
This proprietary technology comes with a practical control light that indicates that the system is working.
With hybrid ACI technology, you don't have to worry about water quality anymore. It adjusts its operation accordingly!
For all these reasons, it is entirely part of your comfort and the savings you make on the production of ECS.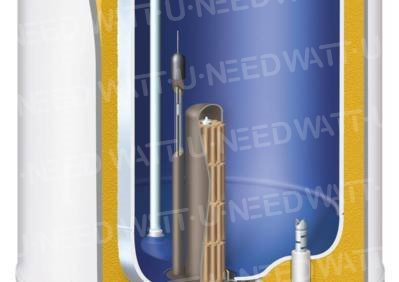 ---
Cozytouch Technology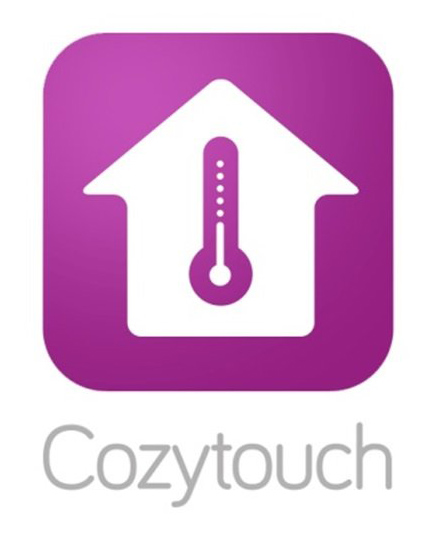 Explorer is compatible with the new Cozytouch technology.
Connecting to the user's home: intelligent and remote steering.
With the Cozytouch app, control your compatible devices and adjust their settings for maximum comfort.
With Cozytouch, you can check appliances in real time (temperature adjustment, electricity consumption visualization, operation, management, detections, etc.): your home is smarter and Cozytouch adapts to your daily comfort, safety and energy savings depending on your lifestyle.
Managing comfort and savings from a tablet or smartphone, whether the user is at home or outdoors
Remotely and simultaneously drive multiple devices in different rooms in your home. With Cozytouch, devices communicate with each other by adjusting their settings to suit your comfort requirements.
Innovative and powerful, Cozytouch can control ambient heating, water heating and ventilation products.
---
Characteristics
200L on Socle
200L on Base with serpentine
270L on plinth
270L on pedestal with
Coil
Ability
200
270
L
WATER PRESSURE ASSIGNS
8
Bar
ELECTRICAL CONNECTION
230V/50Hz
V/Hz
MAXIMUM POWER CONSUMED BY THE DEVICE
2500
W
MAXIMUM POWER CONSUMED BY THE HEAT PUMP
700
W
POWER CONSUMED BY ELECTRIC BACKUP
1800
W
HEAT PUMP OPERATING TEMPERATURE RANGE
50 to 62oC
℃
HEAT PUMP USE TEMPERATURE RANGE
-5 to 43 degrees Celsius
℃
WARM TIME (A TAIR 7OC)
7:52 a.m.
7,53
10:49 a.m.
10:52 a.m.
V40 (A Tair 7oC)
265
261
356
358
L
COP A Tair 7oC
2,8
2,8
3,2
3
COP A Tair 15oC
3,1
3,1
3,5
3,5
COP A Tair 20oC
3,2
3,3
3,8
3,8
ACOUSTIC POWER
53
DB (A)
Size
1617 x 620 x 665
1957 x 620 x 665
Mr
NET WEIGHT
80
97
92
111
Kg
Profile
L
Xl
ERP ENERGY CLASS
It's not going to be a