Display all pictures
Heat pump Samsung wind free from 2.75 to 6.50 kW
Samsung
More info
Stay cool with wind-free™ technology.
Available in 4 sizes from 2.75 to 6.50 kW
High performance (SERR A + +/SCOP A + +)
Mono and multi-split compatible indoor units
Standard WiFi control by Smartphone or Tablet
Long air range: up to 15 meters
Operating silence: 19 dB (A)
Virus doctor Air Purifier
Easy filter maintenance
technology Wind Free : no air flow sensation
---
Savings and performance thanks to the digital inverter
Digital inverter technology ensures high performance and energy efficiency by eliminating compressor on/off vibrations.
By avoiding energy losses due to alternating on/off and thanks to advanced control, the Samsung air conditioner allows you to dramatically reduce energy wastage.
This Samsung air conditioner with the digital inverter achieves exceptional energy efficiency, while saving up to 60% of the energy used.
---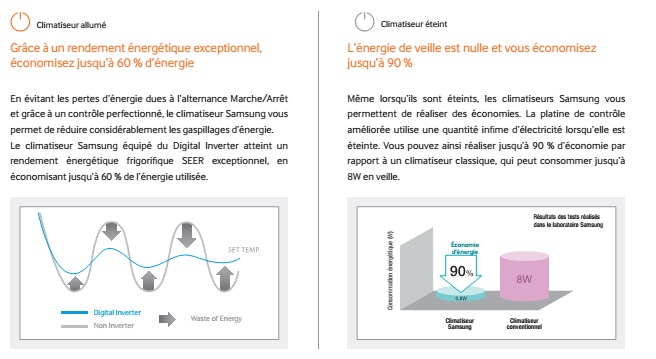 ---

Control your remote air conditioning systems
Control your smart-WiFi remote air conditioning systems
With the ability to control the operation of your air conditioner from your computer or Smartphone, you will never have to worry about forgetting to turn off your system: you can do it remotely! You can also turn it on when you leave your Office, and find an environment that is already hot or refreshed when you arrive.
It is also possible to use your Smartphone as a remote control, which allows the control of many parameters.
---

Wind free technology™
Wind-free technology™ is such that you may not even notice how it works. Once the desired temperature is reached, the system evenly distributes fresh air without creating unpleasant drafts.
---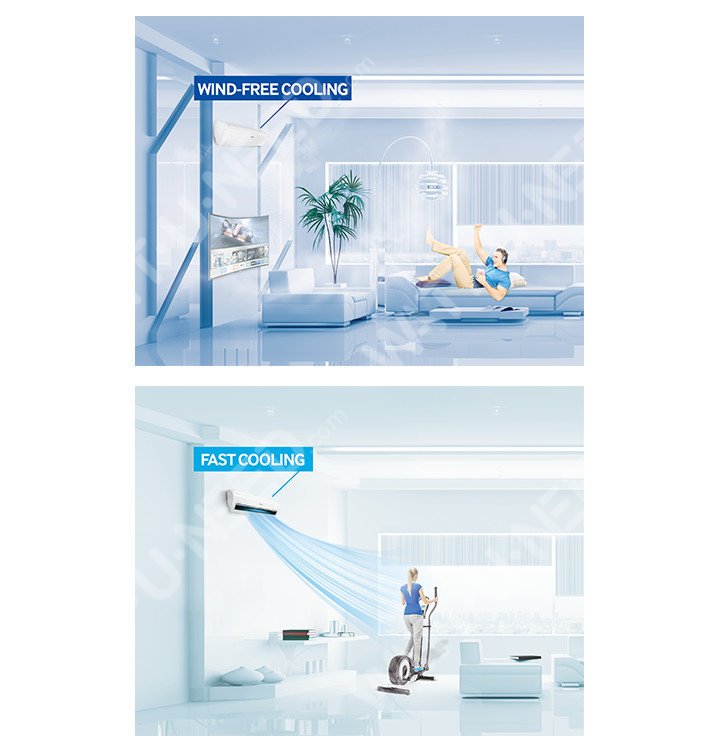 Stay cool at all times
Samsung's wind-free™ air conditioning system uses 21 000 micro-perforations to gently and evenly propel the air throughout the room. It thus maintains a comfortable level of freshness without any drafts of air.
The wind-free™ Samsung system features an automatic two-step air conditioning mode. The desired temperature is quickly reached in fast cooling mode, then maintained in wind-free™ mode, without drafts.
The new night mode of the wind-free™ system allows you to get the ideal temperature in your room, guaranteeing a peaceful sleep without feeling cold during the night or waking up.
---


Virus removal
Virus doctor and easy filter eliminate dust, dangerous contaminants and allergens present in the air, as well as bacteria and other viruses, including influenza A and coronavirus, using first a filter and then virus doctor. Therefore, you will only breathe clean and healthy air, as certified by BAF (British Allergy Foundation).
---
Automatic mode change
This command automatically changes the operating world of the air conditioner according to the temperature settings. When a temperature is selected in automatic mode, the air conditioner heats or refreshes according to the indicated temperature.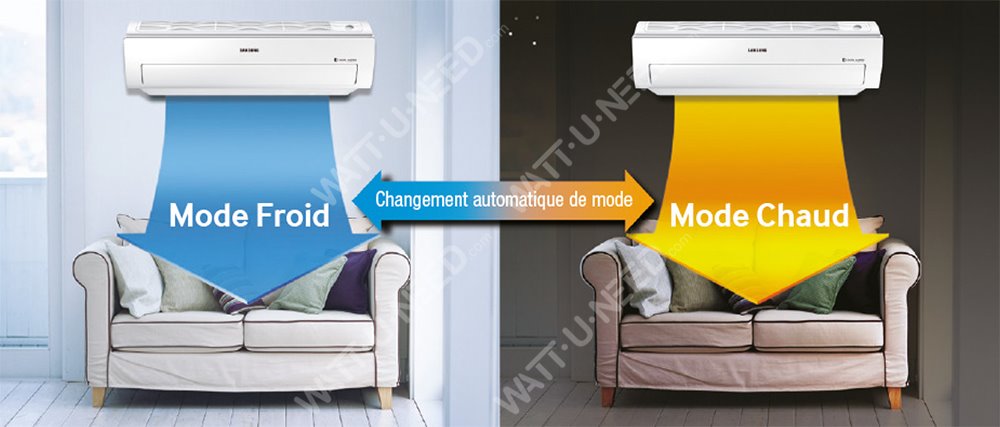 ---
Easy maintenance
The new wall filter from the A3050 range is now located on the outside of the unit. It can be removed, cleaned and put back in place easily and quickly.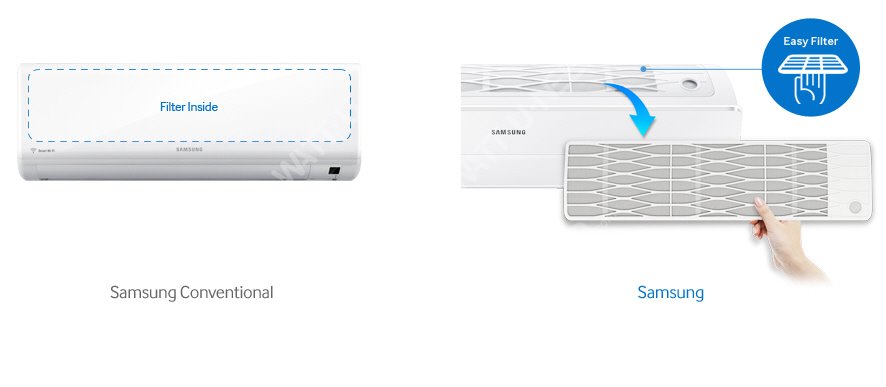 ---
Data sheets and documentation