Kit Premium Made in Europe 2.5 kVA
This complete kit includes
1xSMA

Sunny Boy 2.5 kVA single-phase

inverter

1xSchneider single circuit breaker
16A
1xSolar cable
2X4mm² with Type MC4 - 20 m
1xEarth cable
6mm² - 20m
7xRayvolt grounding clip 7xSoluxtec
Bifacial N-Type 420 Wp solar panel
100% secure payments
This kit includes
7X

Soluxtec N-Type Solar Panel 420 Wp DMMXSCNi420BB

1X

Single-phase inverter SMA Sunny Boy 2,5 kVA - SB2.5-1VL-40

1X

Schneider mono 16A circuit breaker

1X

2X4mm2 solar cable with Type MC4 (sold by the meter - 20m)

1X

Earth cable 1x6 mm2 20m

7X

Rayvolt grounding clip
Select products from the sections below
Discover our Configurable Solar Kit :
European Excellence at Your Fingertips
Customize Your Solar Energy
Every home is unique, just like your energy needs. That's why we offer you the opportunity to fully customize your kit. Select the product of your choice, adjust the quantities and tailor the kit to your preferences. What's more, for total transparency, the details of each product are clearly displayed just below the price.
Basic Kit composition
- 7 Soluxtec Solar Panels: the power of German engineering to capture every ray of sunlight.
- SMA Sunny Boy 2.5 kVa inverter: French reliability to convert solar energy into usable electricity.
- Solar Cable & Earth Cable: For a secure and efficient connection.
- Circuit breaker: Safety first.
- Please note: The mounting system can be added as required.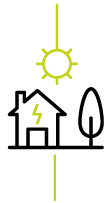 Solar panels

Soluxtec Bifacial N-Type Solar Panel 420 Wp DMMXSCNi 420PG
European Quality & Excellence
German origin: Soluxtec solar modules, made in Germany, embody the reliability and durability of European standards, reinforcing the confidence of European brand lovers.
Long-term warranty: Enjoy peace of mind with a warranty of up to 30 years on Soluxtec products.
Innovation & Performance
Cutting-edge technology: Thanks to TOPCON N Type cell technology and MICRO GAP welding, Soluxtec guarantees optimum efficiency.
High efficiency: With an efficiency of up to 22%, Soluxtec modules maximize energy production.

Single-phase inverter
A single-phase inverter is an electrical device that converts direct current (DC) electricity into alternating current (AC) with a single phase, typically used in domestic and light-duty applications. It is commonly used in residential solar energy systems to transform the energy produced by solar panels into a form compatible with standard electrical appliances.

SMA Sunny Boy 2.5 kVA single-phase inverter - SB2.5-1VL-40
The Sunny Boy 1.5 / 2.0 / 2.5 inverter is ideal for small photovoltaic systems, offering a wide input voltage range from 80 to 600 V, making it versatile and easy to install. Thanks to convection cooling and the SUNCLIX DC connection system, it guarantees maintenance-free high efficiency of up to 97.2%.
Transformerless: Transformerless operation improves efficiency and reduces energy losses.
Easy to install: Lightweight (9 kg) and easy to install thanks to a new construction concept, offering rapid DC and AC connection without the need for additional wall mounting.
OptiTrac technology: Uses OptiTrac Global Peak for optimum performance even in partial shading conditions, guaranteeing continuous panel operation at the point of maximum power.
Monitoring and security: Provides easy monitoring via an intuitive web-based user interface, enabling local or online monitoring. The SMA Smart Connected function automatically monitors the inverter, minimizing downtime and ensuring rapid response in the event of a malfunction.

Installation and commissioning
Personalization

Discover how our network-connected Kit works
Benefits
Initial savings: Opt for a more affordable solution. Our grid-connected installations eliminate the need for expensive batteries and oversized inverters, making your transition to solar power more affordable.
Continuous electricity: With our kit, electricity is always at hand. Enjoy uninterrupted access to electricity from the public grid. Plus, consider a potential resale contract to maximize your investment. (To be evaluated according to your needs)
Simplified installation: No hassle, no fuss. Our kit is designed for smooth, efficient installation.
Disadvantages
Grid connection: Although connected to the grid, in the event of a grid failure, use of the solar system will be affected.
Administrative formalities: Of course, a grid-connected system requires a few administrative formalities.
Choose efficiency and simplicity with our grid-connected solar kit. Invest in a modern, economical and reliable energy solution. Your energy future starts here.