Display all pictures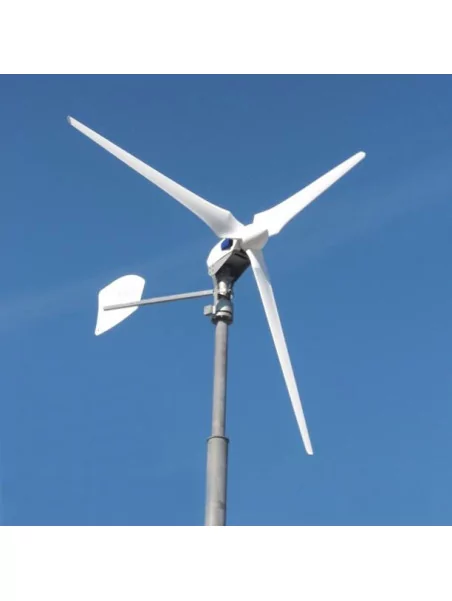 Wind turbine ANTARIS 7.5 kW grid connected
Braun
More info
" Made in Germany 7.5 Kw wind turbine "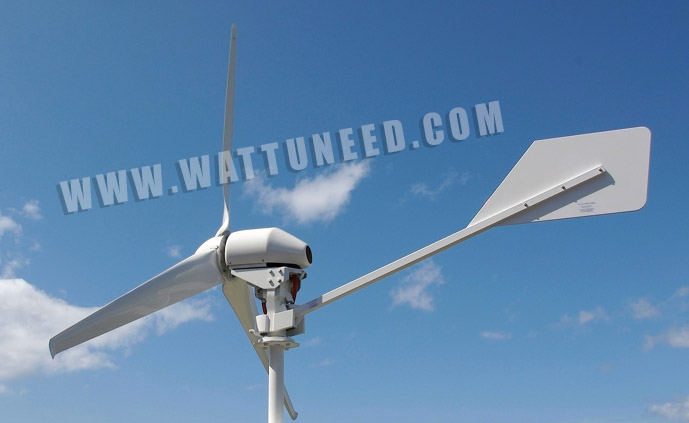 The ANTARIS wind turbine is a wind energy system that is ideally suited to inland sites. It is designed specifically for feeding power into the grid, charging batteries (24 V / 48 V etc.) and for supporting heating systems.

Thanks to its extremely robust and well thought-out design the ANTARIS wind turbine system is also suitable for stormy regions, with different optional repeller diameters (2.30 - 6.40 m).
The hand-laminated repeller blades benefit from a computer-designed aerodynamic profile. Needless to say, each blade is statically and dynamically balanced, carries an identification number and comes with relevant documentation.
The drive system of the ANTARIS small wind turbine system follows a simple logic: Fewer rotating components reduce the mechanical load and increase the technical operating life.
The maintenance and servicing is reduced (including less wearing parts, no gearbox oil change) and the operating costs drop. The rotor hub and permanent magnet generator are directly connected together as a fixed unit without gears. The rotor unit is mounted on a rotating axis with a high-strength material. In comparison with conventional gearing systems with numerous bearings in the moving drive train the ANTARIS operates with two relatively slow running rolling-contact bearings.

The same applies for the tilting unit, which is only activated by the wind and thus operates absolutely free of wear. For safety the ANTARIS has two high-quality stainless steel mufflers installed, which protect the corresponding end stops. The steels used are all provided with a test certificate, which documents the grade of the steel.
The welding joints are only carried out by certified welders. After the blanks have been manufactured all steel parts are galvanised under high temperature. This galvanising process has significant advantages for corrosion protection compared to conventional (hot-dip galvanisation) galvanisation processes. With the high-temperature galvanisation we offer you the most effective method for protecting all parts against corrosion that are responsible for safety and operation under taxing demands of the elemental weather conditions.
---
Technical Specifications
Generator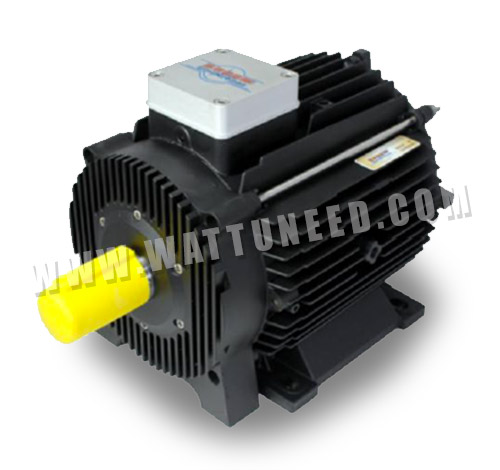 Permanent-magnet rotor, brushless, gearless, maintenance-free
Extremely strong permanent magnets for a high level of efficiency
(NdFeBo permanent magnets, resistent to temperatures up to 150° C)
3-phase current
Separate rectifier
Either direction of rotation
Voltage 0-1000 V
Start of feed-in at approx. 75 rpm
Power: 7.500 watts at 330 rpm and 400 V
Evenly rising power curve
Weight: 87kg
Aluminium housing, surface cooling, base anchoring
Gondola housing in GR
Protection class IP56
---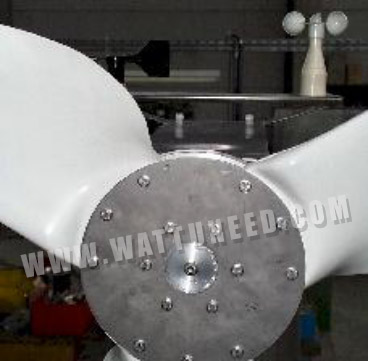 Rotor
Hub connection with aluminium flange and pressure-relief plate
Stainless-steel screw connections with locknuts
Three rotor blades in glass-fibre / carbon-fibre laminate
Computer-designed aerodynamic profile
Winglets on blade tips to minimise noise
Approx. m in diamater
Weight of each blade: approx. 9.2 kg
Dynamically balanced
Direction of rotation anticlockwise viewed from front
Max. rotational speed 300 rpm
GRP spinner cap
Rotor colour to client specification
---
Support element comprising
Wind vane (weatherproof HDPE, off-white, slightly transparent)
Square stainless-steel tube as support element
All screw connections in stainless steel and fitted with locknuts
Steel bracket as support for generator, configured for plug-in connection with azimuth bearing, fully galvanised
Protected by patented rotor-blade positioning system
Mast adapter with flange connector (tube 139 mm)
---
Storm protection
Rotor-blade positioning ("helicopter position")
Control electronics with turbine controller
---
Control cabinet
Control system with voltage monitor
1-phased grid-feed in (Smart!wind Inverter 7.5 kW)
Control electronics with 3-phased turbine controller
Connections / plug connectors protected against polarity reversal
Controlling of the alternator phases during turbinemode
Emergency-OFF switch
Reset switch with key (removable)
Rectifier, display etc.
3.0 kW braking resistance
---
Smart Power Electronics 7.5 kW inverter
MODERN - FLEXIBLE - POWERFUL
Max. 20 kW wind turbine load (SW-10)
Pairing the three-phase network with 10 kW (SW-10)
Flexible and intelligent management of clean power, heating, battery and discharge charges through 4 separate CC energy outlets
Energy counter for power and heating
Control of reactive power
Battery buffer interface - optional
PROFITABLE - SURE
Built-in control functions for a wind turbine Intelligent and finely resolute control of the characteristic curve for optimal wind use
Characteristic curve freely selectable depending on voltage or speed
Many monitoring functions, such as wind speed or speed
Switch to shut down KWEA with other safety features
Compact
Direct connection of the particle generator without additional equipment
Wide range of input voltage for particle generators
Compact design of the case with a separate aperture connection area
Passive convection cooling on a wide range of performance
Integrated network/system protection (NA protection according to VDE AR-N 4105)
Communicative
Built-in graphic display
Built-in web server
Practical PC Smart!wind Explorer use and set-up interface
APPLICATION AREAS
Small wind turbines
Small hydroelectric power plants
Mini-cogeneration
Characteristic
General data
SW-7.5
Size

656 x 472 x 234 mm

Weight

42 kg

Protective class

IP54

Cooling

Passive air/fan controlled according to demand

How it works in the temperature range

-25 degrees Celsius ... -40 degrees Fahrenheit - automatic decommissioning

Global efficiency

No more than 94%.

Clean consumption

18 W - Waiting

83 W - Active offer
Entry generator side
Generator type

excited constantly / 3 phases

Generator-side lifter

B6

60...500 VLL

310 ... 500 VLL - for a full power of 10 kW

600 VLL - maximum

Entry voltage range (driver-driver)

20 A - face value

Entry current (nominal value)

40 A - max. 5 s

Entry power

15 kW - face value

Entry current (nominal value)

30 kW - max. 5 s

Maximum value limited by load resistance

0 Hz ... 150 Hz

Frequency of entry

Isolation control

Monitoring generators

Temperature control

Speed control

Exit sector side

Inverter sector side

IGBT B6

Number of phases

3

Output power (nominal value)

7.5 kW

Exit tension

400 VLL - face value

318 ... 460 VLL - eligible reach

Outfed current (nominal value)

0 ... 11 A

Exit frequency

0 Hz ... 150 Hz

Separation concept

without transformer - no galvanic insulation

Power factor - cos

3%

Power factor - cos

regulated to 1 - regulation according to VDE AR-N 4105

Resistance to short circuits

Current control

Network/system protection - ENS
VDE AR-N 4105


| | |
| --- | --- |
| | |