Display all pictures
Off-grid 1500W 48V wind turbine FX
SCTD INDUSTRIES
More info
" The only range of European windturbine with 15 years guarantee "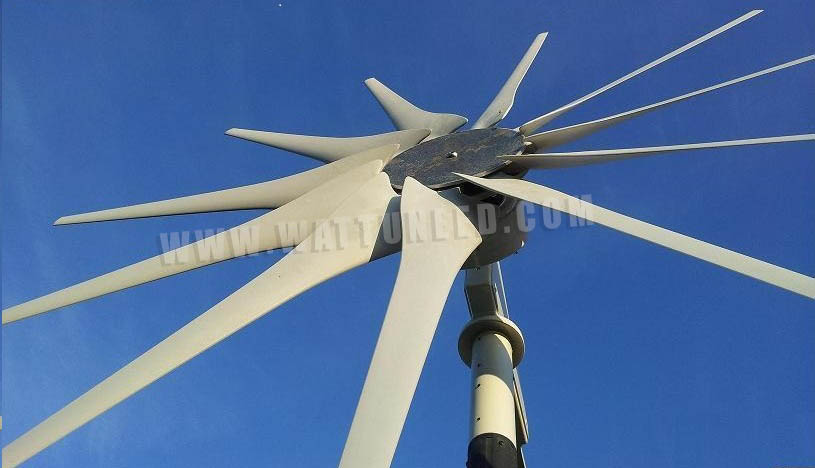 Quality manufacturing
The body of the wind is steel coated with an epoxy baked treatment. This treatment gives resistance to rust and salt spray. This choice of materials and processing gives the windturbine an extreme durability. Welds are made by hand and controlled in the valley of the Arve in France. This place is worldwide well known for the quality and design ofmechanical parts. These welds are not done by industrial lasers.
Warranty
The choice of materials, the treatment given and the body design help ensure a 15-year warranty on mechanical parts.
The blades
The windturbines are equipped with 9 flexible blades. They help soften the blow of the wind gusts (wall effect) which limits efforts on fasteners. The blades number is not chosen by chance. This choice allows an optimal regularity and power production. The system does not search a production peak but rather a regular and stable production.
The generator
The generator used is currently the best on the market with its 16 magnets on the stator and 48 magnets on the rotor. This allows a production with lowrotational speed and thus substantially increase the lifetime. This is a English generator with an inverted axis. This means that the blades are attached directly to the generator, the axis is attached to the body of the turbine. This has the advantage of being well balanced, thereby preventing vibration, and to use the of the generator in order to increase the inertia.These specifications make the difference compared with the competitors.
Electric Safe
The decoupling network monitors the voltage of the home grid. In case of power failure, it disconnects the inverter. This is a mandatory protectionimposed by the European standard for grid feed-in.
The EcoWatt box
This box will allow you to view the output of your windturbine. You will monitor the current, average and total production. You will also, through its software and USB cable, transfer your data to your computer and see your daily, monthly and annual output. This box works with radio wave. So you can install it everywhere in the house.
The choice of elements
Masts: they are made, studied, calculated and tested in France. They ensure quality and optimum strength
English generator and power inverter: The combination of these two elements is not a coincidence. The operating range of the generator and inverter are perfectly consistent.
Specifications
Power
1000w and 1500w
Wingspan
1,60m
Weight
20Kg
Blades
9 Flexible blades
Generator
magnets permanents
Voltage

24v for 1000w

48v for 1500w

Inverter voltage

10,8-30V for 1000w

22-60V for 1500w

External noise

22Db for 1000w

24Db for 1500w

Coated
Oven-baked epoxy
Fixing
sleeving diameter 50
Made in
France
warranty

15 years mechanical

2 years electronics
Data sheets and documentation
Accessories