Display all pictures
350W Wind turbine Superwind 24V
Superwind
More info
" On land or for sea, the superwind is perfect "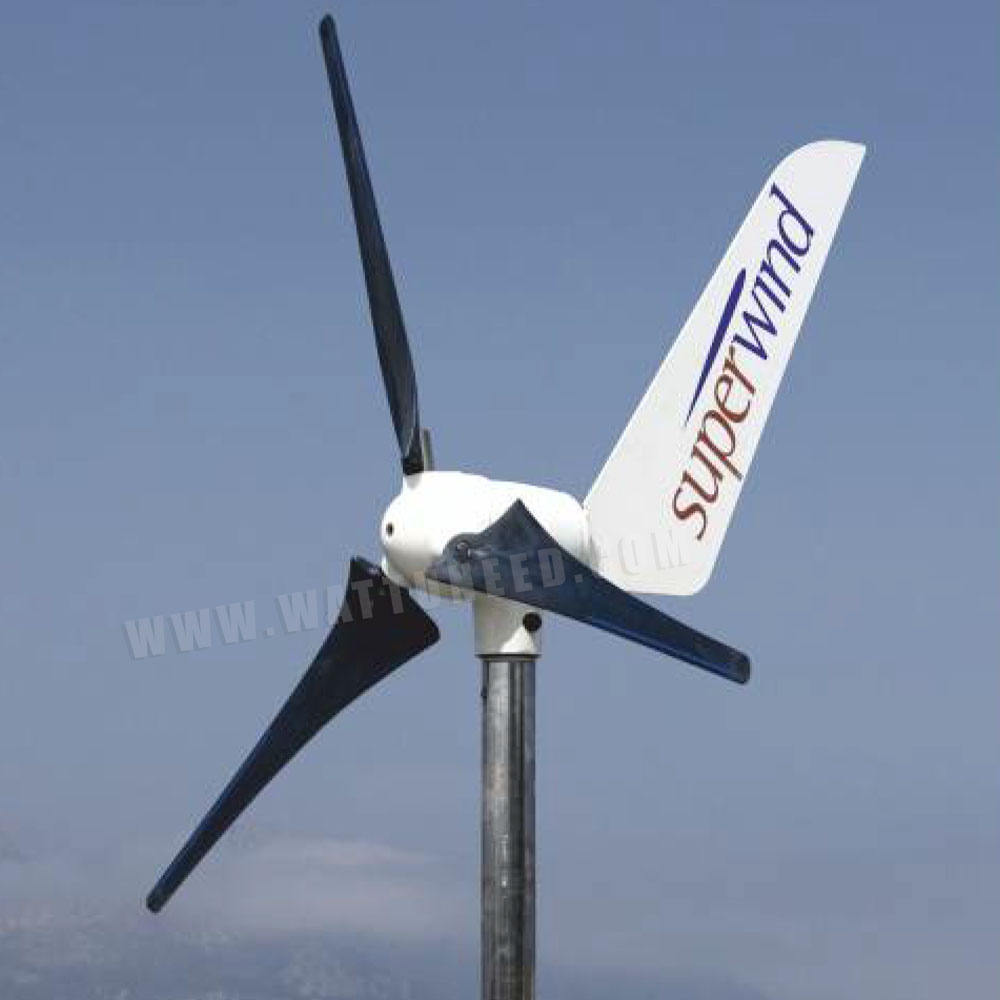 Superwind generators define the new standard for micro wind turbine technology. Developed and designed by experienced wind power engineers and blue water sailors, the Superwind 350 includes all the features that professionals expect today -maximum performance and uncompromising quality.
---
Description
Uncompromising Quality
High output, low noise

350 W at 25 knots (12,5 m/s)

Maximum safety

Pitch controlled rotor blades

Cut in wind speed: 7 knots (3,5 m/s)

Cut out wind speed: none

Cut out wind speed: none

Compact dimensions

Saltwater proof materials

Neodymium magnets

No vibration, no fuss

Easy and quick to install

Zero Maintenance Design

Durable trouble free energy

3 years limited warranty

Available World Wide

Made in Germany
---
Reliable Power - Real World Proven
For decades sailors longed for a truly durable wind generator that could hold up to "real world" conditions and still satisfy their power demand needs.
Technology you can rely on
Durability is no longer an issue. Once installed, this wind generator will be the last thing to worry about. The proven innovative pitch control system allows smooth operation even in extreme wind and weather conditions - anywhere !
Fail safe
At high wind speeds or excessive rotor speed, the fail-safe internal pitch controller automatically feathers the rotor blades, thus eliminating overcharging while maintaining rotor speeds within safe design limits.
High output - low noise
The state-of-the-art aerodynamic layout with relative low rotor speed and the pitch controlled feathering blades reduce noise emissions to a very low level. The design and precise manufacturing allows the Superwind 350 to be significantly quieter than other comparable wind generators.
Stand-alone
The Superwind 350 is a proven stand-alone wind generator for autonomous and unattended operation. It is designed for a wide range of rugged applications and can also easily be integrated into wind & solar PV hybrid systems.
Built to last
Superwind generators are made entirely of high grade materials, such as saltwater proof aluminium, stainless chromium steel with carbon fibre reinforced plastics.
---
Technical data
| | |
| --- | --- |
| Rated power | 350W |
| Rated wind speed | 25 knots (12.5 m/s) |
| Cut-in wind speed | 7 knots (3.5 m/s) |
| Cut-out wind speed | None |
| Rotor diameter | 1.22 m |
| Number of blades | 3 |
| Rotor blade material | CFRP |
| Rotor speed | 500 - 1300 rpm |
| Generator | Permanent magnets |
| Magnets | Neodymium |
| Voltage | 12 VDC / 24 VDC / 48 VDC |
| Connection | Charge regulator |
| Speed control | Passive pitch control |
| Power control | Passive pitch control |
| Main brake | electro dynamic |
| Nacelle weight | 11.5 kg |
---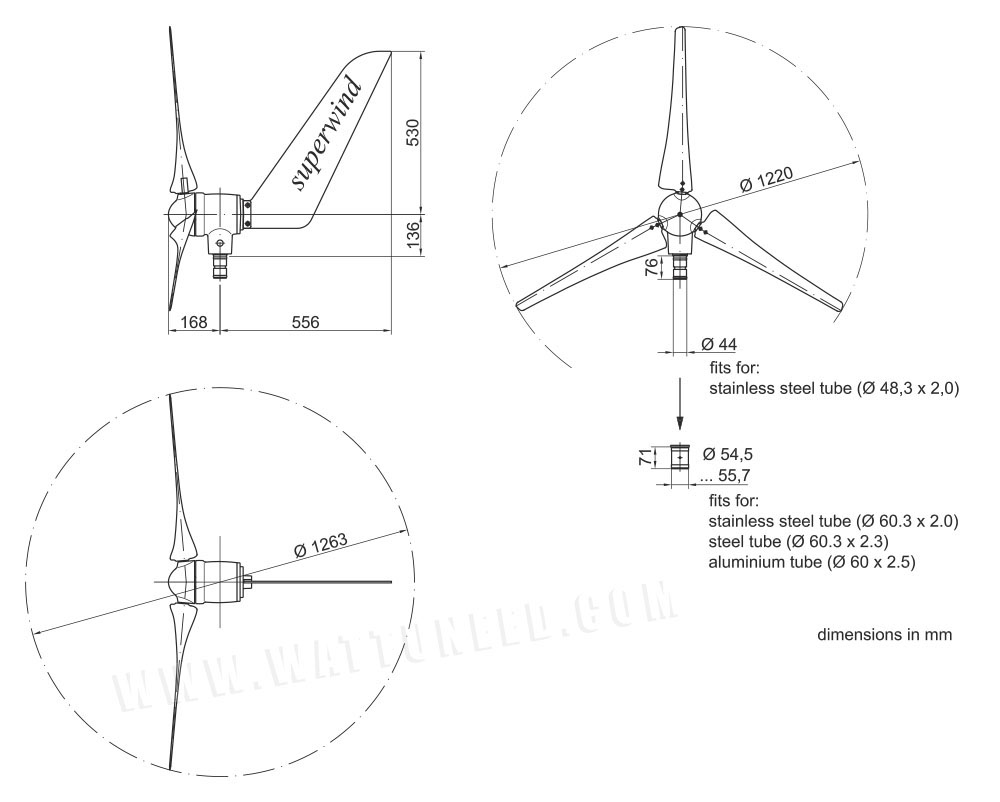 ---
Option available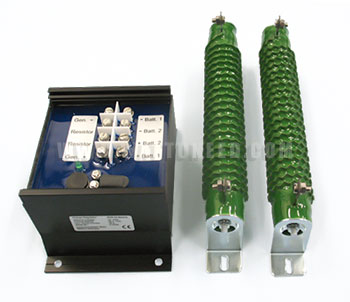 Option : SCR Marine charge regulator 12V
Thanks to its sealed design, the regulator is particularly suitable for marine use.
It is possible to charge two different battery sets via two different outputs on the charge regulator.
The controller only manages the voltage from the windturbine and will not work with another generator.
Nominal Voltage : 12V
Charging Voltage : 14,2V
max. current for dump loads : 40A
---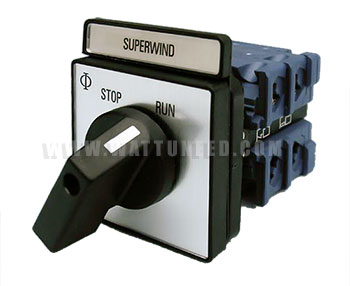 Option : Stop switch
The switch is used to stop the windturbine. Very useful when the installation does not includ a charge regulator.
Indispensable for sailboats during extreme conditions on the high seas in order to disconnect the windturbine to avoid damage and accidents.
---
Option : Mast-Set for Yachts
The mast-set kit option contains the necessary elements for fixing the wind turbine on sailboats.
1x mast base, adjustable
2x strut mounting, adjustable incl. nuts and bolts
4x strut end piece incl. bolts (stainless steel investment cast)
2x deck plate incl. nuts and bolts
Warning ! This option does not include the tubes for the mast and for the two struts
(see diagram below)
---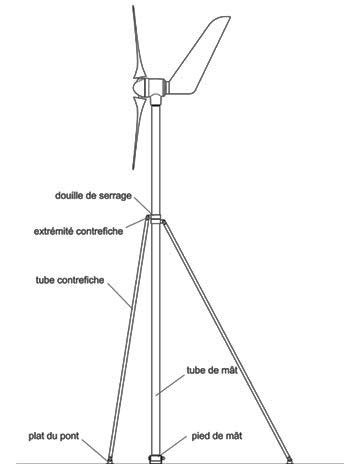 Option Tubes additionaux
This option include the tubes for the mast and for the two struts


1x mast tube 60.3 mm x 2 mm, length approx. 2.6 m depending on specific installation conditions
2x strut tube 21.3 mm x 2 mm, length approx. 2.3 m depending on specific installation conditions
---
Mizzen bracket
Accessories