400W Wind turbine (600W Pmax)
Display all pictures
Latest generation wind turbine kit 24V 400W + wind / solar hybrid regulator
Robust, silent and efficient.
More info
By buying this product you can collect up to 64 loyalty points. Your cart will total 64 points that can be converted into a voucher of 19,20 €.
More info
" This turbine has been designed to fit wherever the need for electrical energy is essential as well as being ultra compact and easy to install "
The equipment is complete and includes:
- The mobile assembly with the pivoted generator and plastic covering
- 3 high precision bladed
- The hybrid wind / solar charge controller
- Adequate fasteners and keys
- Detailed and complete manual
It does not include batteries or the mast (availables in options)
The equipment is guaranteed for 2 years.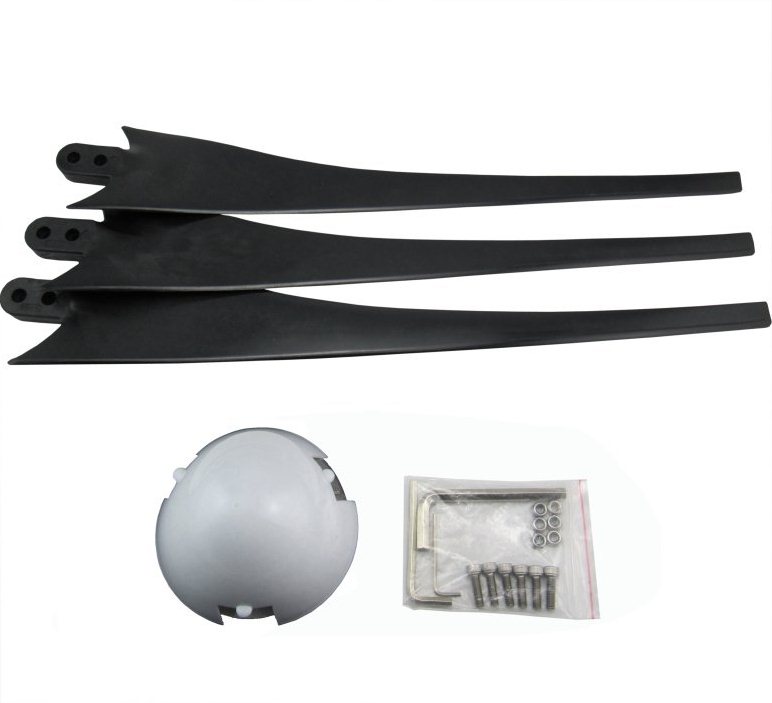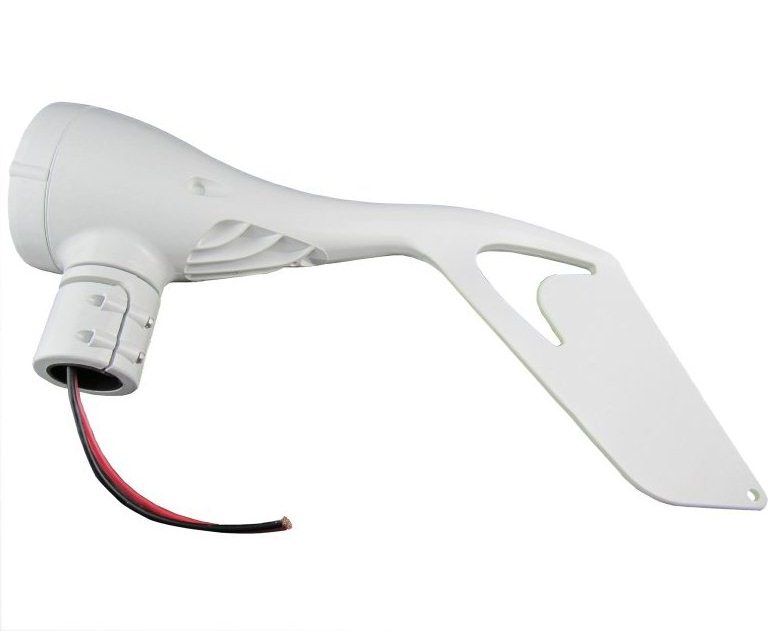 Solar Hybrid Controller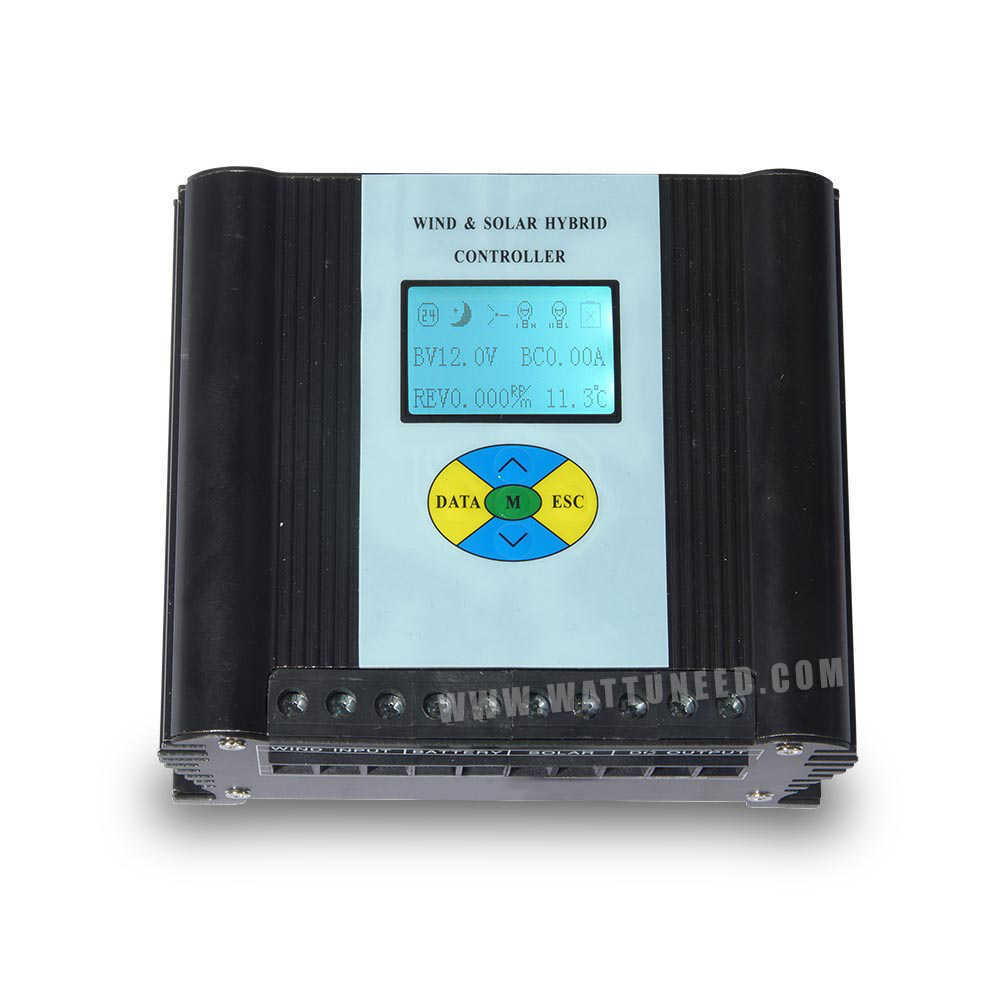 Features :
Exclusive use of three-phase soft brake technology within the industry, protect wind turbine more perfectly
Menu-driven operation, no manual, can directly manipulate, simple and easy to understand
Over-speed protection of the wind turbine, the turbine can effectively self-protection in windy conditions, to extend the life of the entire system
Temperature display, real-time monitoring controller operating environment
Integration of multiple voltage, current, power meter, real-time monitoring of various parts of the electrical parameters
Warranty 2 years, better service for end customers and integrators
The majority parameters of the system can be setted by user, designed with flexibility better adapt to different systems
Technical characteristics
| | |
| --- | --- |
| Rated Voltage | 24V |
| Battery maximum current | 30A |
| Rated power of solar panels | 300W |
| Rated power of wind power | 600W |
| Maximum speed of wind turbines | 100 - 2000r / min (adjust able) |
| Series of wind turbines | 6 - 35 (adjust able) |
| Time of brake renewing of wind turbines | 10 min - 60 min (adjust able) |
| Float charging voltage | 28V (adjust able) |
| Charge return voltage | 25V (adjust able) |
| Over-discharge protection voltage | 20V (adjust able) |
| Over-discharge recovery voltage | 22V (adjust able) |
| Compensation factor of charging temperature | 4mV/°C/2V (adjust able) -20 - 65° |
| Load output ( two independant outputs) | Normally closed, normally open, light-control, time-control |
| Load output period | 1 - 15 hour (ajustable) |
| Load output power | 0 - 100% (LED dedication) |
| Case size | 127 mm X 150 mm X 75 mm |
| Case material | Milky/Black paint |

The wind turbine produces energy starting from a 15km/h wind. This current is regulated by an included charge regulator, it is then stored in batteries of 12 or 24 volt (not included)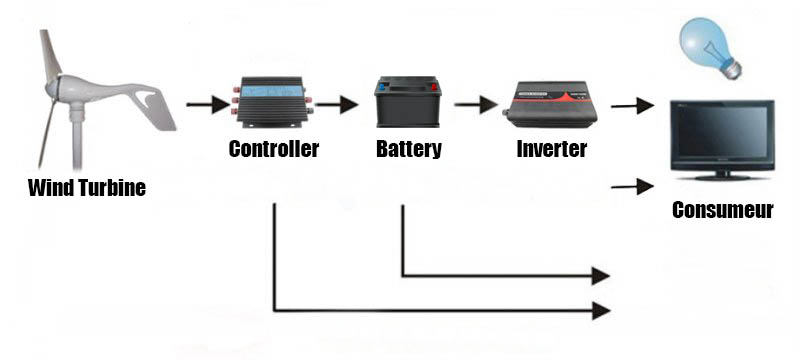 Characteristics
| | |
| --- | --- |
| Model | DF-600 |
| Nominal Power | 400W (12m/s) |
| DC Voltage | 24V |
| Amp max power | 25A |
| Max power | 600W (15m/s) |
| Start-up | 2.6 m/s |
| Production Start-up | 3.5 m/s |
| Diameter rotor | 1185 mm |
| Lifetime | > 15 ans |
| Temp | -40° to +70° |
| Weight | 8.5 Kg |
Power and Wind Speed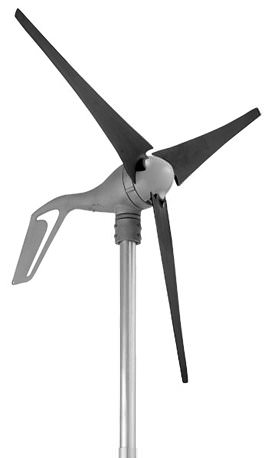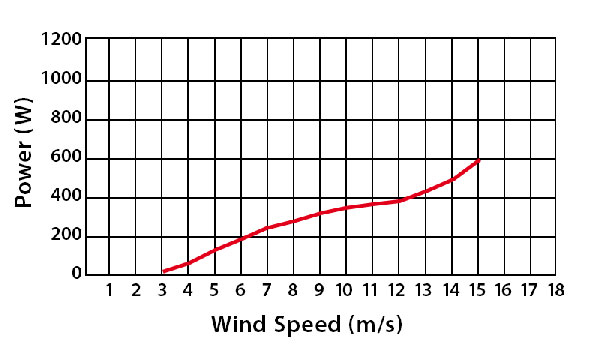 Data sheets and documentation
Accessories