Display all pictures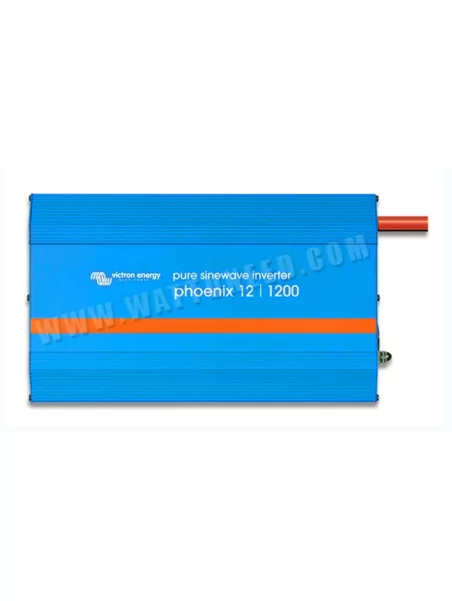 Victron Phoenix 12V / 24V / 48V - 1200VA
Victron energy
More info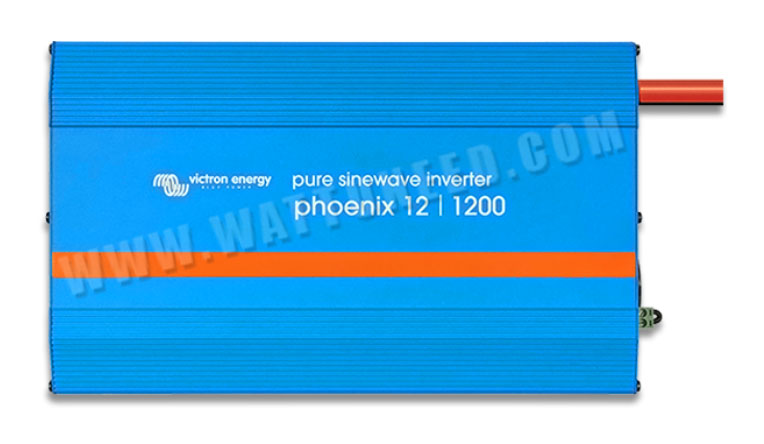 SinusMax - Advanced technology
Developed for professional use, the range of the Phoenix converters is perfectly suited to applications the more various. These converters to pure sinusoid and high efficiency are designed without compromise to performance. Hybrid HF technology brings exceptional characteristics for compact dimensions, low weight, and ensures full compatibility regardless of the powered equipment.
---
Strong instantaneous power
The SinusMax technology allows instantaneous powers very high, impossible to reach with conventional technology at high frequency. However, Phoenix converters remain well suited to power supply devices that need a specific inrush current at startup, as computers and electrical equipment of low power.
---
Transfer of load on an another AC source: automatic switch
For our low-power models, we recommend the use of our automatic switch Filax. The Filax has a transfer time very fast (less than 20 milliseconds) so that computers and other electronic equipment can continue to function without interruption.
---
Remote on/off switch
A connector for a remote on-off switch is available on all models.
---
Technical characteristics
Converter Phoenix 12/1200, 1200/24 and 48/1200

Power CA of the converter to 25 ° C (VA) (3)
1200
Power of the converter to 25 ° C / 40 ° C (W)
1000 / 900
Peak power (W)
2400
Voltage / frequency AC (4) output
110 VAC or 230 VAC ±3% 50 Hz or 60 Hz ±0, 1%
Input voltage range (V DC)
9.2 - 17.3 / 18.4-34.0 / 36.8-68.0
Alarm low battery (V DC)
10.9 / 21.8 / 43.6
Stop low battery (V DC)
9.2 / 18.4 / 36.8
Recovery automatic low battery (V DC)
12.5 / 25 / 50
Maximum effective 12 / 24 / 48 V (%)
92 / 94 / 94
Zero load power 12 / 24 / 48 V (W)
8 / 9 / 8
Load power zero in power saving mode
2
Protection
a e
Operating temperature
-40 to + 50 ° C (cooling fan)
Humidity (without condensation)
Max 95%
Case
Material and color
aluminum (blue RAL 5012)
Battery connection
1)
Standard CA takes
230V: IEC - 320 (supplied IEC - 320), CEE 7/4 (Schuko) 120V: Nema 5 - 15R
Other sockets (on request)

BS 1363 (United Kingdom)
YEAR/NZS 3112 (Australia / New Zealand)

Degree of protection
IP 20
Weight kg
8.5
Dimensions (Hxwxd in mm)
104 x 194 x 305
Security
EN 60335-1
Emissions/immunity
EN55014-1 / EN 55014-2 / EN 61000-6-2 / EN 61000-6-3
Data sheets and documentation
Product Reviews
Number of Reviews : 3
Average Grade : 4.7 /5
A. Anonymous
the 14/11/2017
4/5
Conforme à mon utilisation
A. Anonymous
the 10/02/2016
5/5
très bien
A. Anonymous
the 24/12/2014
5/5
Bon produit aussi
Specifications
| | |
| --- | --- |
| Voltage | 12V |
| Voltage | 48V |
| Voltage | 24V |
| Power | 1200 VA |
| Inverter power | 1500VA |