Display all pictures
Victron multi 12V / 24V / 48V - 5000VA 800
Victron energy
More info
Multifunctional inverter, with intelligent management of energy
The Multiplus Victron UPS has many functions. It brings together in a single compact a sine wave inverter, a sophisticated charger and a fast ultra CA transfer switch. It's a powerful battery charger which requires strong intensitees. It is possible to limit the power of load via the control panel.
The most important functions are "Powerassist" and the "Powercontrol". These functions are to take energy from the batteries and to add output when demand exceeds the capacity of the generator or the shore power. With these functions, it is possible to manage peak intensities greater than the power of a group or a connection for a short period of time. The extra power is used to recharge the batteries when the power demand decreases.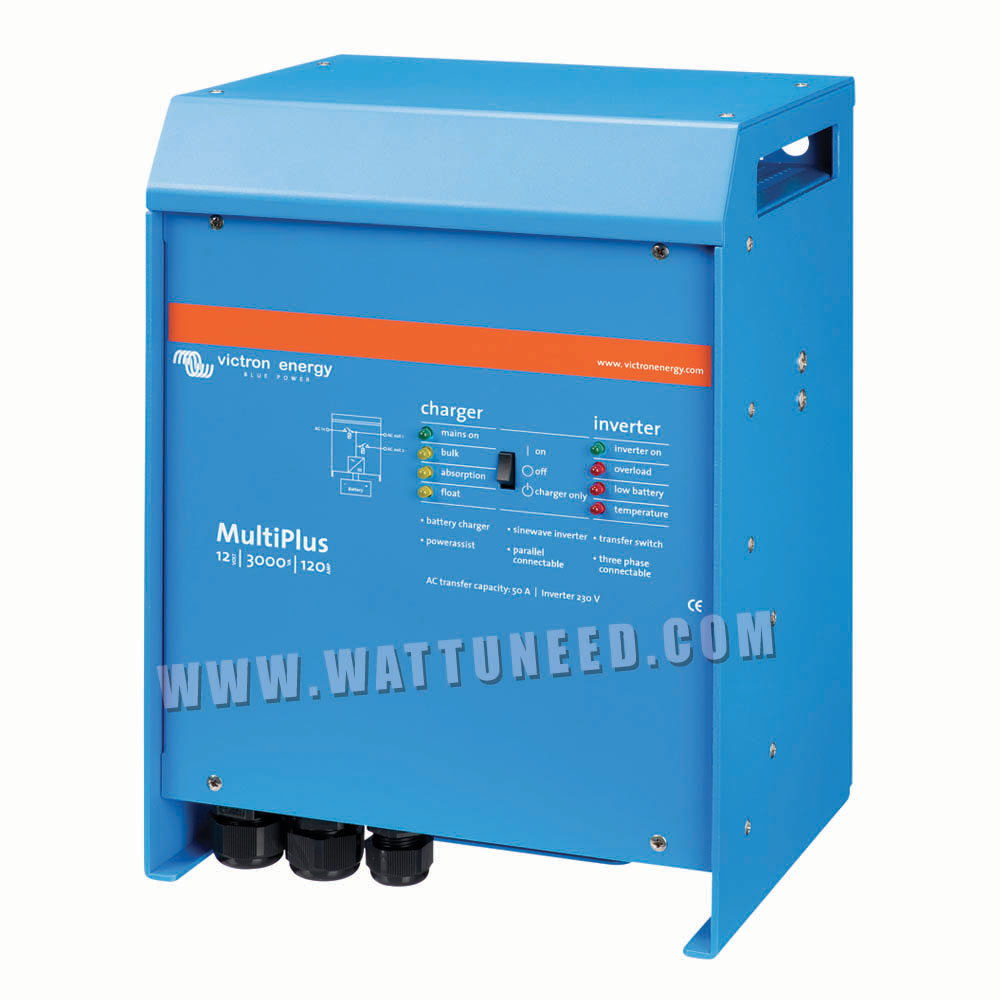 ---
Description
2 outputs CA
The main output allows a continuous supply. In the event of network disconnection or failure, the multiplus inverter takes over very quickly (20 milliseconds) to power the connected loads which allows not to disturb the functioning of the connected electronic devices. The second output is active when the CA is available on one of the entries of the inverter. It lets you connect devices that do not start battery (e.g. a heater)
---
More power output
You can connect up to 6 multiplus inverters in parallel for more power output
---
Three-phase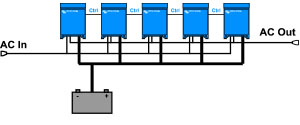 You can connect 3 multiplus inverters of the same model for output to three phase. (up to 6 sets of 3 inverters)
---
PowerControl
The powerful battery charger built into the case, ask the connection strong intensities. The control panel allows you to limit this power and only using the surplus for the charge, which avoids overloads
---
Powerassist
This function allows to complete the capacity of the alternative source in case of short-term power demand. When the power demand decreases, the surplus is used to recharge the batteries
---
Simple installation
The multiplus inverter is directly ready for use, it requires a computer to be programmed. Ability to schedule its operation with DIP switches
---
Warranty
Victron inverters are guaranteed for 2 years
---
Technical characteristics
---
Application Victron Energy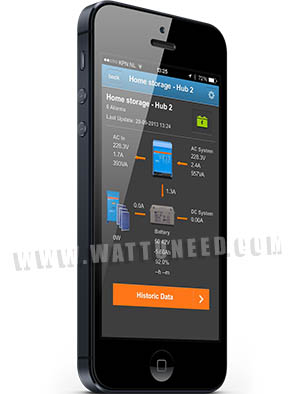 Monitor and manage your Victron Energy System. Login with your account VRM, to see all your products. Tap on a product to see its schema, the State of the system and the flow of energy.
The Victron application is available for free on the Apple app store.
---
Options
The Victron multi range is available as an option (in the dropdown at the top of page)
(Download Datasheet)
Data sheets and documentation
Product Reviews
Number of Reviews : 1
Average Grade : 5 /5
A. Anonymous
the 15/12/2015
5/5
Pas encore placé dc difficile de se faire une idée
Specifications
| | |
| --- | --- |
| Voltage | 24V |
| Power | 800 VA à 5000 VA |
| Monophasé / Triphasé | Triphasé |
| Inverter power | 5000VA |