Victron BlueSolar MPPT 75/10 - 75/15 - 100/15
View full size
Display all pictures
Victron BlueSolar charge controllers MPPT 12V /24V : 75/10, 75/15 and 100/15.
Please select MPPT 75/10, 75/15 OR 100/15.

More info
By buying this product you can collect up to 12 loyalty points. Your cart will total 12 points that can be converted into a voucher of 3,60 €.
More info
" Victron BlueSolar charge controler MPPT 75/10, 75/15 and 100/15 "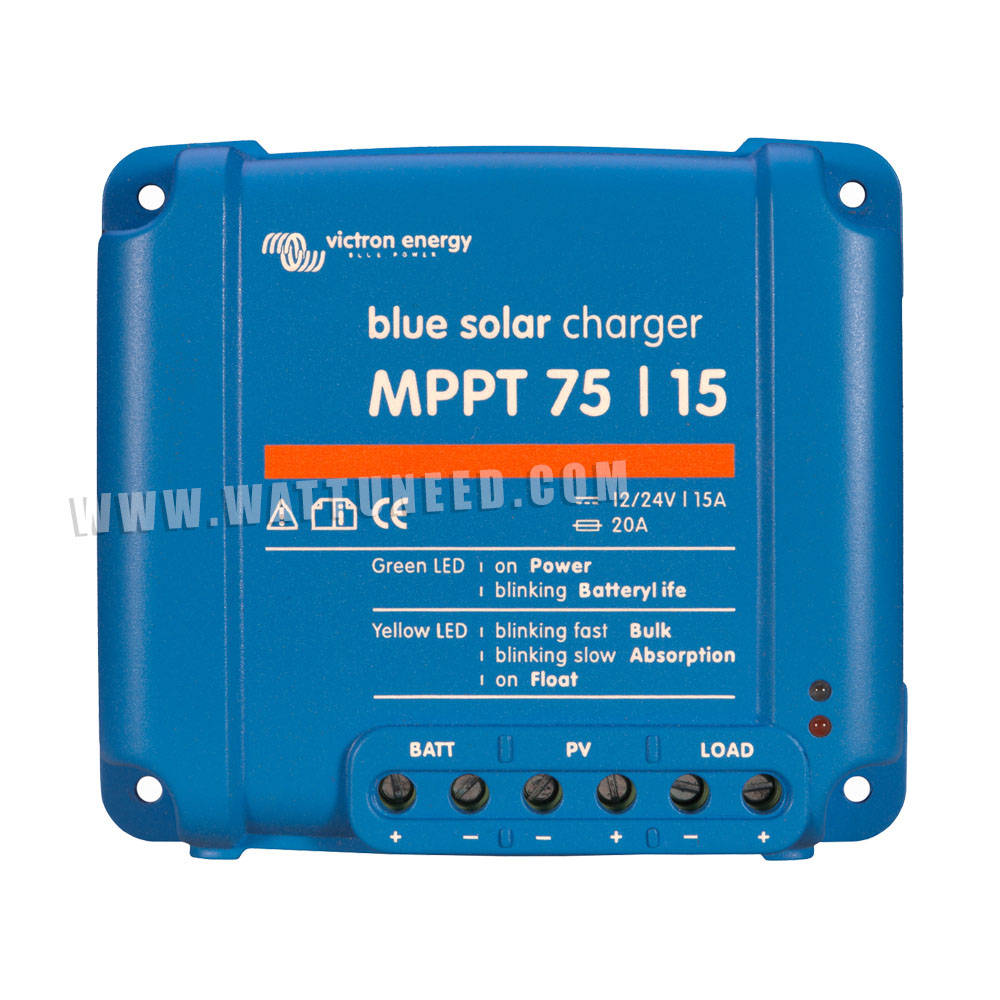 Ultra fast Maximum Power Point Tracking (MPPT)
MPPT controller are especially recommended for cloudy skies or mixed weather, when the light intensity is constantly changing throughout the day, it will improve energy load up to 30 % compared to PWM charge controllers ( pulse width modulation ) and up to 10 % compared to slower and classic MPPT controllers.
Load output
By connecting all charges the output load , excessive discharge of the battery can be avoided. Or the load is disconnected when the battery has been discharged to a predetermined voltage , a smart battery management algorithm manages disconnection. The load output is protected against short circuits.
BatteryLife: intelligent battery management
Without regular full charge, the batteries (lead) can be damaged in a few weeks or months. The algorithm BatteryLife controls the battery charge status regularly and when needed disconnects the load before, so a 100% recharge is achieved. The load disconnect level will be managed so that the battery was fully charged at least once a week.
Resin encapsulated electronics
Protects the electronic components against the environment.
Automatic battery voltage recognition
The MPPT 75/15 will automatically adjust to a 12V or a 24V system.
How to get a readout from an MPPT
Specifications
BlueSolar charge controler
MPPT 75/10
MPPT 75/15
MPPT 100/15
Battery voltage
12/24 V Auto select
Rated charge current
10A
15A
15A
Maximum PV power, 12V 1a,b)
135
200 W
200 W
Maximum PV power, 24V 1a,b)
270 W
400 W
400 W
Automatic load disconnect
Yes, maximum load 15 A
Maximum PV open circuit voltage
75V
75V
100V
Peak efficiency
98%
Self consumption
10mA
Charge voltage 'absorption'
14,4 V/28,8 V
Charge voltage 'float'
13,8 V/27,6 V
Charge algorithm
multi-stage adaptive
Temperature compensation
-16 mV / °C resp. -32 mV / °C
Continuous/peak load current
15 A/50 A
Low voltage load disconnect
11,1 V / 22,2 V or 11,8 V / 23,6 V or BatteryLife algorithm
Low voltage load reconnect
13,1 V / 26,2 V or 14 V / 28 V or BatteryLife algorithm
Protection

Battery reverse polarity (fuse) Output short circuit
Over temperature

Operating temperature
-30 to +60°C (full rated output up to 40°C)
Humidity
100 %, non-condensing
Data communication port
VE.Direct
Enclosure
Color
Blue
Power terminals
6 mm² / AWG10
Protection category
IP65
Weight
0,5 kg
Dimensions (h x w x d)
100 x 113 x 40 mm
Specifications
| | |
| --- | --- |
| Charge power | 10A, 15A |
| Voltage | 12V |
| MPPT/PWM | MPPT |
| Maximum PV input voltage | 75V, 100V |
| Max. current | 10A, 15A |
Data sheets and documentation
Product Reviews
Number of Reviews : 20
Average Grade : 4.9 /5
D. Pierre
the 28/11/2018
5/5
Ok!!
M. Alex
the 05/06/2018
5/5
Très bien
V. Eric
the 24/04/2018
5/5
Correspond aux spécifications - bonne qualité
S. Avnun
the 24/01/2018
5/5
produit conforme
I. Abdenor
the 26/10/2016
5/5
parfait avec un panneau 100Wc et une batterie 12v 60AH.
M. Thierry
the 08/09/2016
5/5
Excellent
V. Pierre
the 05/09/2016
5/5
on voit nettement la différence de chargement plus rapide comparativement au régulateur PWM
B. Daniel
the 13/07/2016
5/5
Bien
H. Denis
the 29/06/2016
5/5
pas encore de retour d'expérience
B. Michel
the 27/06/2016
5/5
Très bien, conforme à mes attentes, je recommande !
L. Frederic
the 10/05/2016
5/5
toujours nickel chez victron
D. Michel
the 03/03/2016
5/5
conforme
D. Jean-francois
the 22/01/2016
5/5
parfait pour moi
D. Anthony
the 04/12/2015
5/5
victron super qualité
V. Willy
the 24/11/2015
5/5
Performant
D. Anthony
the 18/11/2015
5/5
super produit
F. Jean-Marie
the 11/10/2015
5/5
attention: les gros fils batterie ne rentrent pas. ce détail n'est pas signalé
Y. Van-hecke
the 17/10/2014
4/5
Fonctione très bien bonne calitai
P. FAURE
the 17/10/2014
5/5
tres bien et facile a installer !
O. COSTA
the 17/10/2014
5/5
Produit satisfaisante à prix correct