Display all pictures
Victron Phoenix 12V / 24V / 48V - 250VA
Victron energy
More info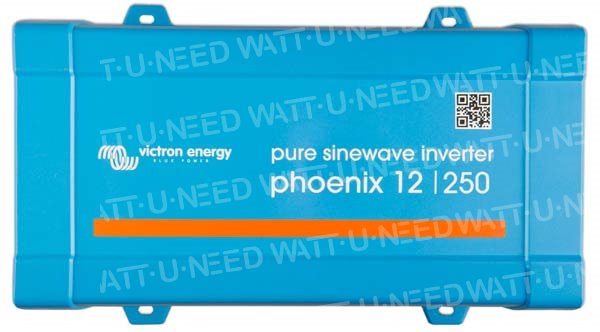 VE communication port. Direct
---
The VE port. Direct can be connected to:
• A computer (VE interface Cable. Direct - necessary USB).
• Smartphones Apple and Android, tablets, communicating with VE macbooks and other devices (a dongle Bluetooth Smart. Direct is necessary).
---
Completely configurable
• Levels of reset and the alarm in the event of low battery power
• Levels of restart and break in case of low battery power
• Output voltage 210 – 245V
• Frequency of 50 Hz or 60 Hz output
• Level of detection of the ECO mode and ECO-mode ignition/stop
---
Monitoring
Current alarms and voltage, input and output
---

Reliability recognized
Full-bridge with a toroidal transformer topology has demonstrated its reliability for many years. The converters are protected against short circuits and overheating, overload or high ambient temperatures.
---
High starting power
You need to start loads such as converters power for LED, halogen bulbs or power tools.
---
ECO mode

In ECO mode, the converter will switch to pause if the charge falls below a predetermined value. Once paused, the converter will illuminate a short period of time (adjustable; default: every 2.5 seconds). If the load exceeds a preset level, the converter will stay on.
---
On / off remotely

An ignition switch remote switch can be connected to a two-pole connector or between the positive pole of the battery and the left contact of the two-pole connector.
---
Diagnostic LED

Please consult the manual for a description.
---
To transfer the load to an another source AC: the automatic transfer switch

For our low power converters, we recommend the use of our Filax automatic transfer switch. The Filax has a very fast (less than 20millisecondes) transfer time so that computers and other electronic equipment can continue to function without interruption.
---
Features
Converter Phoenix 12/250 24/250 48/250

Power CA of the converter to 25 ° C (VA) (3)
250
Power of the converter to 25 ° C / 40 ° C (W)
200 / 175
Peak power (W)
400
Voltage / frequency AC (4) output
230 v CA ±3% 50 Hz or 60 Hz ±0, 1%
Input voltage range (V DC)
9.2-17 / 18,4-34.0 / 36.8-62.0 V
Alarm low battery (V DC)
10.9 / 21.8 / 43.6
Stop low battery (V DC)
9.3 / 18.6 / 37.2 V
Detection of battery (adjustable)
14,0 / 28.0 / 56.0 V
Maximum effective 12 / 24 / 48 V (%)
87 / 88 / 88%
Use empty
4.2 / 5.2 / 7, 9W
Empty by default by ECO(intervalle de nouvel essai par défaut: 2,5 s,réglable) consumption
0.8 / 1.3 / 2.5 W
Starting power setting and judgment in ECO mode
Adjustable
Operating temperature
-40 to + 65 ° C (cooling fan) (Reduction 1,25% per ° C above 25 ° C)
Humidity (without condensation)
Max 95%
Case
Material and color
Chassis in steel and cover in plastic (blue RAL 5012)
Battery connection
Screw terminal
Standard CA takes
SCHUKO (CEE 7/4), IEC - 320 (plug included) UK (BS 1363) to AU/NZ (AS/NZS 3112)
Switch on / off remotely

Yes

Degree of protection
IP 21
Weight kg
2.4
Dimensions (Hxwxd in mm)
86 x 165 x 260
Security
IN / IEC 60335-1 / IN / IEC 62109-1
Emissions/immunity
EN 55014-1 / EN 55014-2 / IEC 61000-6-1 / IEC 61000-6-3
Data sheets and documentation
Specifications
| | |
| --- | --- |
| Inverter power | - de 1000VA |