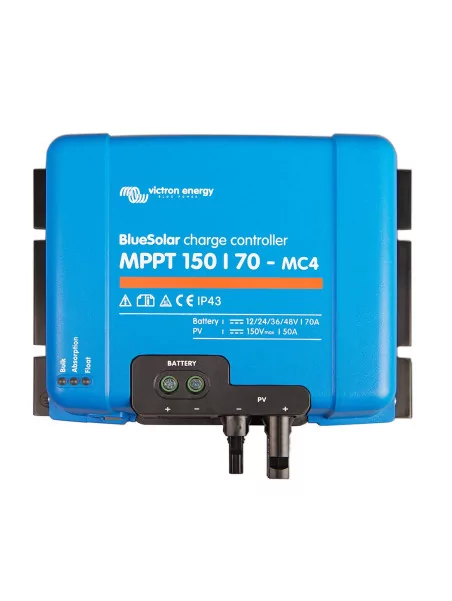 Victron BlueSolar MPPT 150/45-60 or 70 with Tr or MC4
Victron energy
More info
" BlueSolar charge controllers MPPT 150V - 45A, 60A and 70A with Tr or MC4 "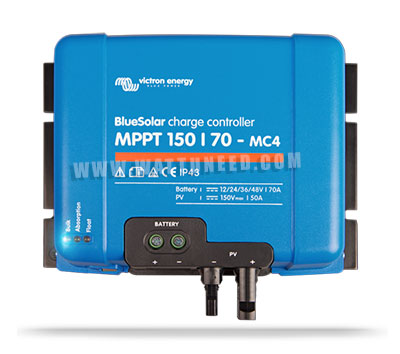 PV voltage up to 150 V
The BlueSolar MPPT 150/70 charge controller will charge a lower nominal-voltage battery from a higher nominal voltage PV array.
The controller will automatically adjust to a 12, 24 or 48 V nominal battery voltage.
Ultra fast Maximum Power Point Tracking (MPPT)
The MPPT determines the Maximum Power Point very fast.
In case of clouded sky or brightness variations, an ultra fast MPPT controller can collect up to 30% more energy than the PWM regulators.
The controller is ultra fast, which improve energy harvest of 10% compared to conventional MPPT.
The innovative algorithm of the Blue Solar device can determine with great accuracy the optimal Maximum Power Point even in the case of shaded sky when several Maximum Power Points may be present.
Features
Ultra fast MPPT
No cooling fan
Maximum efficiency 98%
Temperature sensor Integrated
Electronic protection against overheating, panels short circuits or reverse polarity, ...
Real-time display of datas on mobile, tablet, .. with VE.Direct to Bluetooth or via the control panel Color Control GX (see related products at the bottom of page)
MC4 PV connection or screw
2 possibility : MC4 PV connection ou Tr screw
VE.Direct Bluetooth Smart dongle
Victron Blue solar technical specifications
BlueSolar charge controller
MPPT 150/45
MPPT 150/60
MPPT 150/70
Battery voltage
12/24/48 V Auto Select
Rated charge current
45A
60A
70A
Maximum PV power

12V : 650W / 24V : 1300W /

48V : 2600W

12V : 860W / 24V : 1720W /

48V : 3440W

12V : 1000W / 24V : 2000W /

48V : 4000W

Maximum PV open circuit voltage

150V absolute maximum coldest conditions
145V start-up and operating maximum

Maximum efficiency
98%
Self-consumption
10 mA
Charge voltage 'absorption'
Default setting : 14,4 / 28,8 / 43,2 / 57,6 V
Charge voltage 'float'
Default setting : 13,8 / 27,6 / 41,4 / 55,2 V
Charge algorithm
multi-stage adaptive
Temperature compensation
-16 mV / °C resp. -32 mV / °C
Data communication port and
remote on-off
VE.Direct
Operating temperature
-30°C à 60°C (full rated output up to 40°C)
Humidity (non-condensing)
Max. 95 %
PV terminals
35 mm² / AWG2 (Tr models), or Dual MC4 connectors(MC4 models)
Colour
Aluminium, blue RAL 5012
Weight
3Kg
Dimensions (h x l x p)
Tr models : 185 x 250 x 95 mm
MC4 models : 215 x 250 x 95 mm
Safety
EN/IEC 62109
Data sheets and documentation
Product Reviews
Number of Reviews : 1
Average Grade : 5 /5
V. Manuel
the 24/03/2016
5/5
Très bon produit
Specifications
| | |
| --- | --- |
| Charge power | 70A, 60A, 100A, 45A, 85A |
| Voltage | 12V |
| MPPT/PWM | MPPT |
| Maximum PV input voltage | 145, 150 V |