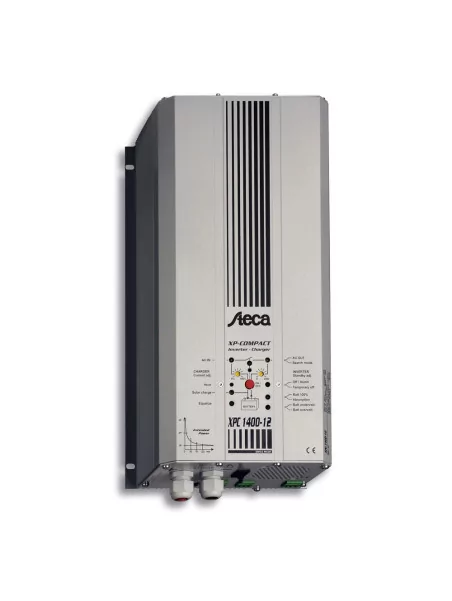 Steca XPC 1400-12 to 2200-48
Steca
More info
" Pur sine low own consumption inverter "
The Steca XPC series of inverters combine a very high overload capacity with the capability to operate highly critical loads.
Other important features of these high-quality inverters are their powerful device protection and their low own consumption. The Steca XPCs combine a sine wave inverter, four-stage battery charger and transfer system in one device, therefore making them also suitable for hybrid systems. The built-in multifunctional contact enables you, for example, to switch on and off diversion loads for excess power or start a diesel generator to recharge batteries.
---
Description
Product features
True sine wave voltage
Excellent overload capabilities
Optimal battery protection
Adjustable integrated battery charger
Automatic load detection
Best reliability
Can be used as a back-up system or uninterruptible power supply (UPS)
Multifunction contact
Ultra-fast transfer relay
---
Electronic protection functions
Deep discharge protection
Battery overvoltage shutdown
Overtemperature and overload protection
Short circuit protection
Reverse polarity protection by internal fuse
Acoustic alarm at deep discharge or overheating
---
Displays
7 LEDs show operating states
---
Operation
Main switch
Adjustable load detection
Programming by buttons
---
Certificates
Compliant with European Standards (CE)
RoHS compliant
---
Characterisation of the operating performance

12V

Own consumption standby / ON

adjustable: 150 V AC ... 230 V AC

Charging current adjustable

Max. current on transfer system

Switching time transfer relay

LVD, HVD, floating and equalisation voltage adjustable

230 V AC +0 / -10 % (true sine wave)

50 Hz +/-0.05 % (crystal controlled)

adjustable : 1 W ... 25 W

IP 20 / with optional top cover: IP 22
---
Optionnal
All range Steca XPC optionnal (above)
1400-12, 2200-24, 2200-48
(Datasheet on download)
Data sheets and documentation
Product Reviews
Number of Reviews : 1
Average Grade : 5 /5
A. Anonymous
the 22/03/2018
5/5
C'est une Rolls
Specifications
| | |
| --- | --- |
| Voltage | 12V |
| Voltage | 48V |
| Power | 1400 VA à 2200 VA |