Display all pictures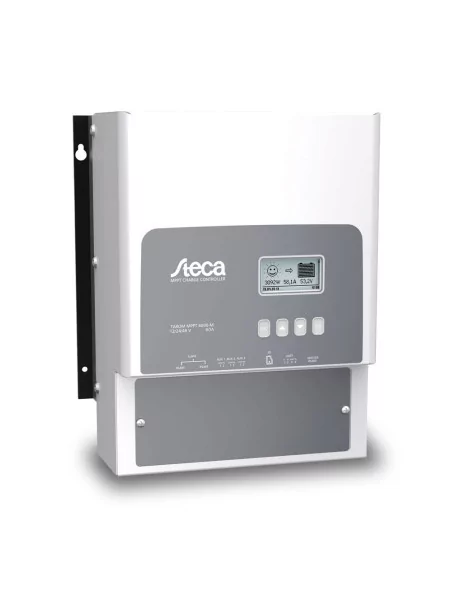 Steca Tarom MPPT 6000 - 60A
Steca
More info
" 60A made in Germany solar regulator "
The Steca Tarom MPPT 6000 solar charge controller sets new standards in the area of Maximum Power Point charge controllers. Outstanding efficiency along with unique safety features make it a universal top-grade charge controller.
There are two available inputs to be used either in parallel or separately. Different module arrays can be flexibly combined using one charge controller.
With an input voltage of up to 200 V, all kinds of solar modules can be used in various connection schemes. This charge controller combines high flexibility, maximum yields, professional battery care and an appealing design on the basis of advanced technology.
The considerable improvement of the state of charge determination device allows an optimal regulation of the system and the protection of the batteries. The Steca Tarom charge controller is the reference for larger systems with three voltage levels (12 V, 24 V, 48 V).
Two additional switching contacts can be freely configured as timer, night light function, generator start function, or for surplus management.
---
Product features
Two independent MPP tracking devices
Two inputs (can be connected in parallel or used separately for two separate panel fields)
Robust metal housing
Integrated full data logger
MicroSD card slot for data logger of all minute values ​​(6000-M only)
Voltage and current regulation
Temperature compensation
Monthly equalization charge
Three configurable auxiliary contacts (6000-M only)
Adjustable end of charge voltages
Battery type: gel / liquid lead battery (Li and NiCd batteries also for 6000-M)
Integrated automatic panel switch
36V and 60V batteries can be loaded in the expert menu after special configuration
Possibility of parallel connection
---
Electronic protection functions
Overload protection
Reverse polarity protection of solar panels and battery
Automatic electronic fuse
Protection against open circuit without battery
Reverse current protection at night
Protection against overtemperature and overload
PE connection
Views
Multifunction LCD graphic display with backlight
---
Interface
StecaLink Bus
Open interface Steca RS-232
Connection for the battery emergency stop signal (optional, only 6000-M)
---
Certificates
Compliant with European Standards (CE)
RoHS compliant
Made in Germany
Developed in Germany
Manufactured according to ISO 9001 and ISO 14001
---
Specifications
MPPT 6000-S / MPPT 6000-M

System voltage

12 V / 24 V / 48 V

Nominal power

900 W / 1800 W / 3600 W

Max. efficiency

96.4%

Own consumption

<1 W

DC input side

MPP voltage / string

17 V ... 180 V

Open circuit voltage solar module / string
(at minimum operating temperature)

20 V ... 200 V

Module current

2 x 30 A (S) / 1 x 60 A (M)

DC output side

Charge current

60 A

End of charge voltage

14.1 V / 28.2 V / 56.4 V

Boost charge voltage

14.4 V / 28.8 V / 57.6 V

Equalisation charge

15 V / 30 V / 60 V

Operating conditions

Ambient temperature

-25 °C ... +50 °C

Fitting and construction

Set battery type

liquid (adjustable via menu)

Terminal (fine wire)

35 mm² - AWG 2

Degree of protection

IP 31

Dimensions (X x Y x Z)

294 x 335 x 130 mm

Weight

6,3 kg
Specifications
| | |
| --- | --- |
| Charge power | 60A |
| Voltage | 48V |
| MPPT/PWM | MPPT |
| Maximum PV input voltage | 200 V |
| Max. current | 60 A |