Display all pictures
Solar Pumping System 15 kW
Wattuneed
More info
" Solar Pumping System 15 kW "
Our pumping systems are pumping up professisonnels 62m³ an hour at a depth of 50m (depending on the sunlight). Contact us for accurate sizing.
Composition
1 x 15kW Grundfos submersible pump range SP:

SP30-16 : Typical lift height: 110m to 140m (24 to 36m³/h at recommended height)
SP46-9 : Typical lift height: 70m to 87m (40 to 50m³/h at recommended height)
SP60-8 : Typical lift height: 50m to 68m (54 to 62m³/h at recommended height)
68 x polycrystalline photovoltaic panels 265Wc
1 x 10 meter solar cable
1 x power and safety box WU-11T
The pump is powered by solar panels (via the power / processing package ): it starts to work the morning the first rays to stop the evening with the sunset . The fresh water is stored in a tank, a pool or a water tower.
---
Accessories
A stop sensor (optional) allows to stop pumping water when the tank is filled .
Depending on the depth of immersion of the pump , the length of the submerged electric cable must be determined.
The choice of the submersible pump depends on several parameters : location, lift height , everyday, losses, ...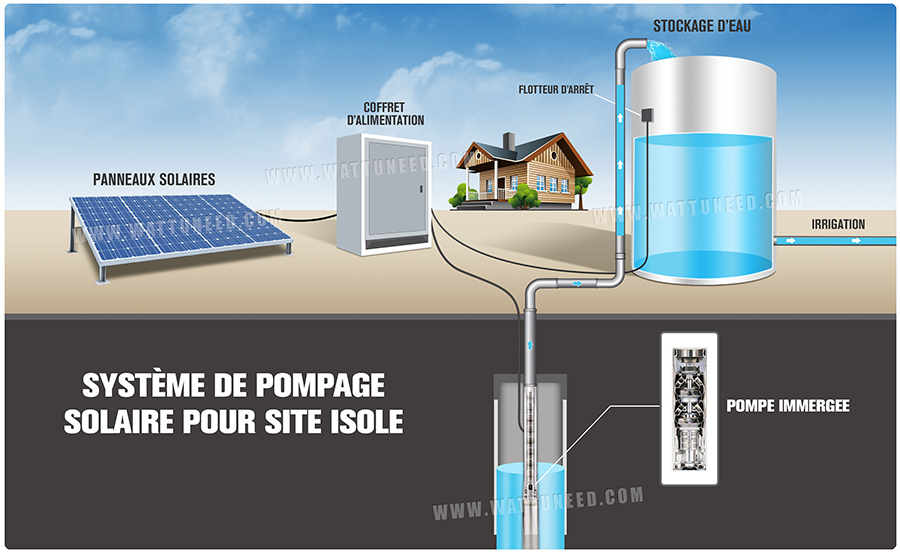 ---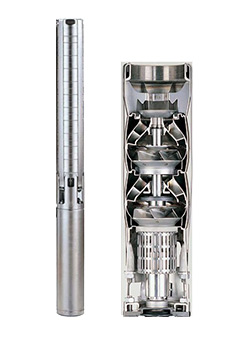 Grundfos Pumps
Grundfos pumps are borehole pumps with very high output flow medium and small diameter . They are designed to draw water drilling , underground rivers , as well as tanks or rainwater collectors for home use , garden, agriculture ( automatic watering, irrigation ), but also industrial pumps ... stainless steel is a very good corrosion resistance . They allow corrosive water pumping and have good resistance to sand and abrasives, protection against engine breakdown and easy maintenance . It must be installed so that the suction strainer is completely submerged . It can be installed both vertically and horizontally with cooling jacket. Choosing a pump model depends on : the total head (including pressure losses ) , the required daily volume and location
Material: stainless steel AISI 304

Max. pumped liquid : +40 ° C max.

Basic Cable : 5m

Diameter : 6 inches
---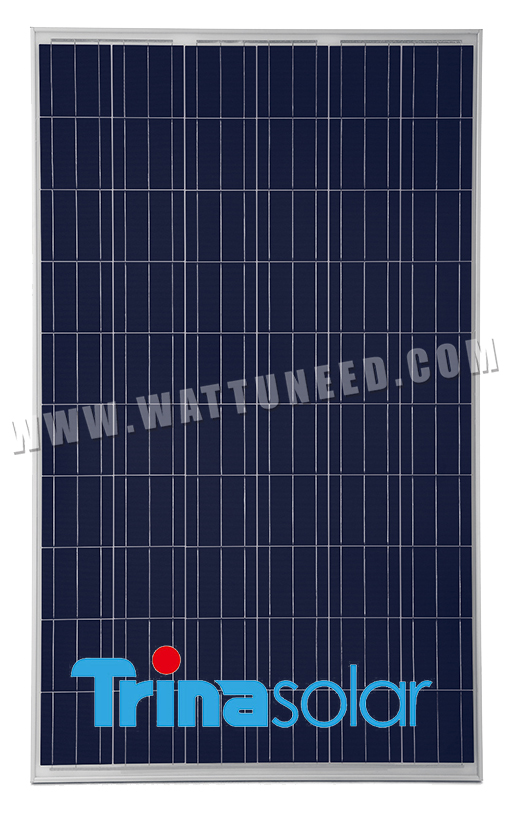 68 Trina 265Wp polycrystalline panel
Nominal power: 265Wp
This model is a panel composed of 60 polycrystalline silicon cells with high yield.
- The frame of this solar panel is made of anodized aluminum
- Polycrystalline module
Lightweight anodized aluminum frame and reinforced
Safetyand anti-Reflection coated glass 3.2mm thick (tempered + patterned)
Modul weight : 18,6kg
IP-67 Rated Junction Box : Advanced water and dust proof level
Resistance to Salt Corrosion and Humidity
---
| | |
| --- | --- |
| Cells | 60 multicrystalline solar cells |
| Max Power | 265Wp |
| Tolerance | 0-+5 |
| Open circuit voltage (Voc) | 38,3V |
| Short circuit current (Isc) | 9,10A |
| Max power voltage (Vm) | 30,8V |
| Max power current (Im) | 8,61A |
| Frame thickness | 35 mm |
| Frame | Silver Anodized Aluminium Alloy |
| Safety glass | 3,2 mm |
| Dimensions | 1650 X 992 X 35 mm |
| Weight | 18,6kg |
| Made in | China |
---
Power and safety box
The box is completely pre-wired and delivered " plug and play" . It equipped with MC4 connectors allowing easy connection of photovoltaic panels. The box contientégalement a switch to turn the power supplied by the solar panels.
An inverter converts the DC electricity produced by the solar panels into alternating current. A circuit breaker protects the motor power supply from overcharge and overcurrent.
Specifications
| | |
| --- | --- |
| Number of panels | 68 panels |
| Voltage | 12V |
| Panel type | Rigids |
| Max. Power - Wp | 265 |
| Open circuit voltage (Voc) | 38,3 V |
| Short circuit current (Isc) | 9,10 A |
| Max. power current (Imp) | 8,61 A |
| Max. power voltage | 30,8 V |
| Width | 992 mm |
| Height | 1650 mm |
| Frame | 35 mm |
| Thickness | 35mm |
| Battery | kit without battery |