Display all pictures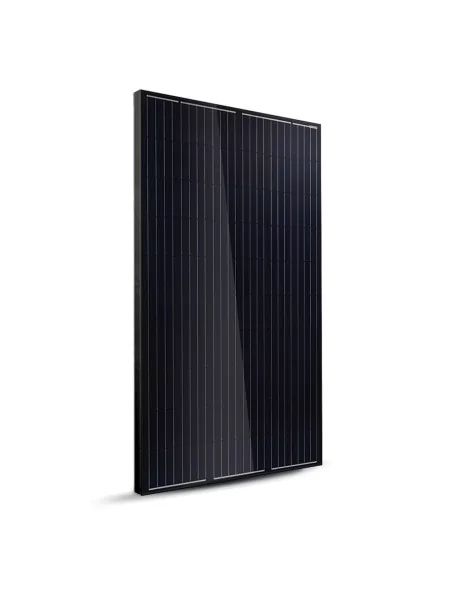 Solar Panel Solar LONGi 300Wc single-crystal one full black
LONGi Solar
More info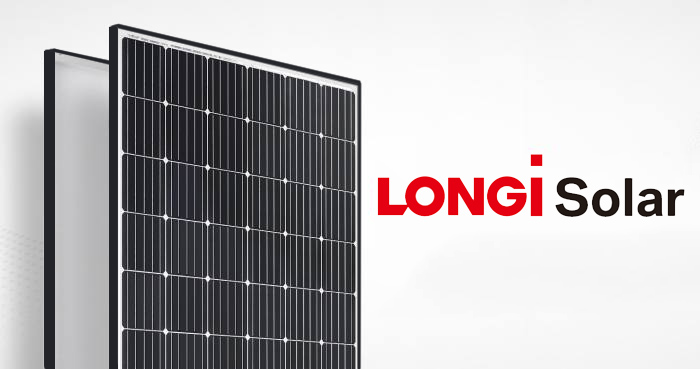 The best solution of leveled electricity cost
The LONGi Solar brand specializes in solar product manufacturing high yield for residential customers, businesses or public services.
LONGi has experience of manufacturing which allows him to achieve first-quality products while maintaining competitive prices
The 300W LONGi photovoltaic module is a panel solar full black (black beauty) composed of 60 cells monocrystalline silicon high-performance.
Rated power: 300Wc
60 cells monocrystalline
Black anodized aluminum frame
Aesthetic entirely black panel
IP67 junction box: high level of water resistance to water and dust
Resistance to corrosion and moisture (in accordance with IEC 61701 Module)
The module weight: 18.2 kg
High-efficiency mono with a design 5BB advanced technology to improve the power.
Aesthetic appearance with black frame and backsheet, best suited for installation on the roof.
Positive power tolerance (0 to + 5W) warranty
Effectiveness of high conversion of the module (up to 18%)
More energy efficient with an excellent performance of irradiance and a low temperature coefficient
Robust PID resistance provided by the solar cell process optimization and the selection of the nomenclature of the module
Adaptable to a difficult environment: passed rigorous tests salt spray and ammonia
The robust frame (40 mm) resistant to mechanical load of 5400 Pa for snow at the front and 2400 Pa load to the rear load
---
The LCOE, levelized cost of electricity or leveled cost of electricity, is the total cost of installation on the total electricity generated. By the sum of the costs of the system, capital and other costs compared to the kWh generated, LONGi Solar turned to solar modules monocrystalline, modules that offer the lowest costs of investment, production, etc. while providing a maximum and reliable electricity.
---
Dimensions
---
Curve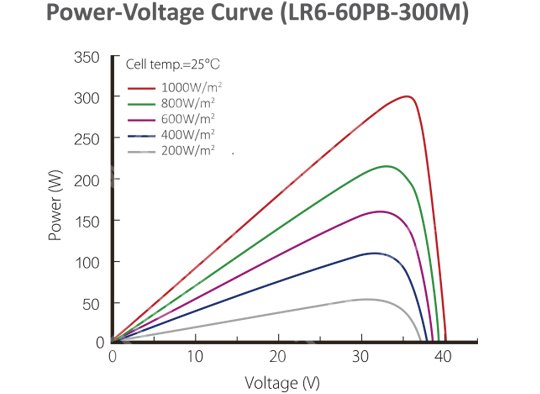 ---
Features
Model
LR6-60PB - 300 M

Mechanical parameters

Orientation of cells

60 (6 X 10)

Junction box

IP67, three diodes

Output cable

4 mm², length 1000 m

Connector

MC4 or comparable MC4

Weight

18.2 Kg

Dimensions

1650x991x40mm

Packaging

26 pieces per pallet

Operating parameters

Operating temperature

-40 ° C / + 85 ° C

Output power tolerance

0 + 5 W

Maximum system voltage

DC1000V (IEC)

Maximum series fuse

20A

Nominal temperature of the measuring cell

45 + - 2 ° C

Application class

Class A

Electric characteristics

Test conditions

STC
NOCT
Maximum power (Pmax/W)
300
220.5

Voltage in vacuum (Voc/V)

40.1
37.1

Short circuit voltage (Isc/A)

9.81
7.91

Voltage at maximum power (Vmp/V)

32.8
30.1

Current at maximum power (Imp/A)

9.15
7.32

Performance of the module (%)

18.3

STC (Standard Testing Conditions): Radiation 1000W/m², 25 ° C, Spectra at am 1.5 cell temperature

NOCT (nominal operating cell Temperature): radiation 800W/m2, ambient Temperature 20 ° C, Spectra at AM 1.5, wind 1 m/s

Nominal temperature (STC)

The Isc temperature coefficient

+0.057%/°C

Voc temperature coefficient

-0.286%/°C

Pmax temperature coefficient

-0.380%/°C

Mechanical loading

Maximum static load on the front

5400Pa

Maximum static load on the back side

2400Pa

Hail test

25 mm hail at 23 m/s speed
Data sheets and documentation
Product Reviews
Number of Reviews : 6
Average Grade : 4.7 /5
M. Royer
the 22/10/2019
4/5
Testé avec une inclinaison pas top produit 260w, il doit donner les 300w avec une inclinaison parfaite je recommande
O. Michel
the 11/10/2019
5/5
Bons matériels professionnels , livraison rapide , société sérieuse
H. Antoine
the 12/09/2019
5/5
Testé dès le déballage dehors sans soleil 36v au voltmetre.
G. Pierre
the 25/05/2019
5/5
Très efficace ( 20 V par rayonnement indirect dans le garage.
S. Samuel
the 25/05/2019
5/5
Pas encore testé, mais de prime abord la qualité semble au rdv. Belle finition / les cellules sont bien arrangées
L. Jeannot
the 26/04/2019
4/5
Je n'ai pas encore monté les panneaux à cette date. De visu rien à déplorer. Le prix me semble en rapport avec la qualité du produit. Je rajouterais un commentaire une fois testé.
Specifications
| | |
| --- | --- |
| Weight | 18,2 kg |
| Couleur | Full Black |
| Panel type | High efficiency |
| Panel type | Rigids |
| Cells | Monocrystalline |
| Max. Power - Wp | 300 |
| Open circuit voltage (Voc) | 40.1 V |
| Short circuit current (Isc) | 9.81 A |
| Max. power current (Imp) | 9.15 A |
| Max. power voltage | 32.8 V |
| Pannel efficiency | 18,3 % |
| Width | 991 mm |
| Height | 1650 mm |
| Frame | 35 mm |
| Thickness | 35mm |