Solar panel Panasonic 330Wp HIT
Panasonic
More info
" No promises, but proofs "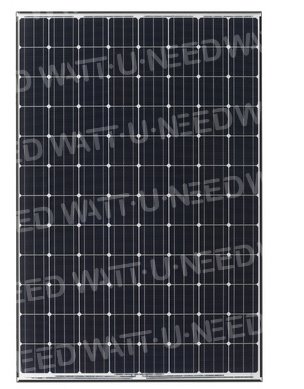 With 25 years of experience and progress in the field of photovoltaics, the Panasonic HIT 330Wc solar panel is a high performance module. Resistant to high temperatures, it is recommended for reduced surfaces.

Its internal composition has been studied to be as optimized as possible, thanks to Panasonic's heterojunction technology and two-cell technology.
One of the universal and undisputed truths is that actions are more convincing than words. That's why Panasonic chooses to prove its quality with facts rather than promising you the moon. They have more PV experience than any of their competitors and are very proud to submit unprecedented case studies for your review.
---
Description and characteristics
The Panasonic HIT 330Wc Photovoltaic Module is a solar panel consisting of 96 high efficiency rear contact cells.
Rated power: 330Wp
Black anodized aluminum frame
Back Contact technology to optimize cell performance, light being absorbed by the back of the cell thanks to the reflection of the support.
Glass with anti-reflection treatment
Low degradation : HIT "N-type" cells result in extremely Low Light Induced Degradation (LID) and zero Potential Induced Degradation (PID) which supports reliability and longevity. This technology reduces annual degradation to 0.26% compare to 0.70% in conventional panels, guaranteeing more power for the long haul.
Weight : 18.5kg
---
La meilleure performance
Wafers
Diamond wire saws slice highly pure monocrystalline silicon ingots into finer silicon wafers than a postcard. Each wafer thus sliced ​​serves as a substrate for heterojunction photovoltaic cells.
2. Cell
Silicon wafers are cleaned to remove impurities and then textured. The amorphous silicon layers then form heterojunctions. Transparent electrode layers and charge collection electrode grids are formed to provide heterojunction photovoltaic cells with the highest level of power generation in the world. The performance, appearance, and other characteristics of each cell are then inspected.
3. Module
The cells are connected in series using wiring equipment to form "chains" which are then superimposed. After installing frames and a junction box, Panasonic conducts several inspections that go beyond international standards. Products must successfully pass these inspections in order to be shipped to all corners of the world.


---
---
Dimensions
VBHN330SJ47
Electrical data (under normal test conditions)
Max power (Pmax) [W]
330
Voltage at max. (Vpm) [V]
58,0
Current at max. (Ipm) [A]
5,70
Voltage in open circuit (Voc) [V]
69,7
Short-circuit current (Isc) [A]
6,07
Max level overcurrent [A]
15
Tolerance to the power [%]
+10/-0
Max. Voltage of the system [V]
1 000
Solar panel efficiency [%]
19,7
Temperature characteristics
Temperature (NOCT) [° C]
44,0
Coefficient of temp. Pmax [% / ° C]
-0,258
Coefficient of temp. Voc [V / ° C]
-0,164
Coefficient of temp. lsc [mA/°C]
3,34
Guarantee
Yield
10 years (90% Pmin)
25 years old (80% Pmin)
Manufacture
25 years (online registration required: www.eu-solar.panasonic.net)
Materials
Cells
Photovoltaic cells 5 inches
Glass
Tempered glass with anti-reflective coating
Frame
Black anodized aluminum
Type of connectors
SMK
Dimensions
1053 x 1590 x 35
Number of cells
96 cells
Weight
18,5 kg
Snow and wind load
2 400 Pa
---
Data sheets and documentation
Specifications
| | |
| --- | --- |
| Weight | 18,5 kg |
| Panel type | Rigids |
| Panel type | High efficiency |
| Cells | Monocrystalline |
| Max. Power - Wp | 330 |
| Open circuit voltage (Voc) | 69,7 V |
| Short circuit current (Isc) | 6,07 A |
| Max. power current (Imp) | 5,70 A |
| Max. power voltage | 58,0 V |
| Pannel efficiency | 19,7 % |
| Width | 1053 mm |
| Height | 1590 mm |
| Frame | 35 mm |
| Thickness | 35mm |