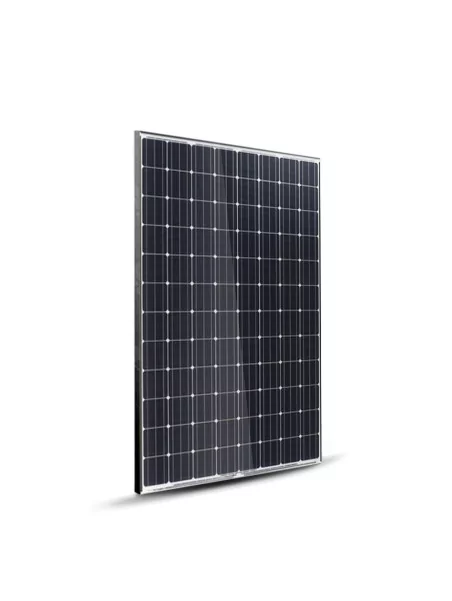 Panasonic HIT N335 Wc solar panel
Panasonic
More info
Photovoltaic module HIT® N335
Panasonic's proprietary heterojunction technology incorporates ultra-thin layers of amorphous silicon. These double layers placed on either side of the mono-type N wafer reduce electron loss. The performance of the panel is therefore higher than that of a conventional panel.
The Panasonic HIT® N340 module is the most powerful in our range.
It performs well (20.4%) and the best temperature coefficient on the market (-0.258 per cent/0C). It is also characterized by its elegant design.


Powerful and efficient, it's designed to allow you to harness the maximum potential of your roof!
Its strengths
High performance at high temperatures
When the temperature rises, HIT® maintains its high performance thanks to the best temperature coefficient on the market: -0.258%/0C, leaving far behind the other modules.
The result is higher energy throughout the day, especially in summer.
Quality and reliability
Panasonic's vertical integration combined with more than 20 years of experience in the manufacture of HIT® modules, not to mention the 20 internal tests, three times more than the number required by current standards, guarantee the high quality of our modules.
Low degradation
With "n-type" cells, HIT® modules have extremely low light-induced degradation (LID) and no potential-induced degradation (PID), which adds to their reliability and longevity. This technology mitigates annual degradation, thus guaranteeing long-term superiors.
25-year product warranty and performance
The 25-year product manufacturing and performance guarantee is based on the expertise of Panasonic, the industry's leading 100-year-old company.
Output power is guaranteed at 86.2% after 25 years of use.
High yield (20.4%) and compact size
By providing higher output and fuel efficiency, HIT® guarantees maximum production for your roof's limited space.
Unique rainwater disposal system
Thanks to this particularly precise cut in the frame, rain, water and melted snow flow so as to avoid traces of water and stains on the panel. Reducing dirt allows more light to be absorbed to generate more power. A reinforced 40mm frame increases robustness and hold over time and can withstand front/rear pressure of up to 5400 Pa.
---
Dimension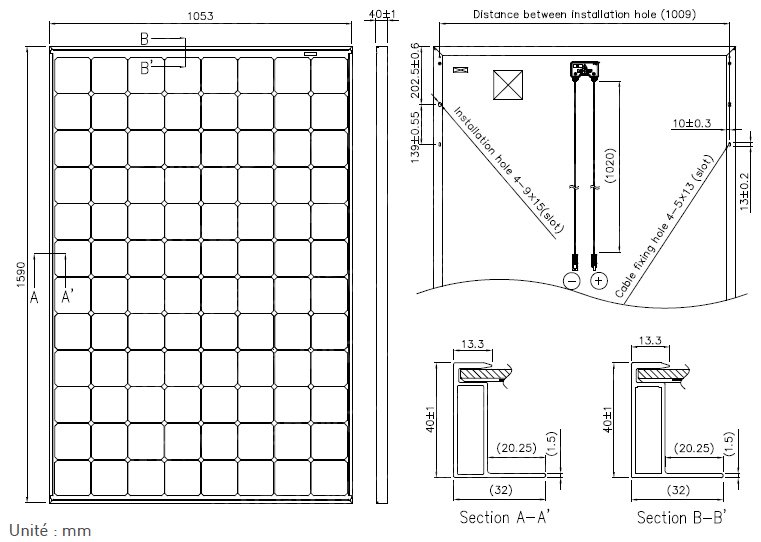 ---
Characteristics
Model
VBHN335SJ53
ELECTRIC FEATURES
Maximum power (Pmax)
335 W
Maximum power voltage (Vpm)
59.4 V
Current at maximum power (Ipm)
5.65 A
Open-circuit tension (Vco)
71.0 V
Short-circuit current (Icc)
6.08 A
Module performance
20,00%
Temperature coefficient (Pmax)
- 0.258%/C
Temperature coefficient (Vco)
- 0.235%/C
Temperature coefficient (Icc)
- 0.055%/C
NOCT
44 C
Maximum system voltage
1000 V
Calibre of standard fuses
15 A
Power Tolerance (-/)
10% / 0%
MECHANICAL FEATURES
Internal by-pass diodes
4 by-pass diodes
Module surface
1.67 sqm
Weight
19 kg
Dimensions (L x l x h)
1590 mm x 1053 mm x 40 mm
Length of cable - Male /- Female
1020 mm / 1020 mm
Calibre / type of cable
AWG 12 caliber PV cable
Type of connector
Smk
Static wind/snow charge
5400 Pa (positive/negative)
TERMS OF USE AND SECURITY RATINGS
Operating temperature
-40C to 85C
Compliance with safety standards
IEC 61215, IEC 61730-1, IEC 1730-2
Ranking the reaction to fire
Class I
Limited warranty
25 years manufacturing and output power (linear)
Specifications
| | |
| --- | --- |
| Weight | 19 kg |
| Panel type | High efficiency |
| Cells | Monocrystalline |
| Max. Power - Wp | 335 W |
| Open circuit voltage (Voc) | 69.7 V |
| Short circuit current (Isc) | 6.07 A |
| Max. power current (Imp) | 5.65 A |
| Max. power voltage | 59.4 V |
| Pannel efficiency | 20,1 % |
| Width | 1053 mm |
| Height | 1590 mm |
| Frame | 35 mm |
| Thickness | 35mm |