Display all pictures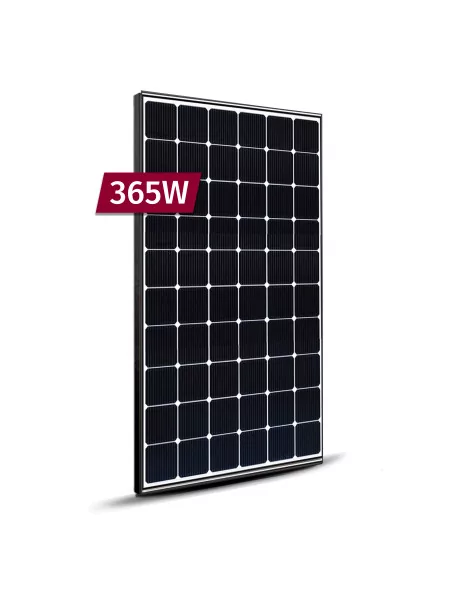 LG 365Wc NeON R monocrystalline solar panel
LG
More info

Description
Solar Panel monocrystalline LG
Rated power: 365Wc
New high quality design with 60 cells that resists pressure of 6000 Pascal
Characterized by its extended warranty, its durability, its performance in a real environment and its aesthetic design suitable for roofs
The connection is simple and fast (taking mc4 type)
The LG NeON® R is the new vector performance of the LG House. The new structure of innovative cell without electrode on the front allows to maximize the light and improve performance and reliability. The LG NeON® R demonstrates the interest of customers, beyond even of its rate of return. The LG NeON® R hits the market with a power up to 365 Wc, an extended warranty, longer life, high performance in real conditions, as well as an extremely aesthetic design.
---
Exceptional quality
Products tested twice more intensely that prescribed in IEC standard. Quality appreciated by professionals from across Europe. This is the reason for which they attributed to LG solar panels for the third consecutive time the seal of quality TOP BRAND HP, symbol of the highest recommendation.
---
More powerful, more high performance
The Panel is able to exploit the incident light on the front, but also on the side rear of the cells, the cells of the LG NeON™ Panel R work so more effectively than conventional solar cells and allow a greater performance.

---
Essential characteristics
Improved performance guarantee
LG NeON™ R has a guarantee of improved performance. The annual deterioration fell by-0.7 %/an to-0.6% per year. Even after 25 years, the cell guarantees a higher power output of 2.4% compared to the previous NeON™ modules.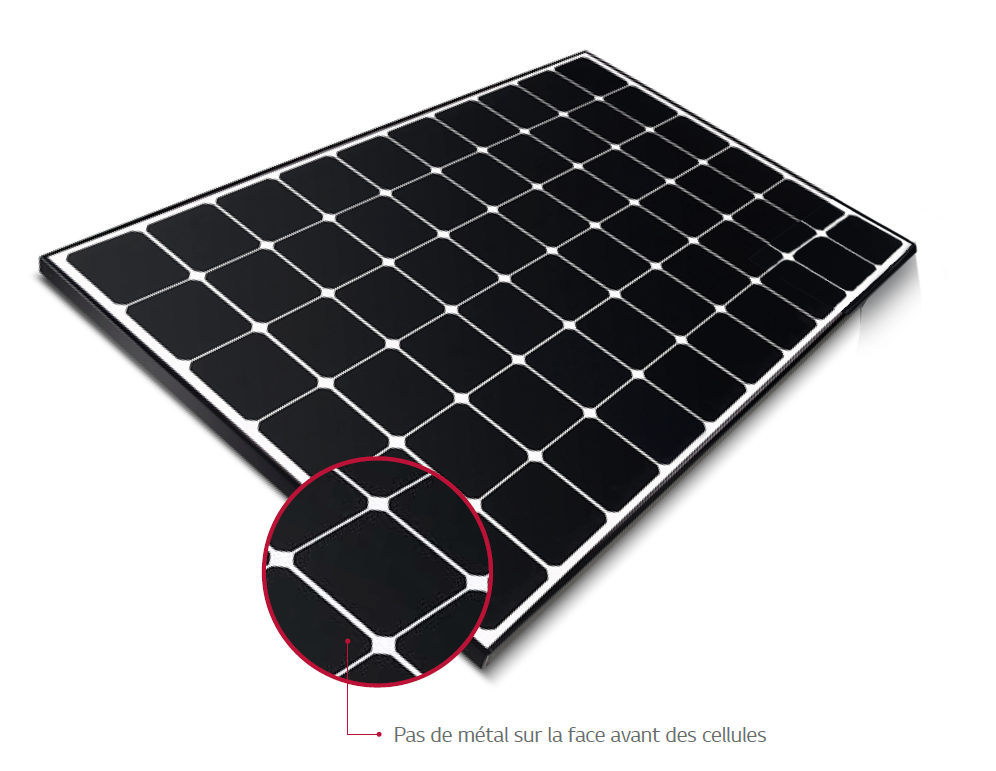 A high power output
Compared with previous models, the LG NeON™ R has been designed to significantly improve power efficiency issued, even in limited spaces.
An aesthetic roof
LG NeON™ R has been designed with aesthetics in mind. There is simply no metal, leaving only the black color of the cells. With are design modern, the product can increase the value of the property.
A performance in sunny day
LG NeON™ optimized now better product R during sunny days thanks to its temperature coefficient.
LG NeON R
Data sheet
| | |
| --- | --- |
| Type | Single-crystal one / N-type |
| Maximum power (Pmax) (W) | 365 |
| Rated voltage (V) | 36.7 |
| Rated current (A) | 9.95 |
| Short circuit (Isc) current (A) | 10.8 |
| Open circuit voltage (V) | 42.8 |
| (V) system voltage | 1000 |
| Output tolerance | |
| Number of vertical cells | 10 |
| Number of horizontal cells | 6 |
| Voc temperature coefficient (% / ° C) | -0.240 |
| Coefficient of temperature of Isc (% / ° C) | 0.037 |
| Dimensions (mm) | |
| Weight (kg) | |
| Length of the cell (inches) | 161.7 |
| Framework | Aluminum anodized |
| Thickness of the framework | 40 mm |
| Manufacturing | Corene |
Product Reviews
Number of Reviews : 1
Average Grade : 5 /5
S. Olivier
the 06/10/2020
5/5
parfait
Specifications
| | |
| --- | --- |
| Weight | 18,5 kg |
| Couleur | Classical |
| Panel type | High efficiency |
| Panel type | Rigids |
| Cells | Monocrystalline |
| Max. Power - Wp | 365 |
| Open circuit voltage (Voc) | 42.8 V |
| Short circuit current (Isc) | 10.8 |
| Max. power current (Imp) | 9.95 |
| Max. power voltage | 36.7 |
| Width | 1016 mm |
| Height | 1700 mm |
| Frame | 40 mm |
| Thickness | 40mm |