Display all pictures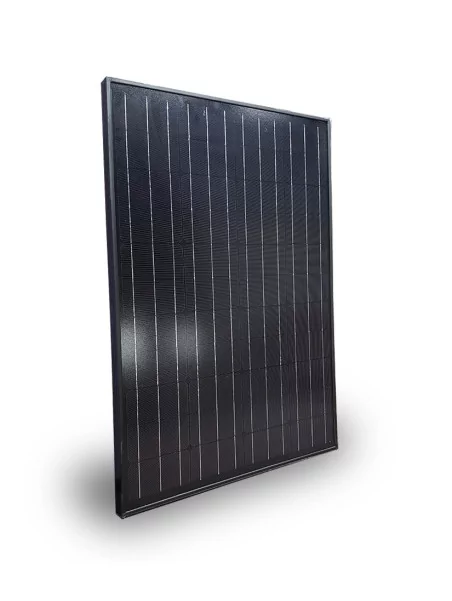 Solar panel 12V 100Wc monocrystalline black serie
wattuneed.com
Dimensions
670 mm x 940 mm
More info
Description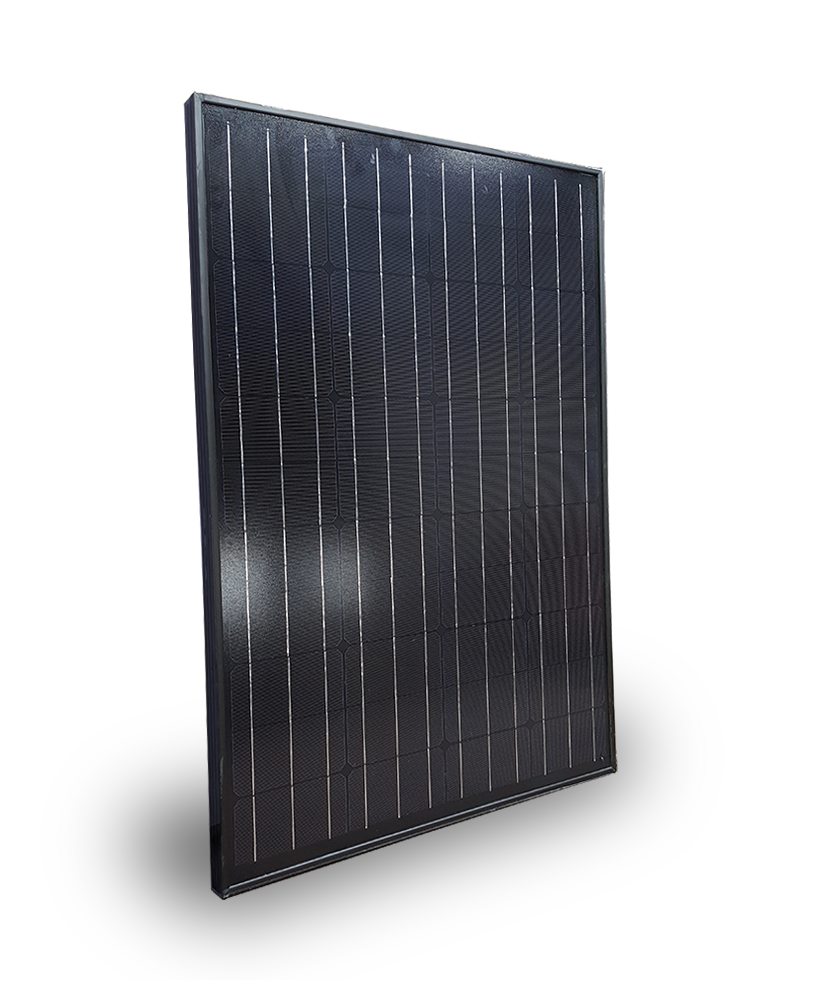 100Wc 12V monocrystalline solar panel
A small panel with a black frame and a black tedlar for a particularly aesthetic look. This module integrates discreetly and easily thanks to its small size.
The small size of this panel (94cm by 67cm) and its weight make it an ideal companion for nomadic applications (camping, boat...).
It is perfect for installation on the roof of a vehicle for example.


The frame is made of anodized aluminum that is weatherproof. It provides the panel with particularly strong mechanical stability to ensure ease of assembly and transport.
The connection is simple and fast (60cm of cable with MC4 socket)
---
Panel features
Normal NOCT use temperature: 45oC
Wind resistance: ?130 km/h
Maximum hailstone diameter: 25 mm
Hail impact speed: 80 km/h
Light and reinforced anodized aluminum frame
High glass transmissivity
Box "plug and play" with 2 diodes
Glass secures 4mm thick
---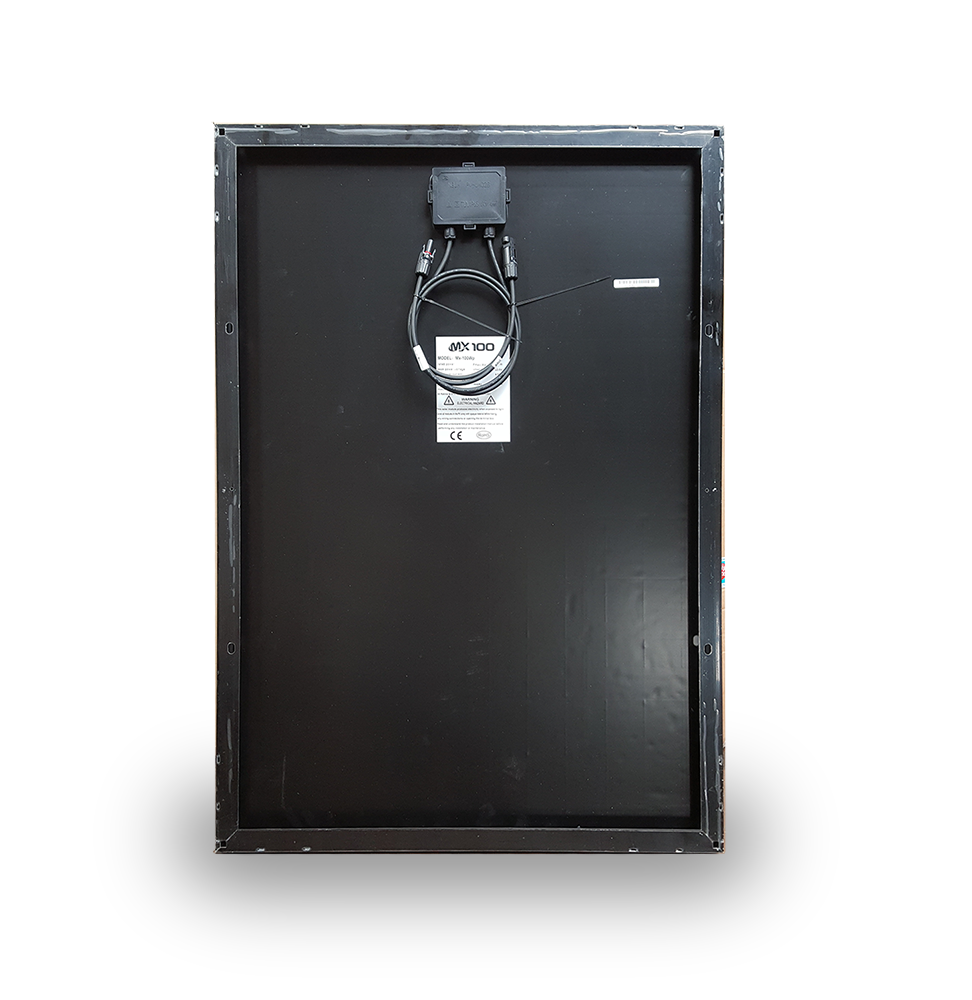 Guarantees - Certificates
10-year warranty for 90% return
25 years guarantee for an 80% return
5 years of hardware warranty
IEC 61215 CE T-V, CE
Meticulous design and production techniques ensure high long-term performance for each panel manufactured.
Strict quality control and internal test benches ensure that the panels meet the highest quality criteria.
---
TECHNICAL FACT SHEET
| | |
| --- | --- |
| Cells | Monocrystalline |
| Maximum Power (Pmax) (W) | 100 W |
| Maximum peak current (Imp) (A) | 4.55 A |
| Maximum peak tension (Vmpp) (V) | 22.0 V |
| Open circuit tension (Voc) (V) | 26.4 V |
| Short circuit current (Isc) (A) | 4.87 A |
| Operating temperature (C) | -40 to 85 lbs |
| Maximum protection by reverse over-intensity (A) | 15 |
| Output power tolerance (%) | 3 / -3 |
| Maximum system voltage (Vdc) | 1000 |
| Dimensions (mm) | 940 x 670 x 35 |
| Weight (kg) | 8 |
| Cell performance | 18.8% |
| Module performance | 15.6% |
| Material | Black Tedlar |
| Framework | Black anodized aluminium |
| Frame thickness | 35 mm |
Standard test conditions (STC): energy illumination 1000 W/m2, module temperature 25oC, AM-1.5
Data sheets and documentation
Product Reviews
Number of Reviews : 25
Average Grade : 4.6 /5
L. Jerome
the 27/04/2018
5/5
Pas encore branché mais belle finition
D. Bruno
the 06/04/2018
3/5
Le colis est arrivé en bon état, mais l'emballage était léger. Je suis déçu de ne pas avoir pu le connecter sur la pompe du fait des connecteurs incompatibles. J'attends la réponse du service client qui tarde à venir.
S. Olivier
the 25/03/2018
5/5
parfait
T. Michel
the 03/11/2016
5/5
pas encore installer
M. Jean
the 28/10/2016
5/5
Très bien, léger
I. Abdenor
the 26/10/2016
5/5
j'ai installé ce panneau et le régulateur mppt victron blue solar 75-10 que j'avais commandé ensemble branché sur une batterie 60 AH et tout fonctionne à merveille meme par journée sans soleil ce panneau arrive à produire. Merci
G. J.yves
the 20/09/2016
4/5
Pas encore installé, mais à première vue de qualité.
M. Jean
the 16/08/2016
5/5
Prix raisonnable et petite taille
M. Michel
the 06/08/2016
5/5
excellent pour mon 4X4 bat. au gel
B. Daniel
the 13/07/2016
5/5
Conforme à la description
M. Jean Pierre
the 04/07/2016
5/5
impeccable
G. Alain
the 02/07/2016
4/5
Il est trop tôt pour le dire, il n'est pas installé car vous n'avez pas répondu à la question que je posais lors de la commande...
P. François
the 03/02/2016
4/5
Pas encore pu tester le produit
M. Bernard
the 26/12/2015
5/5
Au top , a voir dans la durée
L. Philippe
the 10/12/2015
4/5
Je suis très satisfait
G. Pierre
the 09/12/2015
4/5
beau design
C. Georges
the 20/11/2015
4/5
Beaucoup trop tôt pour évaluer ce produit, il faut déjà qu'il soit installé et avoir du recul pour juger de son bon fonctionnement..
F. Marie-Michel Patrice
the 18/11/2015
5/5
Le colis est arrive tres vite et tout est conforme aux donnees publies sur votre site.
J. Thibaut
the 03/10/2015
5/5
Parfait
M. GERARD
the 04/11/2014
5/5
c'était plus un choix mécanique (dimensions)
G. ROQUEBERNOU
the 29/10/2014
5/5
très bien.
M. Leclercq
the 19/10/2014
5/5
leger mais je ne les ai pas encore installés
M. LAGANOT
the 18/10/2014
5/5
très bien
C. ROSSIGNOL
the 17/10/2014
4/5
Pas de problèmes avec les panneaux solaires, par contre l'emballage laissait vraiment à désirer, si bien que les encadrements en alu sont arrives légèrement écornés. C'était limité retour à l'envoyeur. Ces panneaux étaient simplement enveloppés dans du papier bulles, sans emballage carton.
J. BELET
the 17/10/2014
5/5
Il marche que dire de plus
More reviews...
Specifications
| | |
| --- | --- |
| Voltage | 12V |
| Weight | 8 kg |
| Couleur | Full Black |
| Panel type | Rigids |
| Cells | Monocrystalline |
| Max. Power - Wp | 100 Wc |
| Open circuit voltage (Voc) | 26,4 V |
| Short circuit current (Isc) | 4,87 A |
| Max. power current (Imp) | 4,55 A |
| Max. power voltage | 22,0 V |
| Width | 670 mm |
| Height | 940 mm |
| Frame | 35 mm |