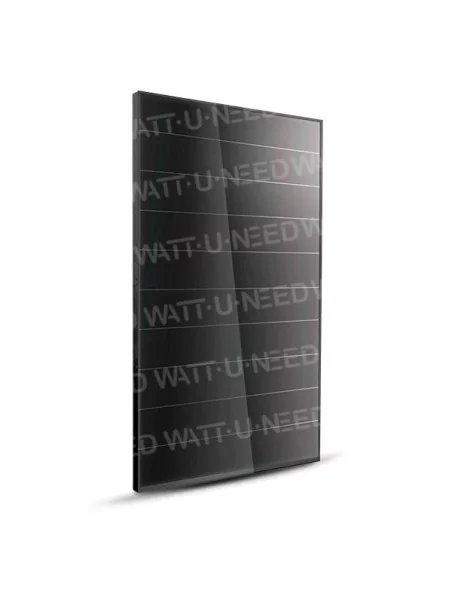 Omnis Power Cortex Shingled solar panel 410Wp FB OP410M60B
Omnis Power
More info
Cortex Shingled 410 Wp Full Black
Omnis Power's Cortex Series solar modules are very powerful and offer world-class performance. The design of the structure of cells and raw materials ensures the maximization of sunlight and improves reliability.
Cortex includes the most advanced solar cell technologies, such as PERC, N-type multiple bus bars and bifacials. After years of effort, Cortex is able to increase customer value beyond efficiency, performance and durability in real-world conditions make our customers successful, regardless of residential or commercial applications.
In 2010, Omnis Power was founded by a group of passionate people in the United States dedicated to renewable energy. For more than 10 years, Omnis Power has grown to become one of the most innovative and reliable providers of solar products and solutions. Omnis Power, with an annual capacity of 3 GW, delivers sustainability and brings the future to commercial and residential applications worldwide with premium solar products, solutions and services. Being a qualified company in the field of photovoltaics means operating in a way that reflects our values and mission in order to provide our partners with the innovation and quality they deserve. Omnis Power is committed to the standards and accountability that have made us one of the best.
Less energy loss due to shading
In conventional solar panels, individual cells are wired in series. Therefore, when a part of the solar panel is shaded, it can have a significant effect on the level of energy production. By configuring the solar cells into shingles, they can be wired into groups and configured in parallel, greatly reducing the losses caused by shading.
Latest shingle technology
The Cortex shingle module is composed of 158.75 mm cells cut by laser into a sixth. By dividing the cells, the lower currents will reduce the "Cell to Module" loss, which results in higher output powers. The absence of tape welds reduces internal strength, improves overall strength, reduces the likelihood of cracking and avoids the impact of metal corrosion. The busbar-free design also completely avoids ribbon shielding, increasing the use of sunlight.
Beautiful appearance, more attractive
Shingled solar panels have no visible circuits, which gives them a simple and uncluttered look, providing superior appeal on the street. As solar panel technology continues to evolve, shingle modules represent the current state of the art in terms of performance, reliability and aesthetics.
Reduced power degradation
PID resistance is guaranteed by the manufacturing process of the cells and the constrained module material to help harvest more. Cortex is guaranteed ONL Y 0.5% annual degradation of potency is 30 years.
Extended warranty up to 25 years
Cortex offers a 25-year warranty on the materials and workmanship of its products, which is an industry first.
Durability in extreme conditions
Cortex passed the smoke mist, ammonia and mechanical loads test up to 5400pa positive.
---
Characteristics
ELECTRICAL DATA (STC)
Peak power Watts Pmax
410 Wp
Output power tolerance
0 - + 3%
Maximum power voltage Vmpp
38.80 V
Maximum power current Impp
10.57 A
Open circuit voltage Voc
46.60 V
Short circuit current Isc
11.07 A
Panel performance
20,90 %
ELECTRICAL DATA (NMOT)
Maximum power Pmax
309 Wc
Maximum power voltage Vmpp
37.00 V
Maximum power current Impp
8.35 A
Open circuit voltage Voc
44.40 V
Short circuit current Isc
8.93 A
MECHANICAL DATA
Size
1719 x 1140 x 30 mm
Weight
22 kg
Frontal glass
3.2 mm tempered glass
Cell
Monocrystalline PERC 166 x 166 mm
Back plate
High weather resistance
Frame
Anodic alumina profile
Junction box
IP68, TUV, 2 diodes
Connector
Type MC4
Maximum nominal values
Maximum system voltage
1500 (IEC)
Maximum fuse current rating
20 A
Maximum frontal static load
5400 Pa
Operating temperature
-40-+85°C
Data sheets and documentation
Product Reviews
Number of Reviews : 1
Average Grade : 5 /5
S. Jacques
the 03/12/2022
5/5
tres biens conforme a mesattente
Specifications
| | |
| --- | --- |
| Weight | 22 kg |
| Couleur | Full Black |
| Panel type | Rigids |
| Cells | Monocrystalline |
| Max. Power - Wp | 410 |
| Open circuit voltage (Voc) | 46,6 V |
| Short circuit current (Isc) | 11,07 A |
| Max. power current (Imp) | 10,57 A |
| Max. power voltage | 38,8 V |
| Width | 1140 mm |
| Height | 1719 mm |
| Frame | 30 mm |