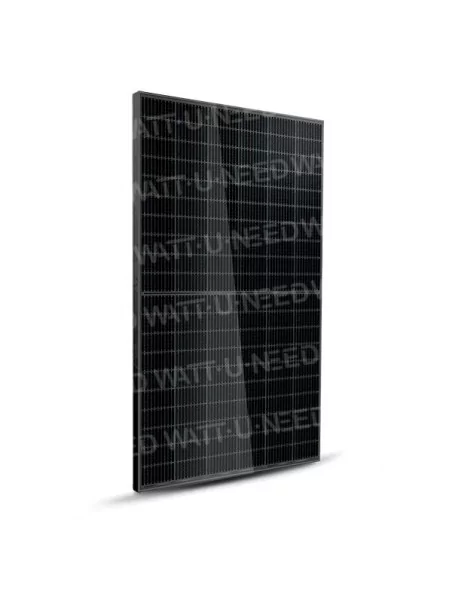 Omnis Power Cortex P3 solar panel 405Wc UB OP405M54-P3-B
Omnis Power
More info
Cortex P3 405Wc Ultra Black
Omnis Power's Cortex Series solar modules are very powerful and offer world-class performance. The design of the structure of cells and raw materials ensures the maximization of sunlight and improves reliability.
Cortex includes the most advanced solar cell technologies, such as PERCs, multiple N-type busbars and bifacials. After years of effort, Cortex is able to increase customer value beyond efficiency, performance and durability in real-world conditions make our customers successful, no matter the residential or commercial applications.
In 2010, Omnis Power was created by a group of passionate people in the United States who are dedicated to renewable energy. For more than 10 years, Omnis Power has grown to become one of the most innovative and reliable suppliers of solar products and solutions. Omnis Power, with an annual capacity of 3 GW, delivers sustainability and brings the future to commercial and residential applications worldwide with premium solar products, solutions and services. Being a qualified company in the field of photovoltaics means operating in a way that reflects our values and mission in order to provide our partners with the innovation and quality they deserve. Omnis Power is committed to the standards and responsibility that have made us one of the best.
Increased performance and reliability
The Cortex monofacial module is the most popular product in this industry, the modules are designed with monofacial cells and a plastic back sheet. We use the latest PERC cell technologies to ensure the reliability of the modules. We offer a 15-year general warranty and a 25-year performance warranty. Our modules are tested with far fewer PIDs and LCOEs than other brands, allowing more energy to be harvested and more benefited from the systems.
Half-cell technology to increase power
The modules are composed of standard laser-cut c-Si half-cells. Dividing cells into halves generates a lower current, which reduces the "Cell to Module" loss. This results in higher efficiency, less imbalance, power loss, shadow effect, etc. That's why the market adopts this simple upgrade as quickly as it arrives on the market.
Multi-Busbar Technology
The application of multi-busbar cells allows for more uniform loads to avoid stress, resulting in better performance even in the event of slight cracking. This technology makes it possible to shorten the current conduction distance by more than 50% and thus reduce the loss of internal resistance of the tape. With thinner and narrower bus bars, more sunlight will be reflected back to the round ribbon, increasing energy efficiency.
Superior performance
The high efficiency of solar cells ensures high output power, making it more sufficient in limited space.
Reduced power degradation
Ensured PID resistance by cell process and modulus material contrai to help harvest more. Cortex is guaranteed ONL Y 0.5% annual degradation of power is 30 years.
Extended warranty up to 25 years
Cortex offers a 25-year warranty on the materials and workmanship of its products, which is an industry first.
Durability in extreme conditions
Cortex passed the test for smoke mist, ammonia and mechanical loads up to 5400pa positive.
---
Size
---
Characteristics
ELECTRICAL DATA (STC)
Peak power Watts Pmax
405 Wc
Output power tolerance
0 – 5 W
Maximum power voltage Vmpp
30.52 V
Maximum power current Impp
13.27 A
Open circuit voltage Voc
37.06 V
Isc short circuit current
13.85 A
Panel performance
20,74%
ELECTRICAL DATA (NMOT)
Maximum power Pmax
301 Wc
Maximum power voltage Vmpp
28.56 V
Maximum power current Impp
10.55 A
Open circuit voltage Voc
34.98 V
Isc short circuit current
11.19 A
MECHANICAL DATA
Size
1724 x 1134 x 30 mm
Weight
20.7 kg
Cell
Monocrystalline PERC 182 x 91 mm
Back plate
High weather resistance
Front glass
3.2 mm tempered glass
Frame
Black anodic alumina profile
Junction box
IP68, 3 diodes
Connector
Type MC4
Maximum nominal values
Operating temperature
-40-+85°C
Maximum rear static load
2400 Pa
Maximum frontal static load
5400 Pa
Maximum rated flow of the fuse
25 A
Maximum system voltage
1500V (IEC)
Data sheets and documentation
Product Reviews
Number of Reviews : 1
Average Grade : 5 /5
L. Arnaud
the 17/09/2022
5/5
Bien
Specifications
| | |
| --- | --- |
| Weight | 20,7 kg |
| Couleur | Full Black |
| Panel type | Rigids |
| Cells | Monocrystalline |
| Max. Power - Wp | 405 Wc |
| Open circuit voltage (Voc) | 31.52 V |
| Short circuit current (Isc) | 13,27 A |
| Max. power current (Imp) | 13,85 A |
| Max. power voltage | 37.42 V |
| Width | 1134 mm |
| Height | 1724 mm |
| Frame | 30 mm |