Display all pictures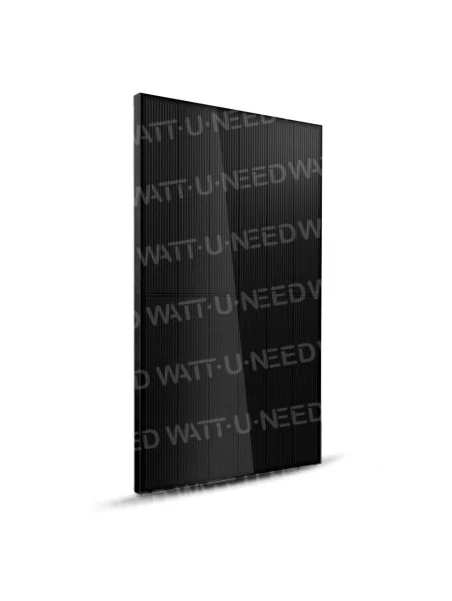 Solar Panel Q.Cells DUO-G9 330Wc Full Black
Q.Cells
More info

The latest great novelty of Q CELLS: the Q.PEAK DUO BLK-G9 solar module offers maximum power and efficiency to your photovoltaic installations as well as a neat finish, all accompanied by Q CELLS excellence. We have brought together Q CELLS expertise and equipped our patented Q.ANTUM Technology with new wiring that allows us to significantly reduce the space between cells. This reduction allows the installation of more solar cells in a module and thus generate more energy. A principle that seems very simple, but that results from the details that Q CELLS engineers have developed and refined over the years in order to be able to offer them as standard with our models. A simple reduction in the distance between Q.ANTUM solar cells allows up to 20.3% increase in efficiency. We have developed our solar module Q.PEAK DUO BLK-G9 to meet your aesthetic expectations regarding the general appearance of roofs. The all-black appearance of your roof makes it possible to generate photovoltaic current at a lower cost and is also very elegant.
SINGLE CRYSTAL SOLAR MODULES
With Q.ANTUM DUO Z Technology
Q CELLS set new standards: Thanks to the new Q.ANTUM DUO Z technology, Q CELLS launch an innovative interconnection between cells that requires no spacing between rows of individual cells. Combined with the market-leading Q.ANTUM cell technology, our Q.PEAK DUO-G9 solar modules allow you to achieve maximum results and thus increase the efficiency of your photovoltaic system. Benefit from economical green electricity and excellent product quality!
Q.ANTUM DUO Z TECHNOLOGY
Uncompromising efficiency
Photovoltaic modules equipped with the Q.ANTUM DUO Z Technology offer not only impressive performance in real conditions, but also remarkable warranty performance of 98% in the first year and 86% after 25 years. Q.ANTUM DUO Z Technology combines our Q.ANTUM Cell technology with the innovative DUO cell separation method: The use of round connecting wires and unspaced cell interconnection ensures higher energy production, not only in the laboratory, but also in everyday operation.
Q.ANTUM DUO Z also increases the rated power and improves the reliability of the module thanks to the Q CELLS performance guarantee, which includes a power resistance Conventional photovoltaic module Q.ANTUM Technology +7% power 12 busbar technology +2% power Cable connection +2.5% power Half-cell technology +3% power Q.ANTUM DUO Z Technology +4% power the degradation induced by the potential , by light and by light and high temperatures, as well as Hot-Spot Protect and TraQTM. With more than 23 GW of Q.ANTUM photovoltaic modules deployed, only Q CELLS has the experience and knowledge to simultaneously advance the development of cell and module technologies and create new Q.ANTUM DUO Z Technology.
---
ALL THE ADVANTAGES OF YOUR SOLAR PANEL Q.PEAK DUO BLK-G9
---
Q CELLS POWER GUARANTEE
At least 98 % of the rated power in the first year.
Then, a maximum of 0.5% degradation per year.
At least 93.5% of the rated power after 10 years.
At least 86 % of the rated power after 25 years.
All digits have measurement tolerances. Warranty according to the terms in force applied by the Q CELLS office on which your region depends.
---

Low irradiance performance
Typical module power under low radiation conditions compared to STC conditions (25 °C, 1000 W/m²).
---
size
---
Characteristics
ELECTRICAL CHARACTERISTICS
Minimum performance at standard STC test conditions
MPP power
330 Wc
ISC short circuit current
10.39 A
Vacuum voltage
40.84 V
Current at MPP
9.84 A
Voltage at MPP
33.53 V
yield
≥ 19.2%
MECHANICAL CHARACTERISTICS
dimension
1673 x 1030 x 32 mm
weight
17.5 kg
Front
2.8 mm tempered glass with anti-glare technology
Back side
Composite film
frame
Black anodized aluminum
cell
6 x 20 half-cells monocrystalline Q.ANTUM
Junction box
IP67
cable
Solar cable 4 mm²
connector
Type MC4
Data sheets and documentation
Product Reviews
Number of Reviews : 1
Average Grade : 5 /5
B. Franck
the 07/08/2021
5/5
un prix étonnamment bas pour du matériel de haute technologie.
Specifications
| | |
| --- | --- |
| Weight | 17,5 kg |
| Couleur | Full Black |
| Panel type | High efficiency |
| Cells | Monocrystalline |
| Max. Power - Wp | 330 |
| Short circuit current (Isc) | 10,39 A |
| Max. power current (Imp) | 9,84 A |
| Max. power voltage | 33,53 V |
| Pannel efficiency | 19,4 % |
| Width | 1030 mm |
| Height | 1673 mm |
| Frame | 32 mm |