Display all pictures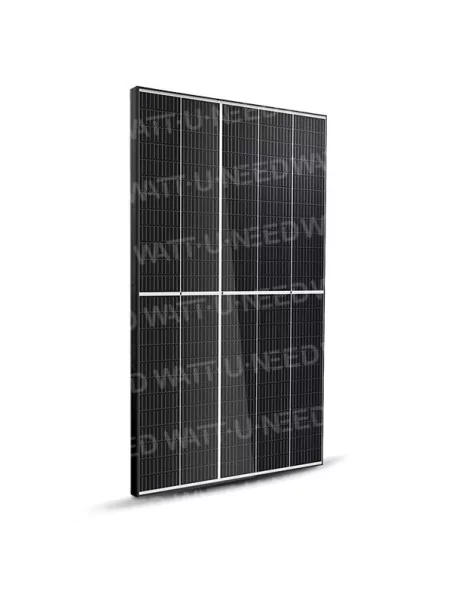 TrinaSolar Vertex S 395Wc Monocrystallin Solar Panel
Trina Solar
More info
Founded in 1997, Trina Solar is the world's leading provider of comprehensive solar energy solutions. With a worldwide presence, the company Trina Solar is able to provide exceptional service to every customer in every market and provide our innovative, reliable and
produced with Trina's support.
First 400W level module designed for residential and commercial roofs
The new Vertex S 400W module class is based on the vertex platform's state-of-the-art technology. Vertex S is perfectly designed to meet specific requirements for application on the roof, such as power, efficiency, height, weight, appearance, mechanical load and reliability. This module will provide the best balance between power, height and weight.
Small in size, but large in power
Vertex S generates up to 405Wc of power even in a limited space, achieving 21.1% module efficiency with high-density cellular interconnection. Its multi-busbar technology means better light-trapping of light, lower-level resistance, better current collection and increased reliability. In other words: Vertex S will give you up to 65W more power while being comparable in size with conventional products.
Up to 405 W of power and 211 W/m2 of high power density with interconnection technology
Multi-busbar technology for better light reception, low standard resistance, improved conductivity and increased reliability
Excellent performance in low light conditions
Universal solution for application on the roof
Vertex S was designed for compatibility with existing consumer inverters, optimizers and assembly systems. With a perfect size and low weight, it allows easy handling, and has been optimized for a minimum transport cost. Vertex S gives you flexibility to deploy the system.
Designed for compatibility with existing consumer inverters, optimizers and assembly systems
Ideal size and low weight for easy handling, allowing for more efficient transportation costs and easier installation.
Reduces installation cost with maximum power and higher efficiency
Flexible installation solutions for system deployment
High reliability
6000 Snow load pa (test load)
4000 Pa wind load (test load)
---
Vertex S Guarantee Extension
---
size

---
Characteristics
ELECTRICAL DATA (STC)
Pmax peak power
395 Wc
Pmax output power tolerance
0/5 W
Vmpp maximum power voltage
34 V
Maximum-power Intensity Impp
11.62 A
Voc open circuit tension
41 V
ISC short-circuit intensity
12.21 A
Performance of the 'm' module
20,5%
ELECTRICAL DATA (NOCT)
Pmax peak power
298
Vmpp maximum power voltage
32
Maximum-power Intensity Impp
9.32 A
Voc open circuit tension
38.6 V
ISC short-circuit intensity
9.84 A
MECHANICAL DATA
Solar cells
Monocristalline
Cell orientation
120 cells
Module size
1754 x 1096 x 30 mm
weight
21 kg
glass
3.2 mm, high transparency
AR coating and soaked solar glass
frame
30 mm Anodized aluminium alloy
Junction box
IP68
Cables
Cable: 4 mm2
Landscape: 1100/1100 mm
Portrait 280/280 mm
connector
TS4/Type MC4
MAXIMUM NOMINAL VALUES
Operating temperature
-40 to 85 degrees Celsius
Maximum tension. From the system
1500 V DC (IEC)
Max series fusibles
20 A
Specifications
| | |
| --- | --- |
| Weight | 21 kg |
| Couleur | Gris cadre noir |
| Panel type | High efficiency |
| Cells | Monocrystalline |
| Max. Power - Wp | 395 Wc |
| Open circuit voltage (Voc) | 41,0 V |
| Short circuit current (Isc) | 12,21 A |
| Max. power current (Imp) | 11,62 A |
| Max. power voltage | 34 V |
| Pannel efficiency | 20,5 % |
| Width | 1096 mm |
| Height | 1754 mm |
| Frame | 30 mm |
| Thickness | 30mm |