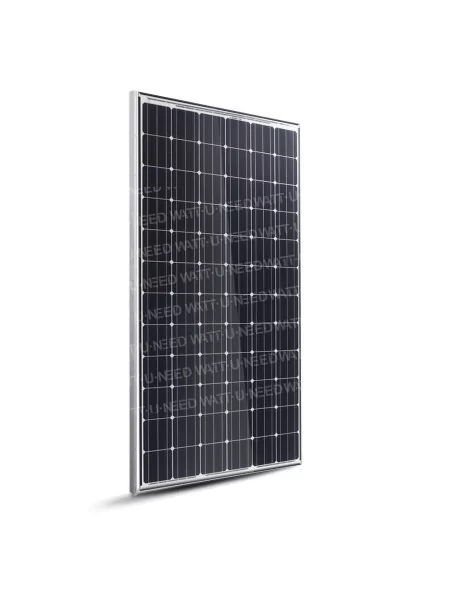 Panasonic HIT N250 Toilet monocrystallin solar panel
Panasonic
More info

No promises, but evidence
The Panasonic HIT N250 module, with a length of less than 160 cm and a width of less than 80 cm, is the ideal alternative for small roofs or complex profiles because it adapts flexibly to many situations where larger solar panels are not suitable. In addition, its height-to-width ratio of 2:1 allows for an installation in both portrait and landscape positions to create a pleasing aesthetic.
With the 250W model, a nominal return of 19.8% is achieved. Its extremely low temperature coefficient, in the range of -0.258 per cent/ C, allows it to achieve higher performance than conventional solar panels, especially during the summer.
Its black anodized frame features water drains to the corners to keep the solar panels clean all year round, and gives an attractive monochrome look to the solar system on your roof.
Panasonic's unique heterojunction technology is based on ultra-thin layers of amorphous silicon. These thin double layers reduce energy losses, the efficiency is higher than that of a conventional panel.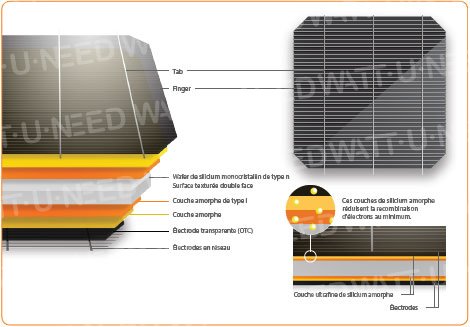 Our Panasonic HIT compact® N250 performs well (19.8%) and the best temperature coefficient on the market (-0.258 per cent/0C).
It is also characterized by its elegant design.
Powerful and efficient, it's designed to harness the full potential of your roof!
High performance at high temperatures
When the temperature rises, HIT® maintains its high performance thanks to the best temperature coefficient on the market: -0.258%/0C, leaving far behind the other modules. The result is
higher energy throughout the day, especially in summer.
Quality and reliability
Panasonic's vertical integration combined with more than 20 years of experience in the manufacture of HIT® modules, not to mention 20 internal tests, three times more than the number required by the standards
guarantee high quality to the modules.
Low degradation
With "n-type" cells, HIT modules exhibit extremely low light-induced degradation (LID) and no potential-induced degradation (PID), which adds to their reliability
longevity. This technology mitigates annual degradation, ensuring superior performance over the long term.
25-year product warranty and performance
The 25-year product manufacturing and performance guarantee is based on the expertise of Panasonic, the industry's leading 100-year-old company.
Output power is guaranteed at 86.2% after 25 years of use.
High yield (19.8%) and compact size
By providing higher output and fuel efficiency, HIT® guarantees maximum production for your roof's limited space.
Unique water drainage system
Thanks to the unique drainage system, rain, water and melted snow flow to avoid water and dirt on the panel.
Reducing dirt allows more light to be absorbed to generate power.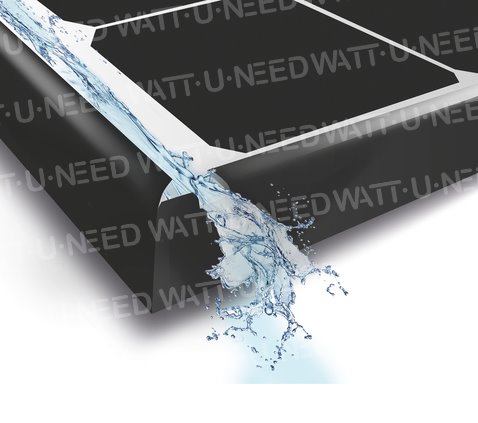 ---
The best performance
---
Size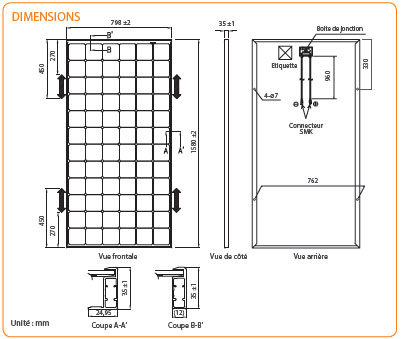 ---
Characteristics
Electrical data (under normal test conditions)
Maximum power (Pmax)
250 W
Maximum power voltage (Vpm)
44.3 V
Current to maximum power .p.
5.65 A
Open-circuit tension (Vco)
53.2 V
Short-circuit current (Icc)
6.03 A

Maximum power at NOCT

191.2 W
Maximum level of over-intensity
15 A
Power tolerance [%]
10/-0
Maximum system tension
1,000 V
Solar panel yield
19,80%
Temperature characteristics
Temperature (NOCT)
44 degrees Celsius
Temperature coefficient. Pmax [%/C]
-0,258
Temperature coefficient. Vco [V/C]
-0,125
Temperature coefficient. lcc [mA/C]
0,055
Warranty
Performance
10 years (90% Pmin)
25 years (80% Pmin)
Manufacturing
25 years (online registration required: www.eu-solar.panasonic.net)
Materials
Glass
Tempered glass with anti-reflective coating
Framework
Black anodized aluminium
Type of connectors
MC4 Type
Size
798 x 1580 x 35
Number of cells
96 cells
Weight
15
Snow and wind load
2,400 Pa

Operating temperature

-40C to 85C
Product Reviews
Number of Reviews : 1
Average Grade : 5 /5
C. Philippe
the 29/10/2020
5/5
Produit conforme, plus qu'à le monter pour tester
Specifications
| | |
| --- | --- |
| Weight | 15 kg |
| Couleur | Classical |
| Panel type | High efficiency |
| Cells | Monocrystalline |
| Max. Power - Wp | 250 |
| Open circuit voltage (Voc) | 53.2 V |
| Short circuit current (Isc) | 6.03 A |
| Max. power current (Imp) | 5.65 A |
| Max. power voltage | 44.3 V |
| Pannel efficiency | 19,8% |
| Width | 798 mm |
| Height | 1580 mm |
| Thickness | 35mm |