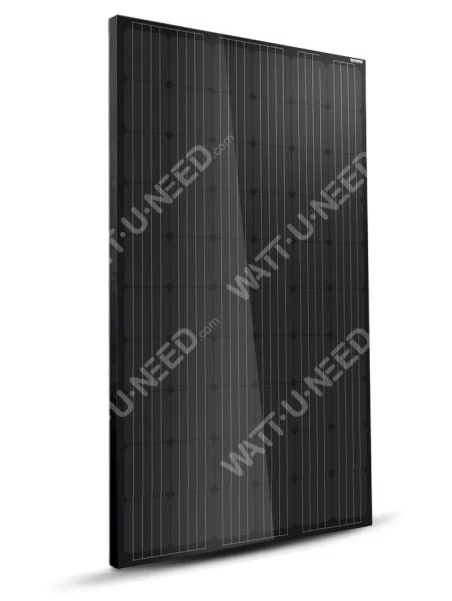 Solar panel Hanover solar 320Wc Monocristallin Black
Hanover Solar
More info

Solar products Hanover Solar half a dozen individual checks and inspections before being packaged.
The Tests include infrared scanning, electroluminescence test, thermal cycle, freeze-thaw test (Swiss VDE level), humidity test, humidity test, UV degradation, wind load test (IEC61215 T-V standard), waterproofing test (IEC61730 T-V), ID and ammonia resistance, salt resistance.
Each module undergoes a flash test and an individual EL test, and all results are archived in our database.
---
Hanover Solar places the utmost importance on quality and how we test our Quality is our Top priority, including wind load test, hail resistance test, water test, fire test, salt resistance, ammonia resistance, and anti-pID test.
Hanover Solar's goal is to ensure that every module is the best of all.
---
Warranty
Product warranty: 12 years
80% yield guarantee at 25 years
90% yield guarantee at 12 years
---

---
Characteristics
Electrical data

Model
HS320M-30D
Pmax
320w
Vmpp
33.40V
Impp
9.49A
Voc
40.09V
Isc
10.15A

Mechanical features

Solar cells
Monocristallines 156 x 156mm
Size
1665 - 1002 - 35 mm
Glass
3.2 mm Tempered glass
Framework
Black anodized aluminum alloy
Junction box
IP68-Certified T-V
Nominal Fuse
20A
Maximum system voltage
1500V DC T-V
Exit cables
1100mm/4.0mm2
Standard test condition
AM-1.5 E-1000/m2 TV-25OC
NOCT
45 degrees Celsius and 2 degrees Fahrenheit
Temperature coefficients: Pmax -0.43%/C; Voc -0.32%/C; Isc 0.05%/C
Data sheets and documentation
Product Reviews
Number of Reviews : 2
Average Grade : 4.5 /5
V. Guy
the 01/08/2020
5/5
ce sont finalement des QCELL 360WC
L. Jean-Pierre
the 21/07/2020
4/5
Panneau de bonne facture
Specifications
| | |
| --- | --- |
| Weight | 19 kg |
| Couleur | Classical |
| Panel type | Rigids |
| Cells | Monocrystalline |
| Max. Power - Wp | 320 |
| Open circuit voltage (Voc) | 40.09 |
| Short circuit current (Isc) | 10.15 |
| Max. power current (Imp) | 9.49 |
| Max. power voltage | 33.4 |
| Width | 1002 |
| Height | 1665 |
| Frame | 35 mm |