Display all pictures
LG 330Wc NeON 2 monocrystalline full black solar panel
LG
Dimensions
1016 mm x 1686 mm
More info

description
LG monocrystalline solar panel
Nominal wattage: 330Wc
New high quality design with 60 cells that withstands a pressure of 6000 Pascal
Is characterised by its extended guarantee, durability, real-world performance and aesthetic design adapted to the roofs
The LG NeON® 2 black monocrystalline solar panel is designed completely in black.
With its discreet design, it integrates easily into each roof. The new cello technology provides a reliable power of 330 WC.
---


LG high efficiency cell technology
LG NeON® 2 black now produces better on sunny days thanks to its optimized temperature coefficient.
A double-sided cell structure: the back of the cell used within LG NeON® 2 black generates electricity, just like the front. The reflected light beam at the back of the module is reabsorbed to generate a high amount of extra energy.
---
Exceptional quality
You can trust LG. We test our products twice as intensely as the IEC standard prescribes.
This quality, professionals from all over Europe appreciate it.
This is why they have attributed to our LG solar panels for the fourth consecutive time the quality label "TOP BRAND PV", symbol of the highest recommendation rate.


---
Discreet elegance for beautiful roofs
The LG NeON® 2 black solar module with its black anodized frame and black Tedlar has been designed from an aesthetic point of view.
thinner wires that are completely black in appearance at a certain distance.
The quality design fits harmoniously into the appearance of your home.
---
Strong design, robust warranty
With its reinforced frame design, LG NeON® 2 black supports a load of snow up to 6, 000Pa and a wind load of up to 5 400Pa. Based on this improved rigidity, LG has extended the product warranty by 2 years.
LG NeON® 2 black has an improved performance guarantee. Annual degradation decreased by-0.5%/yr to-0.35%/an.



---
Size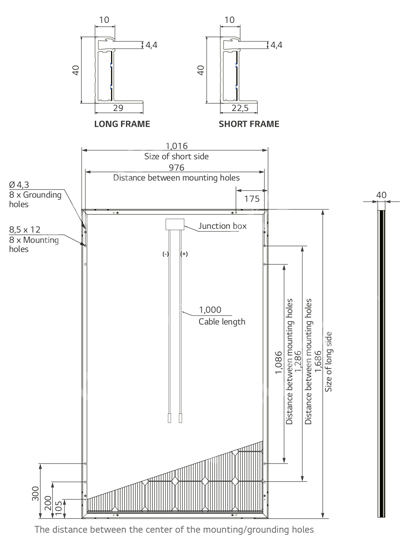 ---
Characteristics
model
LG330N1K-V5
type
Monocrystalline
Electrical property (ST ²)
Maximum power (Pmax) (W)
330
MPP Vmpp voltage (V)
34.1
Maximum peak current (IMP) (A)
9.69
Open circuit voltage (VOC) (V)
41
Short circuit current (ISC) (A)
10.27
Operating temperature (°c)
-40 to + 90
Max protection by inverse overcurrent (A)
20
Output power tolerance (%)
0 ~ + 3
Maximum system voltage (VDC)
1000
Electrical property (NOCT ²)
Maximum power Pmax (W)
247
MPP Vmpp voltage (V)
31.9
IMPP MPP current (A)
7.73
Open circuit voltage (VOC) (V)
38.5
Short circuit intensity (ISC) (A)
8.26
Dimensions (mm)
1686 x 1016 x 40
Weight (kg)
17.1
Module output
19.30%
Framework
Anodised aluminium
Frame thickness
40 mm
LG NeON 2
Data sheets and documentation
Specifications
| | |
| --- | --- |
| Weight | 17,1 kg |
| Couleur | Full Black |
| Panel type | Rigids, High efficiency |
| Cells | Monocrystalline |
| Max. Power - Wp | 330 |
| Open circuit voltage (Voc) | 41,0 V |
| Short circuit current (Isc) | 10,27 A |
| Max. power current (Imp) | 9,69 A |
| Max. power voltage | 34,1 V |
| Pannel efficiency | 19,3 % |
| Width | 1016 mm |
| Height | 1686 mm |
| Frame | 40 mm |
| Thickness | 40mm |