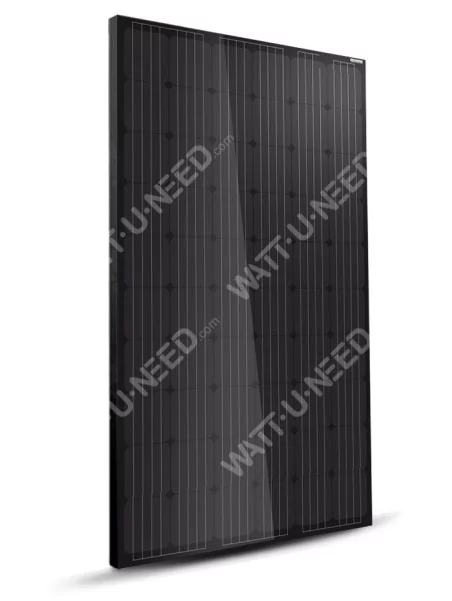 Solar Panel Hanover solar 300Wc monocrystalline full black
Hanover Solar
More info

Hanover solar's solar products are subject to half a dozen individual checks and inspections before being packaged. Tests include infrared scanning, electroluminescence test, thermal cycle, Frost-thaw test (VDE Switzerland level), humidity test, humidity test, UV degradation, wind load test (IEC61215 TÜV standard), test (standard IEC61730 TÜV), PID and ammonia resistance, de-icing salt resistance. Each module is subject to a Flash test and an individual EL test, and all results are archived in our database.
---
Hanover solar attaches utmost importance to the quality and the way we test our quality is our top priority, including wind load test, hail resistance test, water test, fire test, salt resistance , ammonia resistance, and the anti-pID test.
The goal of Hanover solar is to ensure that each module is the best of all.
---
Warranty
• Product Warranty : 12 years
• Guaranteed 80% return at 25 years
• 90% return guarantee at 12 years
---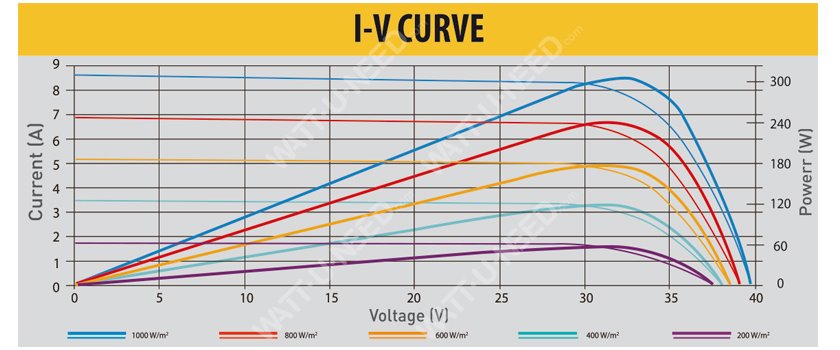 ---
Characteristics
Electrical data

model
HS300M-30D
Pmax
300w
Vmpp
32, 54V
IMPP
9, 22A
VOC
40, 11V
Isc
9, 61A

Mechanical characteristics

Solar cells
Monocrystalline 156 x 156mm
Size
1650 × 992 × 35 mm
glass
3.2 mm tempered glass
Framework
Black anodized aluminum alloy
Junction box
TÜV certified IP68
Nominal fuse
20A
Maximum system voltage
1500V DC TÜV
Output cables
1100mm/4.0 mm ²
Standard test condition
AM = 1.5 E = 1000/m² TV = 25 °c
NOCT
45 °C +/-2 °C
Temperature coefficients: Pmax-0.43%/°c; VOC-0.32%/°c; ISC 0.05%/°c
Data sheets and documentation
Product Reviews
Number of Reviews : 9
Average Grade : 4.4 /5
P. Marc
the 16/07/2020
5/5
Une notice d'installation serai pratique
D. David
the 18/06/2020
3/5
Pas de remarques
D. Nicolas
the 03/06/2020
5/5
En attente de mise en service
D. Julio
the 26/05/2020
5/5
..................
M. Laurent
the 25/05/2020
2/5
Pas reçu la commande après 15 jours et le suivid de commande est annulé. Cela ne ressemble pas à mes précédentes experiences avec Wattuneed. Un peu deçu.
C. Pascal
the 02/05/2020
5/5
Semblent performants
B. Laurent
the 30/04/2020
5/5
Bon produit
M. Patrick
the 16/04/2020
5/5
Ok a première vue....
P. Pascal
the 20/07/2019
5/5
Couplé à un Micro onduleur Enphase - M250, l'ensemble fonctionne à la perfection. Je recommande l'achat de ce panneau solaire.
Specifications
| | |
| --- | --- |
| Weight | 19,5 kg |
| Couleur | Classical |
| Panel type | Rigids |
| Cells | Monocrystalline |
| Max. Power - Wp | 300 |
| Open circuit voltage (Voc) | 40,11 V |
| Short circuit current (Isc) | 9,61 A |
| Max. power current (Imp) | 9,22 A |
| Max. power voltage | 32,54 V |
| Width | 992 mm |
| Height | 1650 mm |
| Frame | 35 mm |