copy of Kit autoconsommation 7 panels 5 kVa with installation in France
100% secure payments
This kit includes
14X

Sunpro Power M10 430Wp Solar Panel SPDG430-N108M10

1X

Single-phase inverter Sofar Solar 5KTLM-G3-A

2X

Tile roof mounting kit

2X

Solar cable 2X4mm² with Type MC4 - 25m

2X

Rayvolt grounding clip

1X

Earth cable 1x6 mm2 20m

10X

XVB 3G6 mm - 1m electric cable

14X

Rayvolt grounding clip

1X

RESIDENTIAL box AC mono

1X

Double DC Cut-out and lightnin protection box

1X

Flat-rate panel installation (1 to 10 panels)

4X

Panel installation from 11th panel (price per panel)

1X

Inverter and cabinet installation + connection

1X

Consuel without battery storage

1X

Administrative management package Consuel installation without battery
Select products from the sections below

Control your energy?
Our All-in-One Kit with installation in France, for worry-free energy autonomy!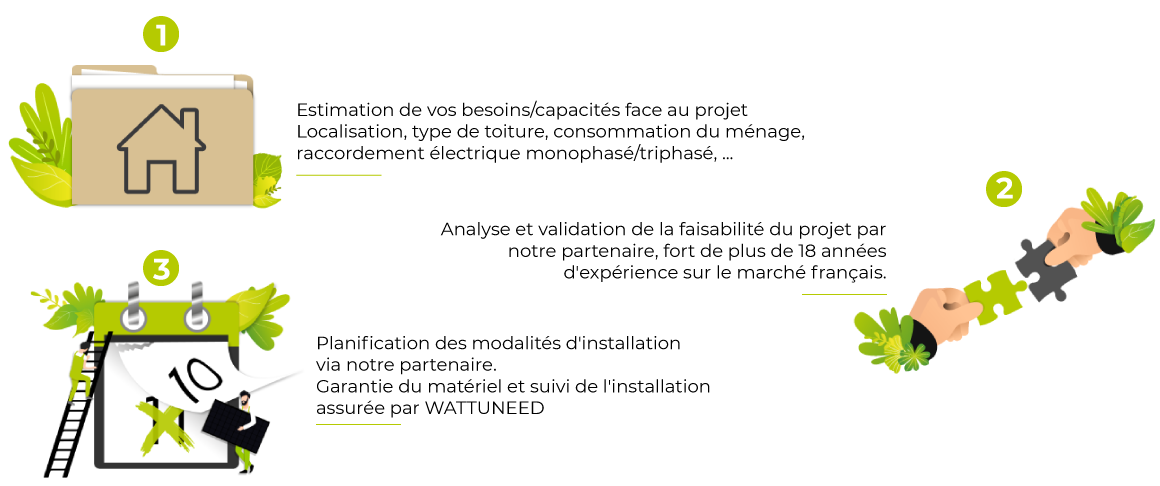 The basic kit includes 7 solar panels (power varies according to stock availability), 1 Sofar Solar 5 kVa inverter. It features a default mounting system with 1 line of 7 panels in portrait orientation, ideal for tiled roofs. All the essentials are included, such as cables and connectors for the electrical installation, as well as an AC and DC protection box to guarantee the safety of your installation. What's more, the installation package is included, offering a turnkey solution for a complete solar installation.
When we draw up the quotation, we estimate the needs and capacity required for the customer's project.
To do this, we request a photo file of the location in order to determine the technical aspects (single-phase/three-phase electrical connection, type of roof, household consumption, etc.).

Once the file has been completed with the necessary information, it is sent to our partner.
He validates the feasibility of the project or not with WATTUNEED's technical/commercial team on the basis of the offer made.
Once the file has been finalized and approved, our partner will contact the customer within 7 working days to schedule installation of the system.
WATTUNEED will provide the hardware warranty and installation follow-up, while STCD industries will provide the installation and ten-year warranty.
When validating the stages, the budget and equipment may be modified (evaluated according to the various criteria mentioned above).
ATTENTION: The cost of pallet delivery (€280 excl. tax) and travel expenses (€1.20 per kilometer) must be added to the final amount.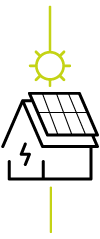 Solar panels
The basic panel selected for this kit has been chosen according to our supplies.
You'll find the panel's specifications in the panels category.


Single-phase inverter Sofar Solar 5 kVA - 5KTLMA
Discover SofarSolar's brand-new G3 single-phase inverter, the SOFAR 5KTLM-G3, specially designed for residential PV systems. This enhanced version of SofarSolar's residential range combines elegance with its IP65 design and optimum performance thanks to its natural cooling, ensuring silent operation ideal for small residential installations.

The inverter features two MPPT trackers and an integrated I-V curve sweep function. This feature offers greater flexibility for more complex installations, such as those facing shading problems or varying roof orientations.

For optimum connectivity, a WiFi key is supplied with the inverter, facilitating link-up with the SofarSolar monitoring portal. Offering a complete and innovative solution, the SOFAR 5KTLM-G3 redefines energy efficiency in residential solar installations.
Benefits
High efficiency
All-in-one.
Flexible, cost-effective system solution
Low maintenance costs
Intelligent grid management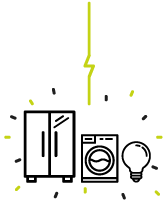 Data sheet
Inverter power

5000 VA

Type of need

Kit with installation in France

Battery storage

Without storage

Wind turbine

Without

Number of panels

14 panels

Mains re-injection

With
Specific References
UPC

768563818561

EAN13

0768563818561