Display all pictures
3Wc- 12V portable stand-alone lighting kit
Wattuneed
More info
Solar spots kit and ultra-light and compact USB solar charger
composition
3W photovoltaic panel
2 1.2W LED solar spots with their cable
1 additional LED lighting built into the central case
2 USB ports for charging mobile phones
Built-in Lithium-ion solar battery -

4.4 AH
---
description

3W kit ultra-light and compact
The kit is specially designed to provide lighting or a small source of energy in remote areas where the public electricity grid is not available.
Thanks to its small size, weight (1.3kg) and efficiency, the kit adapts to all kinds of situations:
> Useful in rural areas where the public electricity grid does not exist. It lights up better and costs less than an oil lamp. This kit allows you to carry out daily activities such as reading, manual work, homework, preparing meals after dark.
> Ideal for use in nature, camping, gardening, hikingwarehouses, shacks or garages,...
Thanks to its low weight and small dimensions, it can easily be carried in a backpack.
---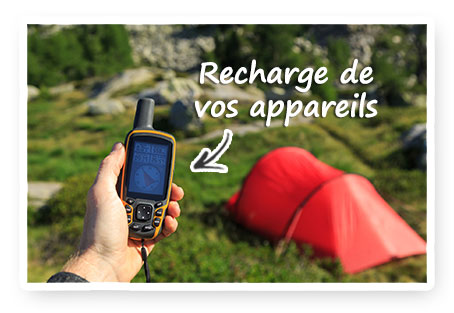 Recharge your small mobile devices wherever you are with this portable charger...
> When the solar battery is charged, both lamps light up for 6 hours. An additional LED is on the case, making 3 light sources in total, which allows the lighting to be restarted.
The kit elements can be disconnected from each other. The central case with the extra LED can then be used as a flashlight and can be carried away freely.
It is also possible to charge a mobile phone, a hiking GPS, MP3 player and any other small mobile device and wherever you are via 2 built-in USB ports.
Solar panels (or a source of electricity if you have brief access to them) power the storage battery in the kit case. Once the battery is charged, you have a transportable energy source that can be used when you need it.
---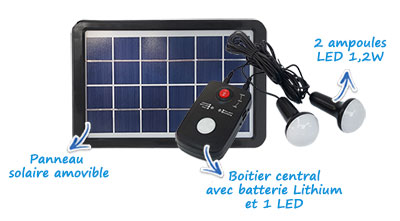 Simple to use and flexible
The 4.4Ah lithium solar battery (in the central case) can be recharged either via the solar panel or via the micro USB port when access to an electrical grid is available.
To recharge via the solar panel, simply plug the panel into the central case containing the battery. Expose the panel to the sun for several hours and track the battery's charging state with color LED indicators. Simple and fast! You then use the accumulated energy whenever you want.
---

The kit includes all the necessary equipment:
1 small 3Wc solar panel
LED indicators
A USB port for charging mobile devices
2 LED bulbs 1.2W
A central case with a light LED - a Lithium-ion battery, 4.4Ah
The kit requires little maintenance, a simple dusting of the panel when necessary is enough. Keep away from moisture.
---
Connections:
---
Technical features
| | |
| --- | --- |
| Model Portable Solar Lighting | 3w |
| LeD bulb consumption | 1.2 W / light bulb |
| Solar entrance | 5 - 8 VDC |
| USB charger | 5vdc |
| Full Battery Indicator | Green LED |
| Solar charge indicator | Yellow LED |
| Low Battery Indicator | Red LED |
| Battery type | Lithium-ion |
| Battery capacity | 4.4 AH |
| Battery Tensions | 3.6 VDC |
| Constant load voltage | 4.2 VDC |
| Stopping tension | 2.75 VDC |
| Recharge time | 9 a.m. |
| Charge current | 0.5A |
| Running temperature | 0- 40oC |
| Relative humidity | 0-90% |
Data sheets and documentation
Product Reviews
Number of Reviews : 10
Average Grade : 4.8 /5
D. Eric
the 15/08/2021
5/5
Conforme à ma commande. Je recommande
G. Xavier
the 22/02/2021
5/5
Parfait
L. Sylvain
the 12/12/2020
5/5
PRODUIT DE BONNE FACTURE
A. Anonymous
the 23/02/2018
5/5
Très pratique
A. Anonymous
the 16/08/2016
5/5
Pratique
A. Anonymous
the 27/07/2016
5/5
Pas encore testé sur le terrain ni dans la durée mais ce produit correspond parfaitement à ce que j'attendais.
A. Anonymous
the 24/07/2016
4/5
Excellent produit
A. Anonymous
the 02/06/2016
5/5
bien
A. Anonymous
the 30/04/2016
4/5
Dépanne bien, pratique en rando ou camping, reste à voir comment le matériel vieilli.
A. Anonymous
the 20/04/2016
5/5
excellent
Specifications
| | |
| --- | --- |
| Output Kit voltage | 12V |
| Battery storage | With storage |
| Type of need | Self-Use Lighting Kits |
| Wind Turbin | Without |
| Number of panels | 1 panel |
| Type de LED | Kit éclairage autonome |
| Type de LED | Spot LED |
| Voltage | 12V |
| Lighting power | 3 W |
| Technology | Lithium |
| Battery capacity | 4.4 AH |
| Battery | Kit with battery |
| Inverter power | - de 1000VA |
| Grid reinjection | off-grid |