Display all pictures
MPPT Epever iTracer Charge Controller-ND 45A or 60A
Epever
More info
iTracer-ND is an intelligent, high-speed, intelligent solar charge controller with an advanced Peak Power Point Tracking (MPPT) algorithm that captures the maximum power of the solar panel to charge the battery. It can be applied in off-grid PV systems up to 3 kW and increases output up to 30%.
---
Optimization of energy recovery
Advanced Peak Power Point Tracking Technology (MPPT)
High monitoring efficiency ≥ 99.5%
Maximum conversion efficiency of 98% and full load efficiency of 97% ultra-fast tracking speed
Multi-phase synchronous rectification technology (MSRT), ensuring high conversion efficiency even with low electrical charge
Accurate tracking and recognition of MPP among multiple peaks
Reliable automatic PV current limitation function
Wide operating voltage range MPP
---
Simple and effective operation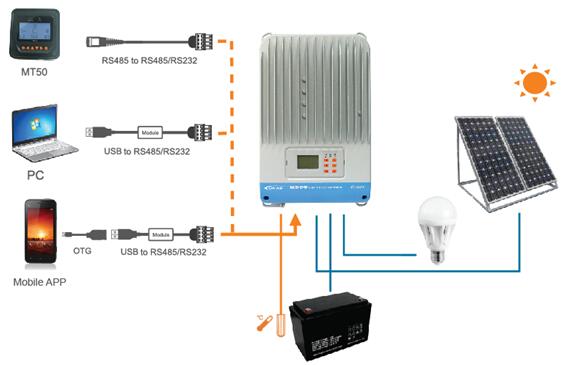 ---
Design
High-speed dual-core processor architecture, improving system response speed, optimizing system performance
Die-cast aluminum design for excellent heat dissipation
Concise human-machine interface, dynamically displaying system operating data and work status.
Multiple charge control modes: manual control, light on / off, light on + timer and time control.
---
Other features
Battery Type Selection: Sealed, Freeze, Flooded and User (Programmable)
Battery temperature compensation
Integrated runtime data and event logging
RS485 port with industry standard MODBUS open architecture
Real-time data monitoring and parameterization with MT50, APP or PC software
Widely used in solar telecommunication base stations, solar home systems, solar power plants, etc.
Support the firmware upgrade.
---
Protections
PV over current protection
PV short circuit protection
PV reverse polarity protection
Battery over voltage protection
Battery over discharge protection
Battery reverse polarity protection
Battery overheating protection
Load overload protection
---
Technical specification
Model
IT4415ND
IT6415ND
Nominal system voltage
12/24/36/48 VDC auto work
Rated charge current
45A
60A
Rated discharge current
45A
60A
Max PV open circuit voltage
150V (at minimum operating environment temperature)
138V (at 25°C environment temperature)
Battery input voltage range
8~68V
Rated PV input power
600W (12V)
800W (12V)
1200W (24V)
1600W (24V)
1800W (36V)
2400W (36V)
2400W (48V)
3200W (48V)
Equalize charging voltage
Sealed : 14.6V, Flooded : 14.8V, User : 9~17V
Boost charging voltage
Gel :14.2V, Sealed : 14.4V, Flooded 14.6V, User : 9~17V
Float charging voltage
Gel/Sealed/ Flooded : 13.8V, User : 9~17V
Low voltage reconnect voltage
Gel/Sealed/ Flooded : 12.6V, User : 9~17V
Low voltage disconnect voltage
Gel/Sealed/ Flooded : 11.1V, User : 9~17V
Self-consumption
1.4~2.6W
Temperature compensation coefficient
-3mV/°C/2V
Grounding
Common positive
Environmental
LCD temperature range
-20°C ~ +70°C
Working environment temperature
-25°C ~ +45°C
Relative humidity
≤95% (No condensation)
Mechanical
Overall dimension
382x231x107mm
440x231x110mm
Terminal
2AWG (35mm²)
2AWG (35mm²)
Net weight
4.6kg
5.9kg
Enclosure
IP20
Data sheets and documentation
Specifications
| | |
| --- | --- |
| Charge power | 45A |
| Charge power | 60A |
| Voltage | 12V |
| Voltage | 36V |
| Voltage | 24V |
| Voltage | 48V |
| MPPT/PWM | MPPT |
| Nombre de MPPT | 1 MPPT |