Display all pictures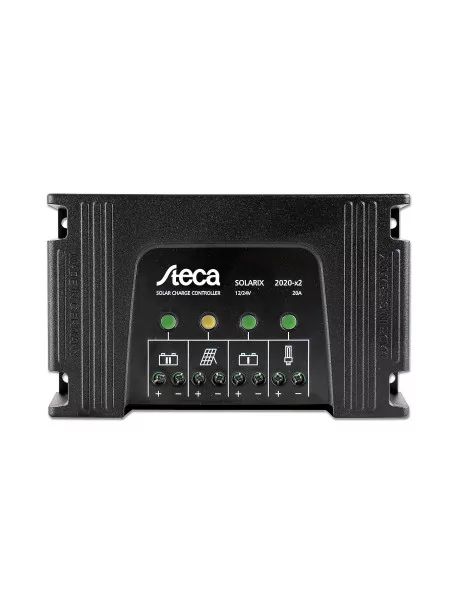 Steca Solarix Solar Regulator 2020-x2
Steca
More info
" Solar regulator made in Germany "
Steca Solarix 2020-x2 is an ultra-modern two-battery charge controller that is perfectly suited for use in the leisure area. It is equipped with a solar panel input that is suitable for all 36-cell solar panels for 12V systems, and all 72-cell crystalline solar panels for 24V systems. Both the main battery and the Starter battery are charged continuously and simultaneously by the solar panel. Thus, 90 percent of the available power goes into the main battery, while the auxiliary battery is maintained at a full load level with a power of 10 percent.
Thanks to the Steca PA LCD1 tele-display, it is possible to modify the distribution of the load power. The charge controller is equipped with a powerful charging output that is powered only by the main battery. The charge controller has a USB charging socket through which you can charge smartphones and tablets. The remote display Steca PA LCD1 can be connected as an option.
---
Product Features
Series topology with MOSFETs
Automatic voltage selection
Voltage and current regulation
PWM Regulation
Multi-level charging technology
Disconnection of consumers according to the current
Automatic consumer reconnection
Temperature compensation
Possibility of grounding a positive or negative grounding terminal
Self test
Monthly equalization charge
USB charging socket for smartphones and tablets
---
Electronic protection functions
Overload protection
Protection against deep discharges
Reverse polarity protection of solar panels (≤ 36 V), consumers and battery
Automatic electronic fuse
Protection against consumer short circuits and solar panels
Protection against open circuit without battery
Reverse current protection at night
Protection against overtemperature and overload
Disconnection of consumers in case of overvoltage of the battery
---
Views
4 LEDs indicate service status
---
Interfaces
---
Technical data
| | |
| --- | --- |
| | Solarix 2020-x2 |
| Characterization of the performance of operation | |
| System voltage | 12 V (24 V) |
| Own consumption | 22 mA |
| DC input side | |
| Vacuum voltage of the photovoltaic panel (at the minimum operating temperature) | < 60 V |
| Panel current | 20 A |
| DC output side | |
| Consumer current | 20 A |
| USB charging socket | 5 V / 1,5 A |
| Reclosing Reference Point (LVR) | 12,5 V |
| Deep Discharge Protection (LVD) | 11,7 V |
| Battery side | |
| Final charge voltage | 14,1 V (28,2 V) |
| Fast charging voltage | 14,4 V (28,8 V) |
| Equalization charge | 15 V (30 V) |
| Setting the type of accumulator | gel |
| Main / secondary battery charge ratio | 90 % / 10 % |
| Working conditions | |
| Ambient temperature | -10 °C … +60 °C |
| Installation and construction | |
| Terminal block (thin-wire / single-wire) | 6 mm² / 10 mm² - AWG 10 / 8 |
| Degree of protection | IP 31 |
| Dimensions (X x Y x Z) | 190 x 120 x 57 mm |
| Weight | 0,5 kg |
Specifications
| | |
| --- | --- |
| Voltage | 12V / 24V |
| MPPT/PWM | PWM |