Display all pictures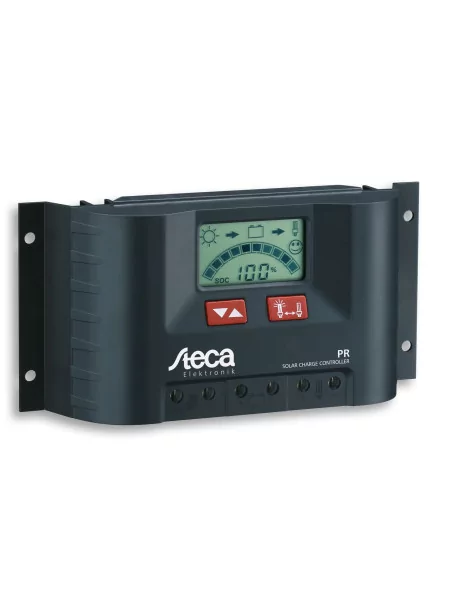 Steca PR 3030 PWM Charge Controller
Steca
More info
" Solar regulator made in Germany "
The state of charge device and the latest charging technologies ensure optimum battery care and maintenance. A large screen informs the user of all service states by means of symbols, such as the state of charge is represented as a level indicator or data such as voltage, current and status Loads that can also be displayed numerically on the screen as numbers. The controller also has a power meter that the user can reset himself.
---
Product Features
Shunt topology with MOSFETs
Determination of the state of charge by Steca AtonIC (SOC)
Automatic voltage selection
PWM Regulation
Multi-level charging technology
Disconnection of consumers according to the SOC system
Automatic consumer reconnection
Temperature compensation
Possibility of negative grounding of a terminal or positive earthing of several terminals
Integrated data logger (energy meter)
Twilight functions, night lighting and aurora
Self test
Monthly equalization charge
---
Electronic protection functions
Overload protection
Protection against deep discharges
Reverse polarity protection for solar panels, consumers and the battery
Automatic electronic fuse
Protection against consumer short circuits and solar panels
Surge protection on solar panel input
Protection against open circuit without battery
Reverse current protection at night
Protection against overtemperature and overload
Disconnection of consumers in case of overvoltage of the battery
---
Views
LCD graphic display
for service parameters, malfunction messages, self-test
---
Interface
Simple menu navigation control
Key programming
Manual interruption of the consumer
---
Spécificities
PR 1010
PR 1515
PR 2020
PR 3030
Characterization of the performance of operation
System voltage
12 V (24 V)
Own consumption
12.5 mA
DC input side
Vacuum voltage of the photovoltaic panel (at minimum operating temperature)
< 47 V
Panel current
10 A
15 A
20 A
30 A
DC output side
Consumer current
10 A
15 A
20 A
30 A
Reclosing reference point (SOC / LVR)
> 50 % / 12,6 V (25,2 V)
Deep discharge protection <30% (SOC / LVD)
< 30 % / 11,1 V (22,2 V)
Battery side
Final charge voltage
13,9 V (27,8 V)
Fast charging voltage
14,4 V (28,8 V)
Equalization Charge
14,7 V (29,4 V)
Setting the type of accumulator
liquid (adjustable by menu)
Working conditions
Ambient temperature
-10 °C … +50 °C
Installation and construction
Termination terminal (fine / single-wire)
16 mm² / 25 mm² - AWG 6 / 4
Degree of protection
IP 31
Dimensions (X x Y x Z)
187 x 96 x 44 mm
Weight
350 g
Product Reviews
Number of Reviews : 1
Average Grade : 1 /5
D. Régis
the 23/08/2020
1/5
Nous sommes en France et nous recevons un produit avec une documentation en Anglais !!!! Pourquoi ? Comment faire quand on ne parle pas cette langue ? Merci pour la réponse.
Specifications
| | |
| --- | --- |
| Output Kit voltage | 24V |
| Charge power | 20A |
| Charge power | 15A |
| Output Kit voltage | 12V |
| Charge power | 10A |
| Charge power | 30A |
| MPPT/PWM | PWM |