Display all pictures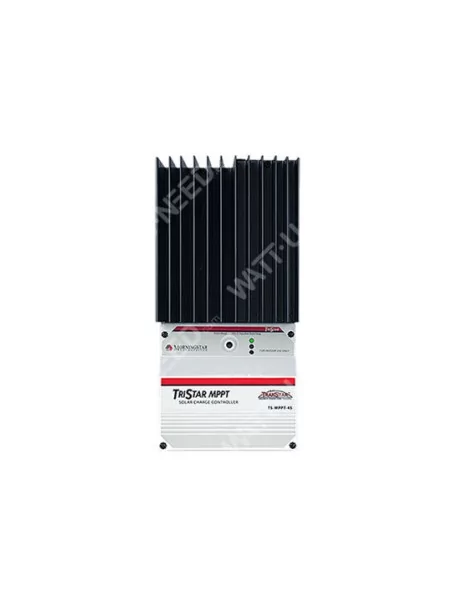 Morningstar Tristar TS45-PWM Charge Regulator
More info
TriStar MPPT solar controller
Morningstar's three-function TriStar controller reliably charges solar batteries and regulates charge or bypass.
The regulator only works in one of these modes at a time; one or more regulators can be used to obtain multiple functions.
TriStar uses state-of-the-art technology and automated production to deliver new and cost-effective features at competitive prices. The optional TriStar counter is the most advanced and informative meter on the market. The controller is ETL (UL1741) and TUV (IEC62109-1), and is designed for home systems and business applications.
---
Characteristics
High reliability - Large heat sink and conventional design allowing full-throttle use up to 60oC. There is no need to reduce face value.
More power - Rated features up to 60A to 48V c.c. and suitable for solar panels with a maximum power of 4kW.
Communication opportunities - Connecting the RS-232 to a personal computer for custom adjustments, chronological recording of data, as well as remote monitoring and remote control.
Fully adjustable - DIP micro-generator offers the user a choice of 7 different digital pre-settings and a custom setting by RS-232.
Extended electronic protection - Full protection against polarity reversal, shortcircuits, over-intensities, overheating and surges.
Simple mechanical interface - Power stations and pellets for larger drives. Plenty of space for the arrangement of drivers. Mounts on power distribution boards.
Better battery charge - Battery charging wires and optional remote thermal probe improve adjustment accuracy. The constant voltage pulse modulation algorithm increases the battery's capacity and lifespan.
More information - Three LEDs indicate condition, defects and alarms. The optional meter displays a large amount of circuit and control information, and includes automatic self-testing and rearmament functions. Connecting the meter by phone socket RJ-11
Easy rearmament - The push button allows manual rearmament and stopping/starting battery charge equalization or unplugging the charge.
Low telecommunications noise - The DIP micro-switch allows the MLI battery charge to be switched to "Stop-Walk."
---
Electronic protections

Protection against polarity reversal
(any combination)
Protection from short-circuits
Protection against over-intensities
Protection from lightning and lightning
transient surges by suppressors
4500 W transient voltage
Protection from the highs
temperatures by automatic reduction
current or complete stop
Prevents the reverse current leak from the
battery at night
---
Specifications
Attribute
Value
Maximum solar voltage (Voc)
125 V
Minimum operating tension
9v
Tension of the circuit
12-48V
Accuracy in
12/24V -0.1% -50mV
In 48V -0.1% - 100mV
Maximum nominal current for 12V panels
45A
Maximum nominal current for 24V panels
45A
Depth
71mm
Length
260mm
Width
127mm
Data sheets and documentation
Specifications
| | |
| --- | --- |
| Voltage | 12V / 24V |
| MPPT/PWM | MPPT |